The White House still doesn't know whether President Barack Obama has seen any of the three Planned Parenthood sting videos that purport to show officials discussing the use and sale of aborted fetal parts.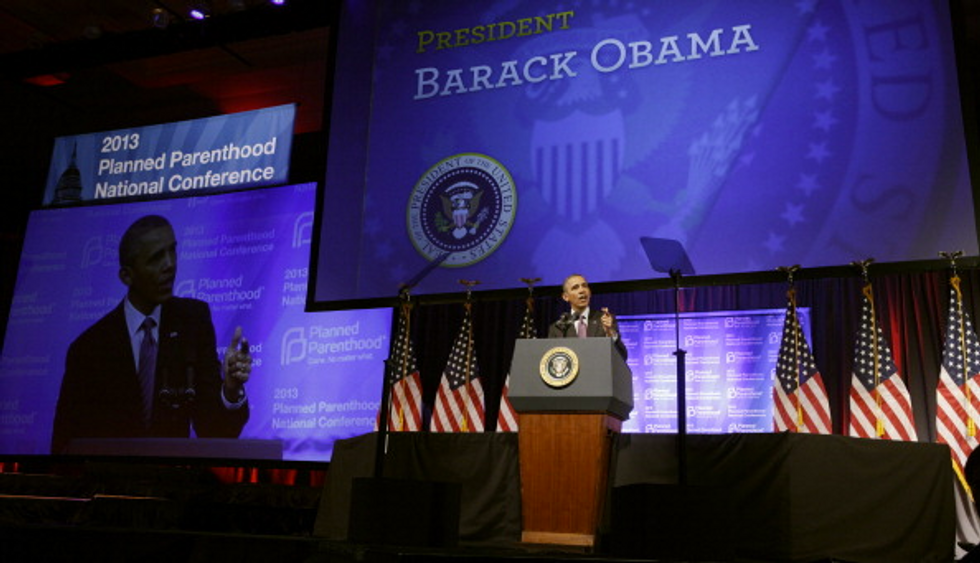 President Barack Obama speaks at Planned Parenthood's 2013 national conference, April 26, 2013 in Washington. (Chris Kleponis-Pool/Getty Images)
"I haven't watched the video. I'm not sure the president has," White House deputy press secretary Erich Schultz told reporters Wednesday. "Clearly he has been elsewhere the past few days."
Obama returned from Africa early Wednesday, where he has been since Friday.
"We are of course familiar with the news reports, including that a lot of these videos have been edited," Schultz said.
The White House provided a similar answer when asked about the first video July 17. Two more videos have been released since then.
Congressional Republicans are seeking to cut off the $500 million in federal funding Planned Parenthood receives, which Schultz said the White House "couldn't disagree more with."
"We believe that Planned Parenthood provides a range of important preventative care in health services, things like screenings, vaccines and check-ups to men, women and families across the country," he said. "Millions of men and women visit Planned Parenthood clinics across the country. We support them getting the types of services and health care they need."