Should Americans be free to run their businesses in accordance with their personal beliefs?
That question was posed to a sample of 1,000 Americans in a newly released LifeWay Research poll, which found that 78 percent of the public believed at the time that the poll was conducted that business owners should absolutely have this right.
Additionally, 64 percent of nonreligious Americans agreed, as did 88 percent of evangelicals and 81 percent of Christians more broadly. It should be noted that this data was collected before the U.S. Supreme Court legalized gay marriage, so it is unclear how responses would change in light of that ruling.
Of course, the question itself is relatively general, as it doesn't take into account what impact, if any, a business owner would have over others' individuals' rights when running his or her business affairs in accordance with a particular faith.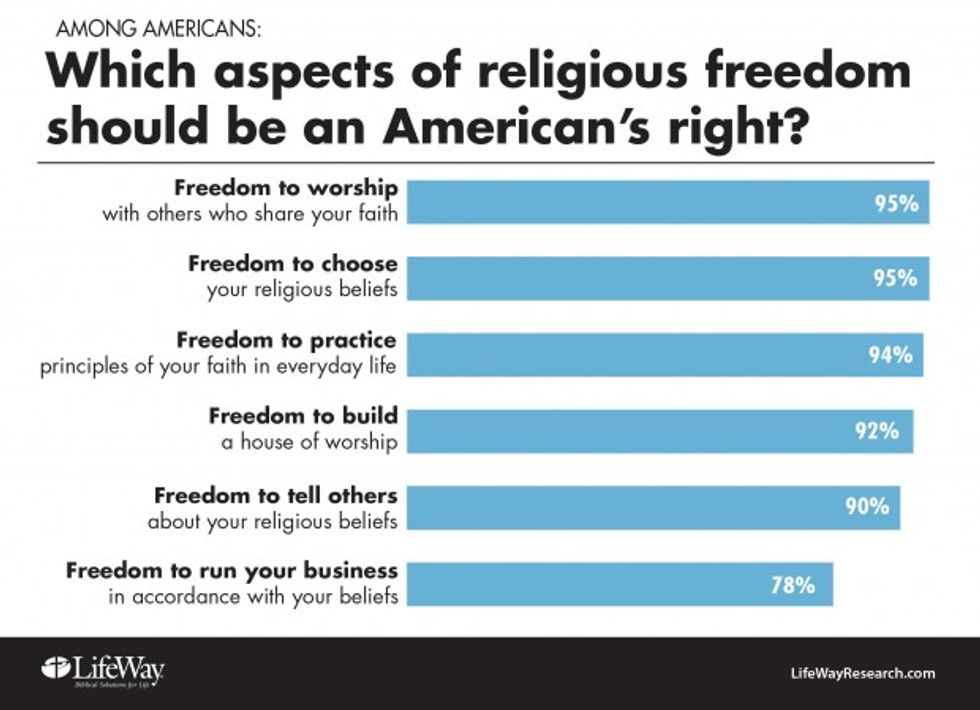 LifeWay Research
Consider, for instance, the profound complications that generally arise with the intersection of gay rights and religious liberty. In a separate poll that was recently released by the Associated Press/GfK after the gay marriage ruling, the proportions changed a bit when questions became more specific about exemptions for religious wedding venders and public officials who wish to decline services for same-sex nuptials.
When specifically asked about wedding-related businesses, it was found that 59 percent now support allowing owners who hold religious conflicts with gay marriage to refuse matrimonial services to couples, which is an increase from 52 percent earlier this year.
Forty-nine percent also favor exemptions for religious local officials who do not wish to issue marriage licenses, though 47 percent believe that these individuals should be mandated to provide licenses. In April, 48 percent wanted an exemption, though 49 percent disagreed.
Additionally, 56 percent of the public said that government protection of religious liberties should trump gay rights, if and when there's a conflict between the two, while 39 percent instead opted in favor of gay rights.
While Americans broadly support the right of business owners to run their affairs in accordance with their beliefs in the LifeWay Research poll, it is evident that the proportions change quit a bit when more specific questions are asked on the matter.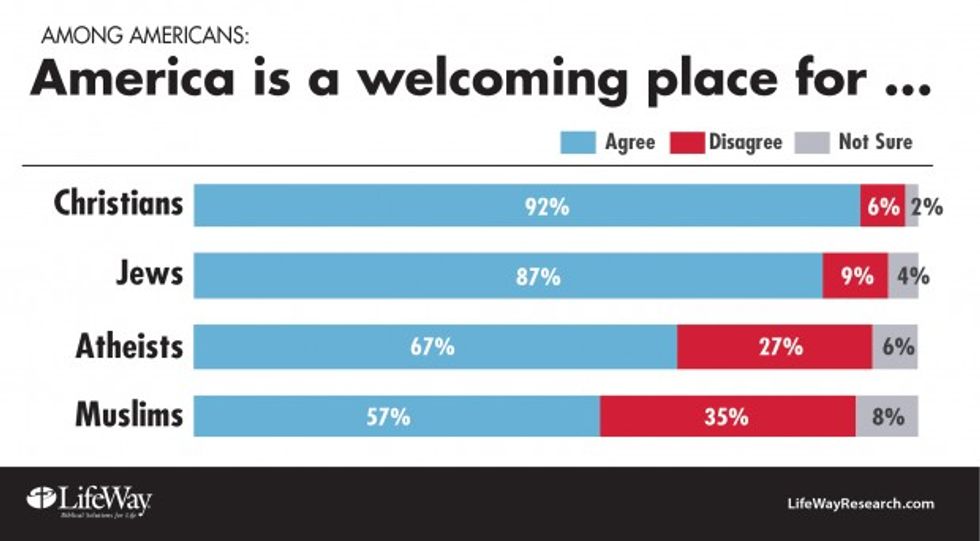 LifeWay Research
That said, there seems to be an uptick in support for wedding-related businesses having exemptions, which comes just weeks after the legalization of gay marriage, and after an Oregon bakery was essentially fined $135,000 for refusing to make a cake for a lesbian couple.
The LifeWay Research poll also asked about which aspects of religious freedom should be Americans' rights, finding wide support for the freedom to worship with others (95 percent), freedom to choose your religious beliefs (95 percent), freedom to practice one's faith in everyday life (94 percent), freedom to build houses of worship (92 percent) and freedom to tell others about religious beliefs (91 percent).
As for which religious groups are most welcome in America, 92 percent of respondents said that Christians are most welcome, with Jews coming in second place at 87 percent. The least welcomed groups were atheists and Muslims, with 67 percent and 57 percent respectively claiming that America is a welcoming place for individuals who fall into those latter groups.
Read the full report here, and take the poll below:
--
Front page image via Shutterstock.com.