Hundreds of prominent individuals and groups — including A-list Hollywood actresses — are giving a less-than-warm reception to an influential human rights organization's proposed policy that prostitution be decriminalized.
The massive pushback comes as nearly 500 delegates from Amnesty International are slated to meet next week from August 7-11 in Dublin, Ireland, to discuss and vote on the measure. The proposal is based on the notion that sex — even for pay — is an issue that some believe should remain between two consenting adults, the New York Times reported.
Hundreds of women's groups, faith organizations and Hollywood stars came together after learning of the plan and signed onto an open letter urging Amnesty International to rethink the proposal, alleging that "it flies in the face of [the organization's] historical reputation."
U.S. actress Meryl Streep attends a photocall for 'The Iron Lady' at a central London venue Monday, Nov. 14, 2011. (AP Photo/Jonathan Short)
"This policy would in effect advocate the legalization of pimping, brothel owning and sex buying — the pillars of a $99 billion global sex industry," read a statement from the Coalition Against Trafficking in Women.
Among the signatories railing against decriminalization are actresses Meryl Streep, Angela Bassett, Emily Blunt, Lena Dunham, Anne Hathaway, Kate Winslet and many others.
"We firmly believe and agree with Amnesty that human beings bought and sold in the sex trade, who are mostly women, must not be criminalized in any jurisdiction and that their human rights must be respected and protected to the fullest extent," the letter reads. "We also agree that, with the exception of a few countries, governments and law enforcement grievously violate prostituted individuals' human rights."
It continues, "However, what your 'Draft Policy on Sex Work' is incomprehensibly proposing is the wholesale decriminalization of the sex industry, which in effect legalizes pimping, brothel owning and sex buying."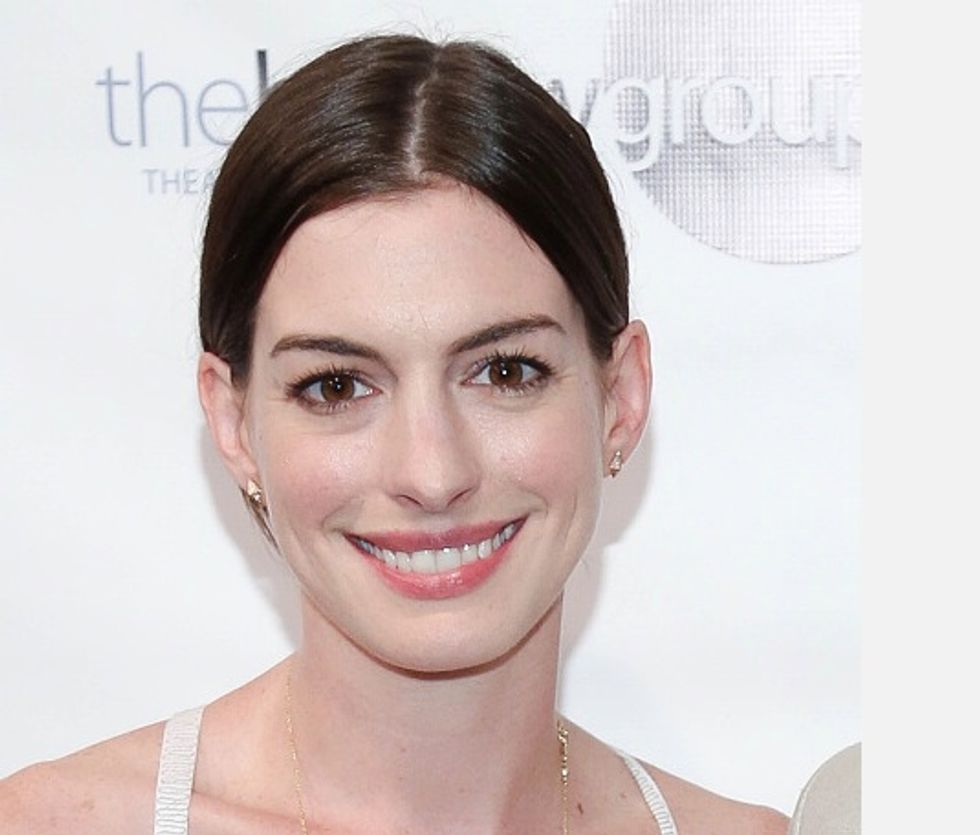 Anne Hathaway attends the release of the book, 'An Actor's Companion' at The Barrow Group on June 23, 2015 in New York City. (Rob Kim/Getty Images)
Amnesty International's proposed push for decriminalization of prostitution comes at a time when some countries are looking to punish buyers instead of prostitutes themselves.
Amnesty International, though, appears to be taking a different look at the issue, arguing in the proposal that the punishment of buyers could impede personal privacies and "undermine the rights to free expression of health," according to the Times.
The organization also seemingly embraces the notion that sex work could go further underground if buyers are punished, which would potentially put prostitutes in greater danger.
Amnesty International doesn't have sway to immediately change laws in sovereign countries, though the proposal — if adopted — would be the organization's official stance and would presumably drive how it interacts on issues pertaining to prostitution, internationally speaking.
Read the letter opposed to the measure in its entirety here.