Jeb Bush "did not vote on or approve individual projects or programs" while serving as a leader on one of Michael Bloomberg's philanthropies that gave millions to Planned Parenthood, his campaign said.
The anti-abortion news outlet LifeSiteNews.com reported Thursday that Bush was named a founding director of the ex-New York City mayor's Bloomberg Family Foundation, where he served until the end of last year. Before Bush departed, the organization gave $50 million for a reproductive health initiative that included work with Planned Parenthood's global arm to "expand access to comprehensive reproductive health services."
Life Site News reported on Bush's affiliation following a series of undercover sting videos released that purport to show Planned Parenthood doctors and officials discussing the sale of aborted fetal body parts.
"As a board member of Bloomberg Philanthropies, Governor Bush did not vote on or approve individual projects or programs," Bush campaign spokeswoman Allie Brandenburger told TheBlaze in a statement. "Governor Bush and Mayor Bloomberg disagree on several policy areas, including Planned Parenthood. They do share a passion for reforming education, which was Governor Bush's focus on the board."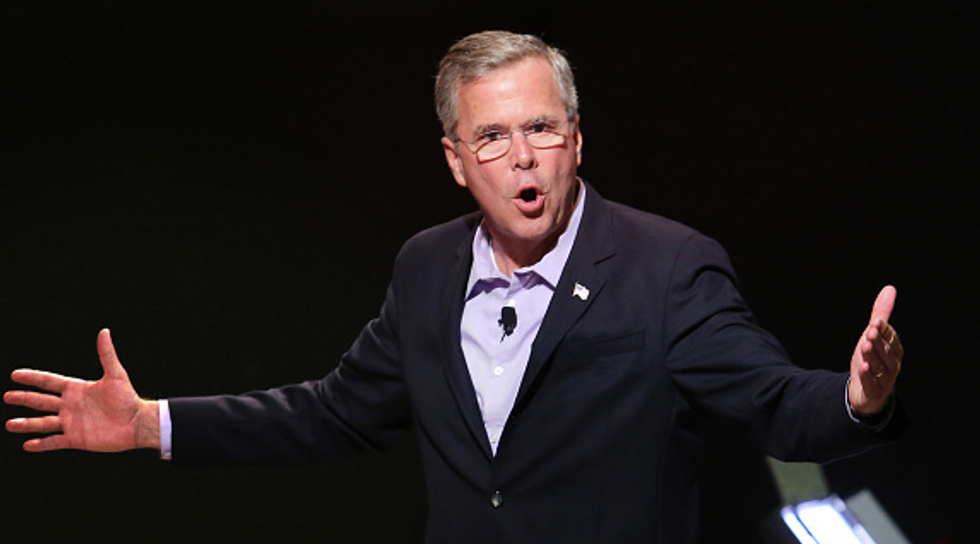 Republican presidential candidate and former Florida Gov. Jeb Bush addresses central Florida pastors at a meet-and-greet hosted by the Centro Internacional de la Familia church in Orlando, Fla., Monday, July 27, 2015. (Joe Burbank/Orlando Sentinel/TNS via Getty Images)
Brandenburger said Bush has shown a proven pro-life record.
"Governor Bush's strong record of fostering a culture of life is clear, and he has called on Congress to investigate and defund Planned Parenthood in light of the recent alarming revelations about its practices," Brandenburger said. "During his eight years in office, Governor Bush took measures to protect innocent life by passing a partial-birth abortion ban, fighting for a constitutional amendment requiring parental notifications and doing everything possible to promote adoption."
LifeSiteNews reported that Bush earned $37,100 during his time as the head of the Bloomberg board.
At least one activist believes Bush carries some accountability.
"Bush's people are probably right that as a board member he did not vote on every project," Human Life International spokesman Stephen Phelan told Life Site. "But Bloomberg has been so open about his foundation's goals for so long that it really stretches credibility to say that Bush or his people wouldn't have known that the foundation pushes abortion and other population control efforts."