WASHINGTON (TheBlaze/AP) -- The State Department is releasing fewer than expected numbers of Hillary Rodham Clinton's emails.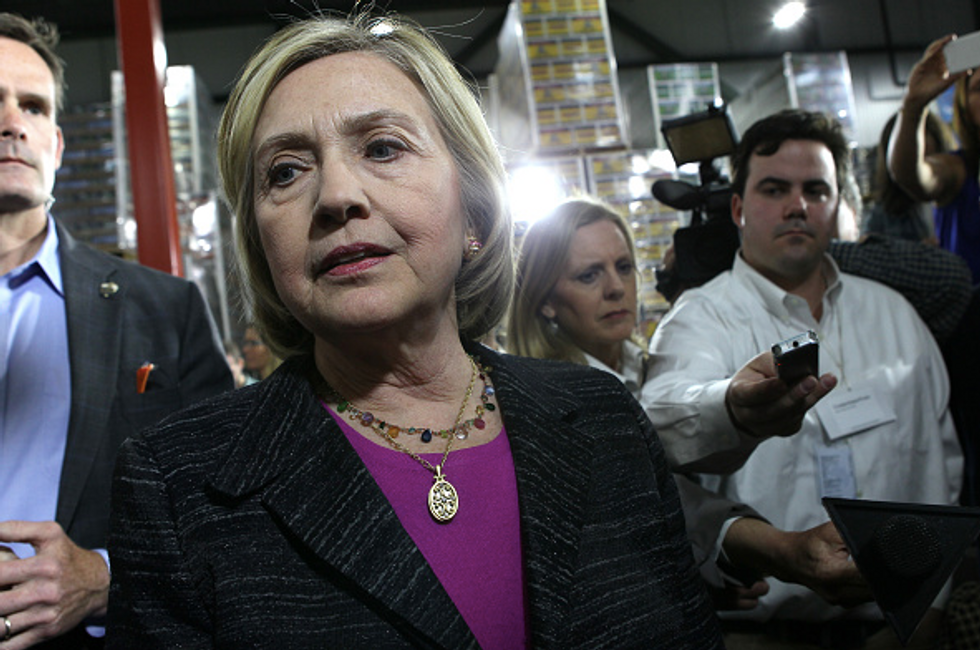 HAMPTON, NH - MAY 22: Hillary Clinton answers questions from the press about the Bengazi emails after a discussion with members of the local small community at Smuttynose Brewery, in Hampton, N.H. (Photo by Joanne Rathe/The Boston Globe via Getty Images)
It says the process is slower because of intense scrutiny by U.S. intelligence agencies to ensure that emails from her private server don't contain any sensitive or classified government secrets.
In emails the State Department released Friday, the government censored passages to protect national security secrets at least 64 times. Clinton has said she never sent classified information from her private email server, which The Associated Press was first to identify in her home in New York.
The government on Friday released 2,206 pages of emails, roughly 12 percent of the 55,000 pages Clinton had turned over to department lawyers earlier this year.
Some emails about Sept. 11, 2012, Benghazi attacks -- and the security situation prior -- were included in the disclosure:
Deteriorating security conditions faced by Chris Stevens and Benghazi personnel seemed pressing. pic.twitter.com/yZ0rU6kRRy

— Noah Rothman (@NoahCRothman) July 31, 2015
Under attack. pic.twitter.com/05KjOLBDv5

— Noah Rothman (@NoahCRothman) July 31, 2015
Discussion of a Benghazi evac plan if needed. pic.twitter.com/BVjDK2pN3U

— Noah Rothman (@NoahCRothman) July 31, 2015
Fox News also reported that a "source with knowledge of the release" said roughly 25 of the newly released emails contain text that has been redacted for "classified information reasons."
The Washington Times adds on the subject:
The U.S. intelligence community is bracing for the possibility that former Secretary of State Hillary Rodham Clinton's private email account contains hundreds of revelations of classified information from spy agencies and is taking steps to contain any damage to national security, according to documents and interviews Thursday.

The top lawmakers on the House and Senate intelligence committee have been notified in recent days that the extent of classified information on Mrs. Clinton's private email server was likely far more extensive than the four emails publicly acknowledged last week as containing some sensitive spy agency secrets.
The Wall Street Journal has posted all of the emails -- some heavily redacted -- released on Friday for review here.
The Clinton campaign also released a letter from her doctor on Friday, who described the Democratic presidential candidate as in "excellent physical condition and "fit to serve as president of the United States."
The letter addresses Clinton's health in 2012, when she sustained a concussion after fainting - a result of a stomach virus and dehydration. Testing the following year showed "complete resolution" of the concussion's effects, including double vision.
During the course of her treatment, Clinton was also found to have a blood clot and was given medication to dissolve it. She's remains on the treatment as a precaution.
Clinton is the first 2016 presidential candidate to release her health records. Her campaign says they plan to release her tax returns since 2007 later Friday.
---