We've already seen stories about household items that appear to spontaneously explode, but over the last few years there's been an uptick of stories around the country revealing that the sunroofs on some vehicles are prone to shattering without warning as well.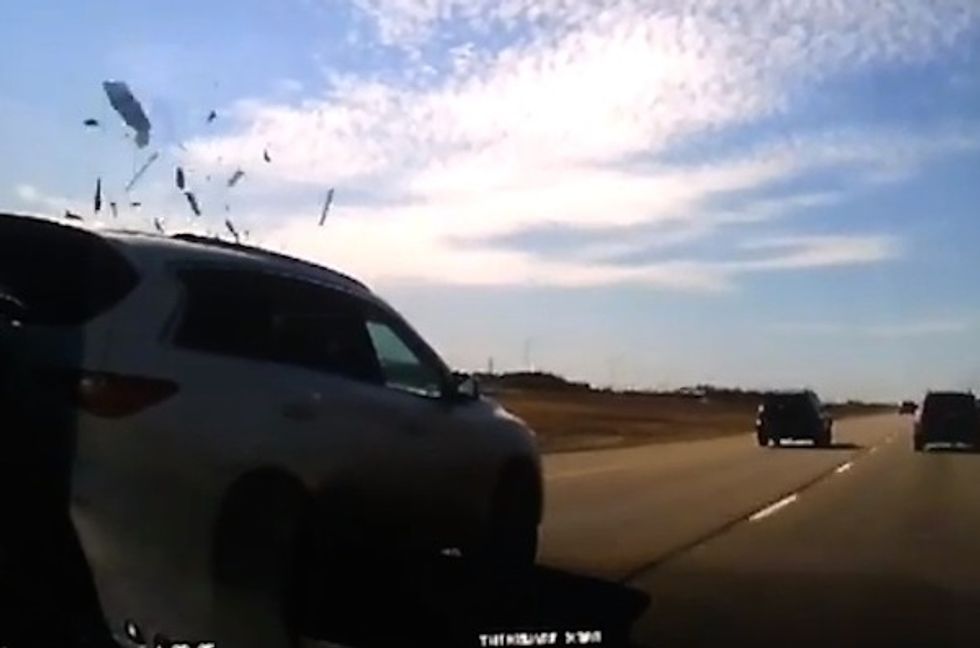 Image source: YouTube
The reason? One engineer explained that thinner glass thanks to the push for more fuel-efficient vehicles might be the root cause.
"The main issue is that the glass in the structure around the sunroof is being made thinner in vehicles," Donald Phillips told KPRC-TV, noting that manufacturers have had to meet new efficiency standards and are cutting down on materials to reduce weight. "The problem is that going with the thinner materials and the thinner metal in the cars, you're getting more movement, so now you're more on the edge of what they used to be, when things were heavier and thicker and more robust."
According to a 2013 article in Auto Glass Repair and Replacement magazine, the issue seems to be most prevalent in vehicles 2010 and newer — and they don't even have to be moving for the explosion to occur.
"The dilemma is that vehicle manufacturers believe it's an impact break," Bob Beranek, editor of Auto Glass Journal and CEO of Automotive Glass Consultants Inc., told AGRR at the time. "Some of the higher-end cars are covering it under warranty if the customer says, 'I wasn't even in the car, I wasn't even driving it.' Those that say, 'I was driving down the road and there was no reason for the sunroof to blow out and it just did' well then the manufacturers are going to say it is impact related. Until injuries occur vehicle manufacturers still have the option to charge the customer for the replacement. If they can pass off the cost to the customers, they're going to."
Beranek countered manufacterers' claims that these incidents are caused by impact.
"To get an impact break on the top of the car is practically impossible," he said. "The rock would have to bounce straight up and come straight down with such a rate of speed that it would cause tempered glass to break. And that's very difficult to do. And yet, here dealerships are telling all of these numerous people that it's an impact break. And it's hard to prove with tempered glass because once it breaks there's breakage all over."
Beranek also blamed thinner glass, likely imported from other countries, as part of the problem.
"I think what some of these dealerships have done is ask their suppliers to reduce the weight of the units they send to them," he told AGRR. "To meet that demand, the suppliers thin the glass out. And what's happening is that the pressure is popping the glass because the car is so airtight. And I'm not pointing fingers at any particular country. The car manufacturers are seeking cheaper parts. Well, with that comes cheap materials and so forth. I wouldn't be surprised if the glass being thinner was part of the problem."
Watch it happen in this video:
Is heat a factor as well though? The examples of sunroof explosion incidents cited by AGRR occurred in August and September, but there have been some reported incidents occurring in traditionally cooler months as well. KYW-TV reported that heat trapped in the car between the sunroof and a closed sunroof shade could play a role.
This is why Phillips suggested on exceptionally hot days that car owners with sunroofs leave their sunroof shade upon to reduce pressure. He also said tinted sunroofs are less likely to spontaneously explode as well.
Either way, if it does happen, like it did to Wade Owens earlier this month on his ride to work in a Kia Sportage, it sounds "like a bomb go off, " he told KTRK-TV.
According to the KPRC, the National Highway Transportation Safety Board has received hundreds of complaints regarding sunroof glass issues from many manufacturers. Some of these have lead to manufacturer recalls.
Watch KPRC's report:
video platformvideo managementvideo solutionsvideo player
(H/T: WKMG-TV)
—