ALPHARETTA, Ga. (AP) — The ongoing tensions between the families of the late megastar Whitney Houston and her ex-husband, R&B singer Bobby Brown, erupted Saturday during a memorial service for their daughter, Bobbi Kristina.
Bobbi Kristina, who dreamed of growing up to achieve fame like her mother, died in hospice care July 26, about six months after she was found face-down and unresponsive in a bathtub in her suburban Atlanta townhome.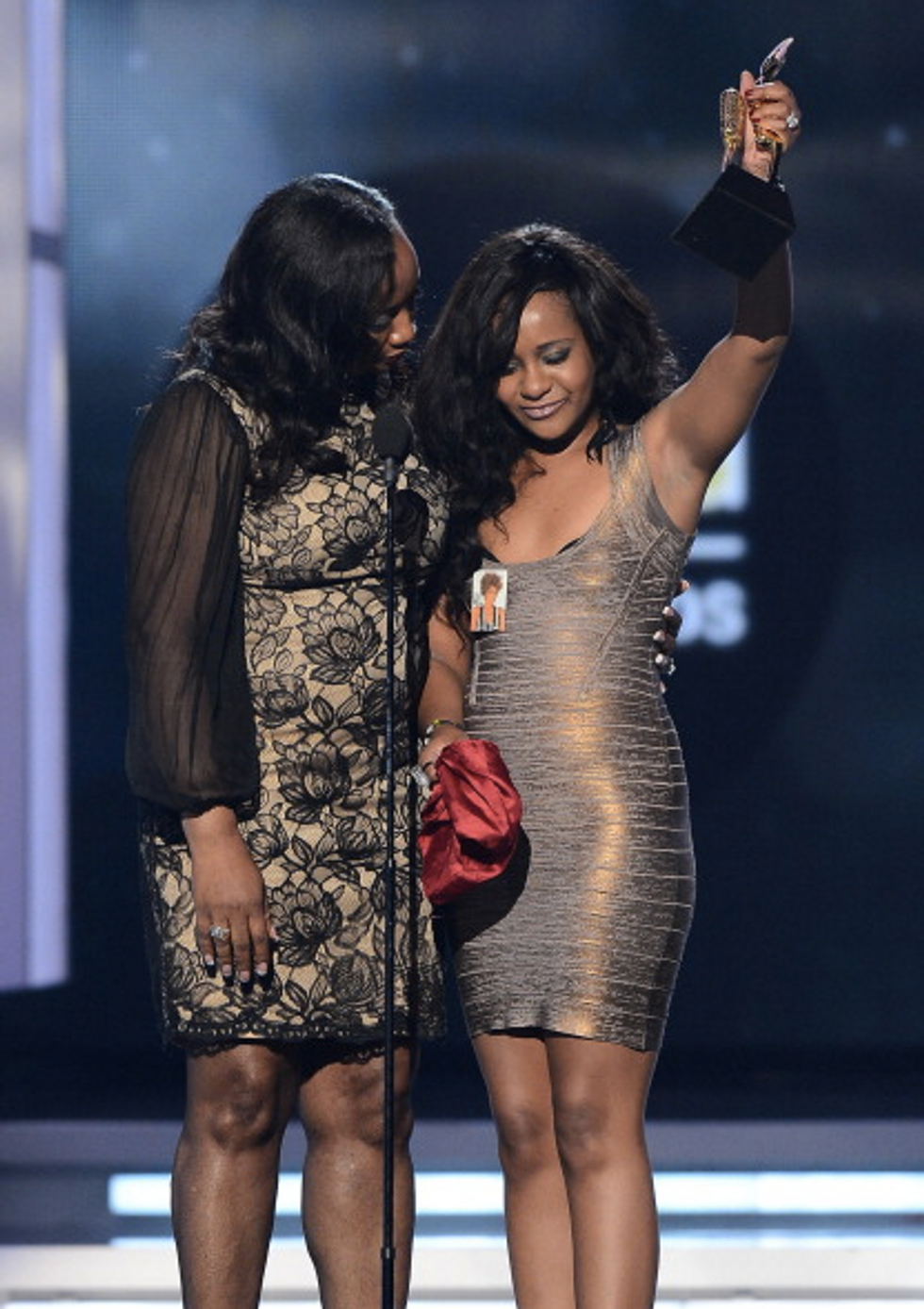 LAS VEGAS, NV - MAY 20: (EXCLUSIVE COVERAGE) Pat Houston (L) and Bobbi Kristina Houston-Brown accept the Millennium Award on behalf of Whitney Houston during the 2012 Billboard Music Awards at the MGM Grand Garden Arena May 20, 2012 in Las Vegas, Nevada. (Photo by Ethan Miller/Billboards2012/Getty Images for ABC)
A longstanding rift between families of the young woman's famous mother and father broke out into the open at a memorial service being held for Bobbi Kristina at the St. James United Methodist Church in Alpharetta.
Leolah Brown, the sister of Bobby Brown, walked out of the church and spoke to reporters gathered outside. She said she was angry because Pat Houston was speaking at the funeral. Pat Houston is the sister-in-law and former manager for the late Whitney Houston.
"I told her that Whitney is going to haunt her from the grave," Leolah Brown told reporters outside the church.
She suggested that the feud between the Houstons and the Browns was far from over.
"It's just getting started," she said.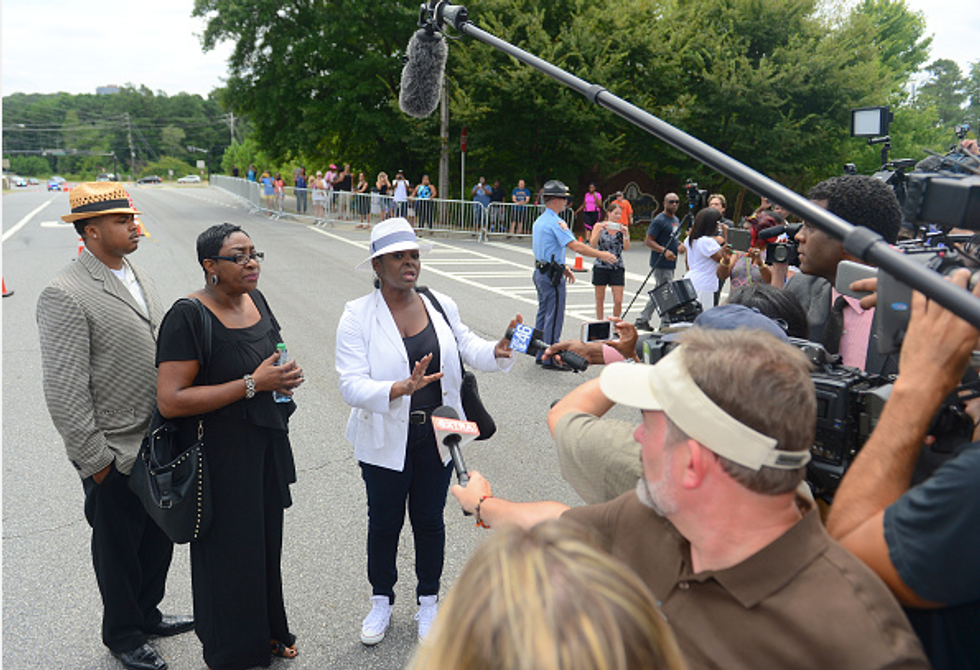 ALPHARETTA, GA - AUGUST 01: Leolah Brown, aunt of Bobbi Kristina, addresses the press outside the funeral of Bobbi Kristina Brown at the St. James United Methodist Church on August 1, 2015 in Alpharetta, Georgia. Brown, the daughter musician Bobby Brown and the late Whitney Houston, was reportedly found unconscious in her bathtub on January 31, 2015 and passed away on July 26, 2015 at the age of 22 after an extended hospital stay. (Photo by Prince Williams/WireImage)
Bobbi Kristina's death was grimly similar to the way her megastar mother had died three years earlier.
Bobbi Kristina was found in the townhome she shared with Nick Gordon, an orphan three years older, whom Houston had raised as her own. Bobbi Kristina referred to him as her husband. A police report earlier this year described the incident as a drowning, and authorities are investigating her death.
Bobbi Kristina Brown was the only child of Houston and Brown and was raised in the shadow of her famous parents' hugely public life.
She appeared alongside the couple in 2005 on the Bravo reality show "Being Bobby Brown," which showed her parents fighting, swearing and making court appearances. She attended award shows with her mother and father, walked red carpets with them and sang in Central Park with Houston as adoring fans watched.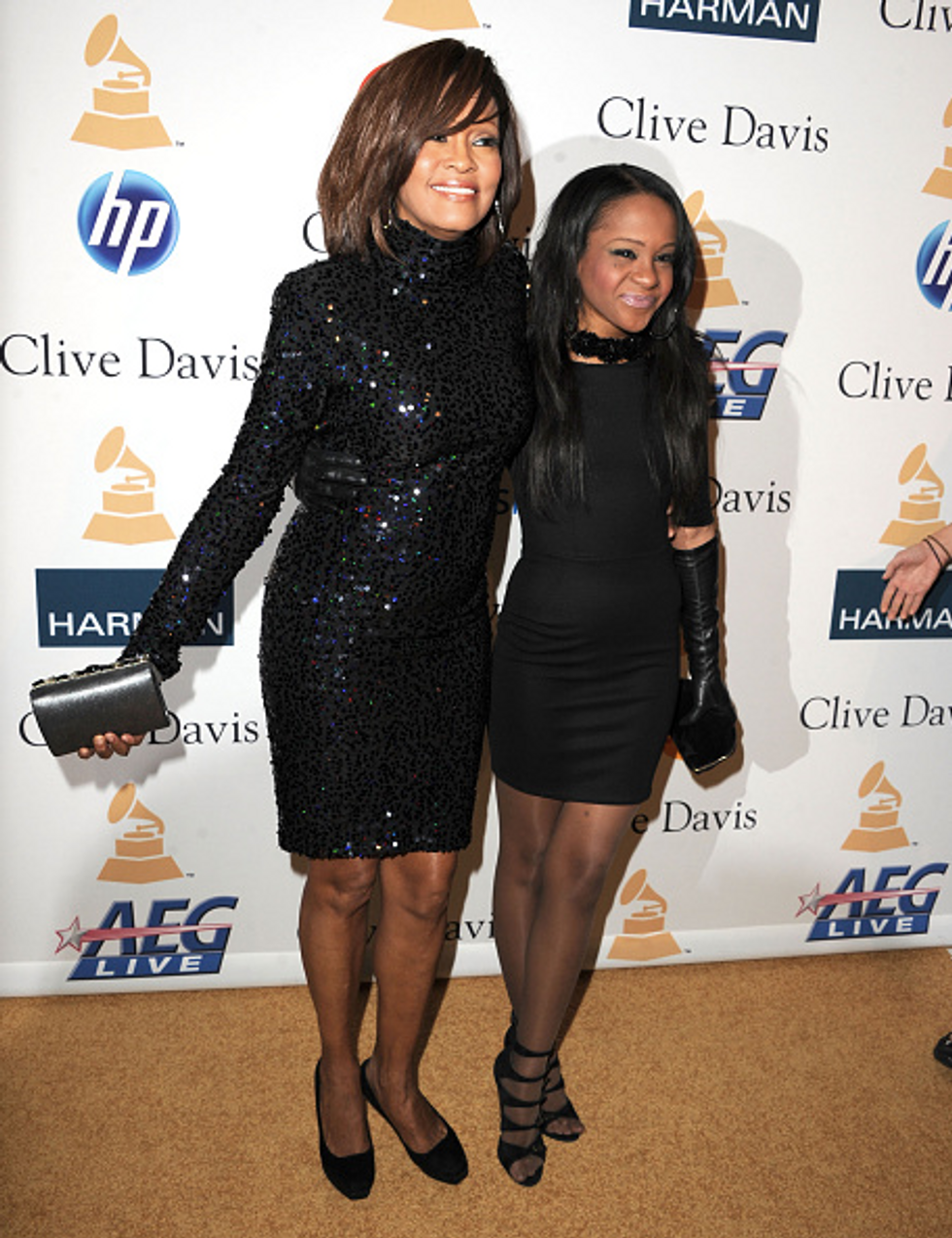 BEVERLY HILLS, CA - FEBRUARY 12: Whitney Houston and Bobbi Kristinaarrives Clive Davis And The Recording Academy's 2011 Pre-GRAMMY Gala at The Beverly Hilton hotel on February 12, 2011 in Beverly Hills, California. (Photo by Steve Granitz/WireImage)
Bobbi Kristina was the sole heir of her mother's estate. She identified herself on Twitter as "Daughter of Queen WH," ''Entertainer/Actress" with William Morris & Co., and "LAST of a dying breed."
She told Oprah Winfrey shortly after her mother's death in 2012 that she wanted to carry on Houston's legacy by singing, acting and dancing. But her career never took off.
In her short life, Bobbi Christina became a social media sensation, sending more than 11,000 tweets and attracting 164,000 followers.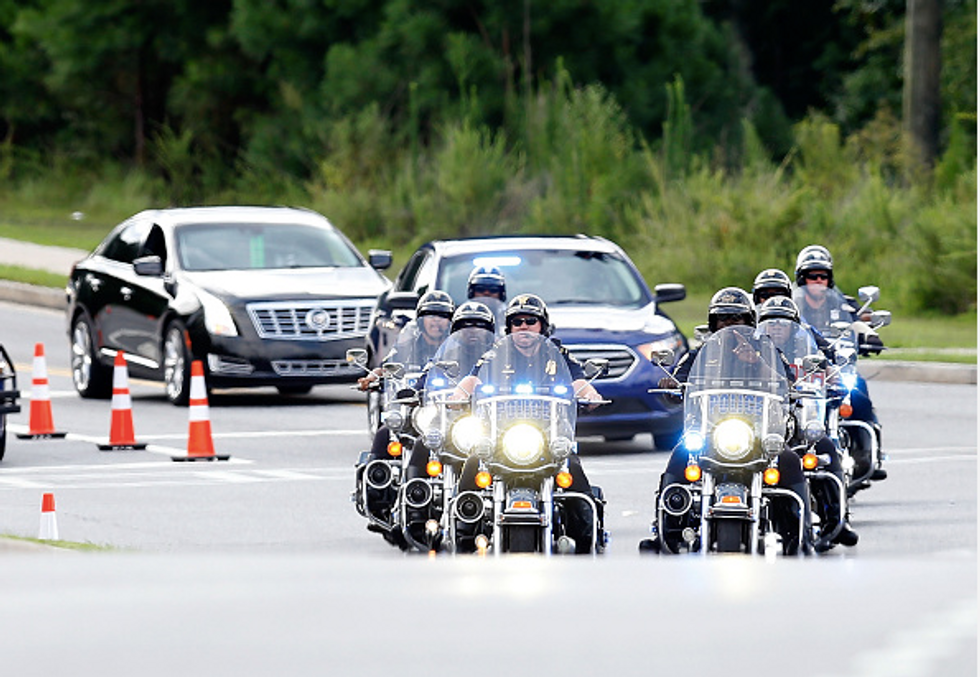 ALPHARETTA, GA - AUGUST 01: Leolah Brown, aunt of Bobbi Kristina, addresses the press outside the funeral of Bobbi Kristina Brown at the St. James United Methodist Church on August 1, 2015 in Alpharetta, Georgia. Brown, the daughter musician Bobby Brown and the late Whitney Houston, was reportedly found unconscious in her bathtub on January 31, 2015 and passed away on July 26, 2015 at the age of 22 after an extended hospital stay. (Photo by Prince Williams/WireImage)