A new poll released Monday shows Republican presidential candidate Donald Trump growing increasingly popular among Republicans and Republican-leaning voters.
The survey from Monmouth University in New Jersey found that 26 percent of Republican voters said they support Trump in the primary, putting him at a "2-to-1 advantage over his nearest rivals," former Florida Gov. Jeb Bush and Wisconsin Gov. Scott Walker.
Twelve percent of voters said they were for Bush, and 11 percent opted for Walker.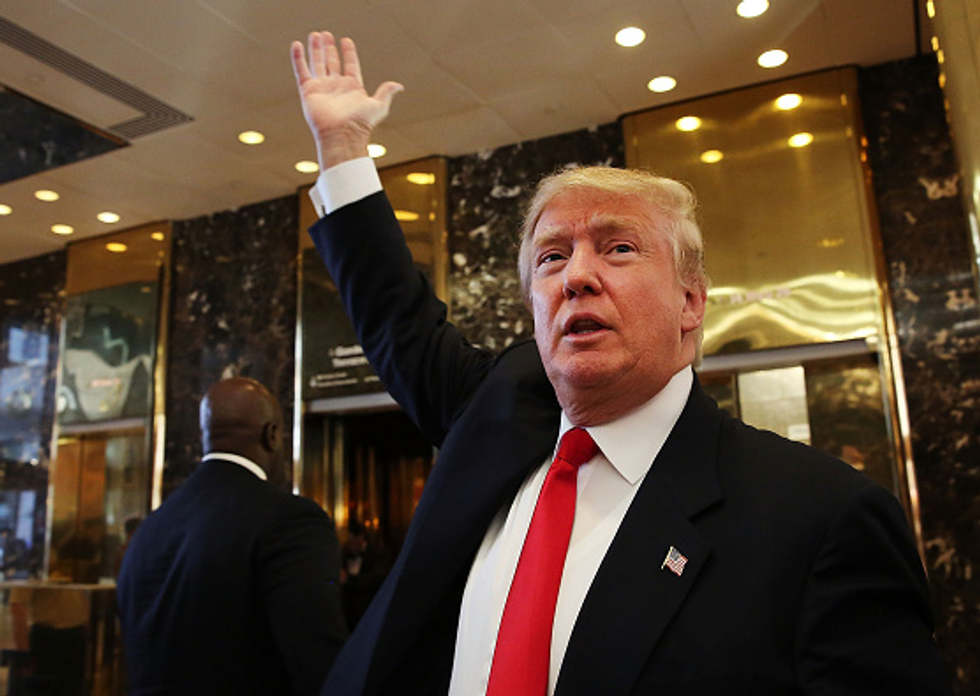 Donald Trump greets supporters, tourists and the curious after taping an interview with Anderson Cooper at a Trump-owned building in Manhattan, July 22, 2015 in New York City. (Spencer Platt/Getty Images)
"Compared to the Monmouth University Poll released three weeks ago, Trump's support has increased by 13 points," the poll summary says. "Walker's support has increased by 4, while Bush and [Texas Sen. Ted Cruz] have decreased by 3 points."
The news may be troubling for some in the GOP who have dismissed Trump's success thus far. The poll was conducted among 423 registered voters between July 30 and August 2, meaning his numbers have risen despite his controversial comments denigrating Arizona Sen. John McCain's status as a war hero, something many thought would halt his increasing popularity.
"Republican support for Donald Trump just continues to grow with no clear sense of who his constituency really is," said Patrick Murray, director of the Monmouth University Polling Institute. "This makes it very difficult for his opponents to figure out how to take him on in the upcoming debate."
A recent NBC News/ Wall Street Journal poll also put Trump ahead of his competitors, which virtually guarantees him a position in Thursday's Fox News debate. It is still unclear who the other nine participants will be, however, since Fox has described the debate as among the top 10 candidates but poll numbers continue to shift on who exactly those candidates are.
"I suppose Fox hoped that a top tier would emerge by the time the first debate rolled around. But based on current polling, there's no good rationale for arbitrarily selecting a top 10," Murray added.
You can see the complete poll results here.