Update 1:27 p.m. ET: Lt. Tim Hawkins, a Navy spokesman, told TheBlaze that stories saying charges are being brought against. Lt. Cmdr. Timothy White for opening fire against the Chattanooga shooter are false because the investigation is still ongoing.
"There's a long way to go in reviewing all the facts of this case," Hawkins said.
The FBI is leading the investigation with the cooperation of the Navy, he said, reiterating that the "bottom line is we have a long way to go."
Original story as follows below.
—
The U.S. Navy said no charges have been brought against the sailor who admitted to returning fire against the Chattanooga shooter, despite reports flying around that such charges are coming.
Former Republican Florida Rep. Allen West wrote in a blog post over the weekend that he was "fighting dog mad and seriously pissed off" after a source told him the U.S. Navy was bringing charges against Lt. Commander Timothy White who discharged his gun on federal property as a defensive maneuver against the  Muhammad Abdulazeez last month.
The conservative commentator's blog post from Saturday went viral on many websites, but the Navy, after fielding an onslaught of negative comments, has at least said no charges have been brought at this time.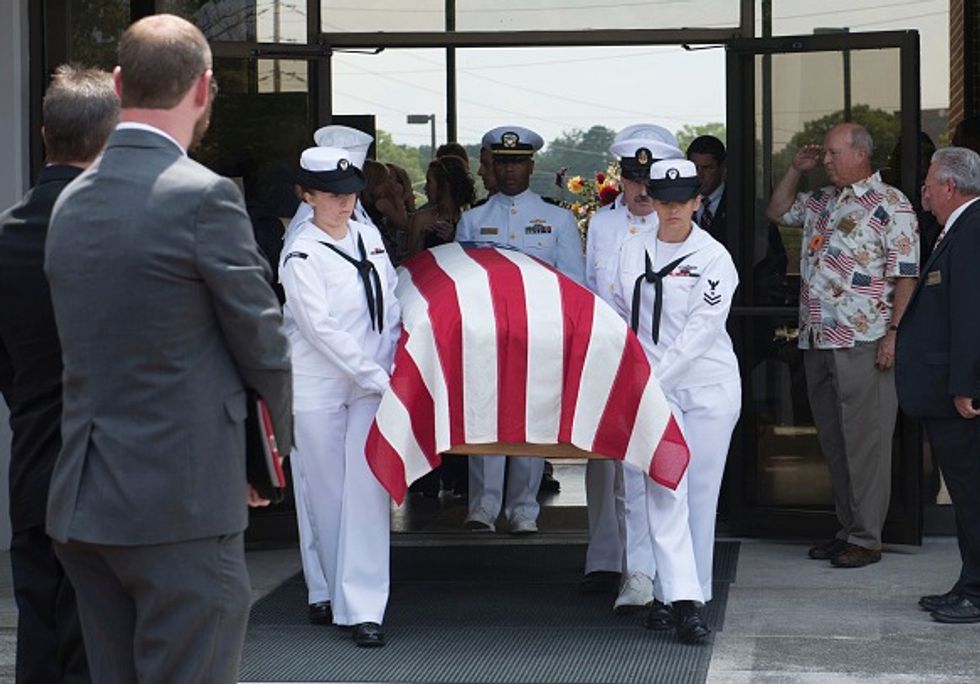 In this handout photo provided by the U.S. Navy, Pallbearers carry the casket of Logistics Specialist 2nd Class Randall Smith after a service at First Baptist Church on July 28, 2015 in Fort Oglethorpe, Georgia. Smith is one of five service members killed when gunman Mohammad Youssuf Abdulazeez opened fire on a military recruiting center in Chattanooga, Tennessee. (Chief Mass Communication Specialist Michael D. Cole/U.S. Navy via Getty Images)
While some had already speculated that the sailor could face charges, West said he received a text message from a source, allowing him to "confirm that the United States Navy is bringing charges against Lt. Cmdr Timothy White for illegally discharging a firearm on federal property."
Democratic presidential candidate Jim Webb also tweeted similar information over the weekend:
Navy charging LCDR Tim White w/ a crime for trying to defend our sailors & Marines in #Chattanooga? He deserves a medal, not an indictment.

— Jim Webb (@JimWebbUSA) August 2, 2015
Before tweeting last night, we confirmed with a defense official that the Navy was seriously considering charging LCDR Timothy White.

— Jim Webb (@JimWebbUSA) August 2, 2015
Seeing criticism from this on social media, the Navy responded.
"[...] stories of Navy personnel being charged with an offense are not true," the U.S. Navy wrote in response to a comment on its Facebook page. "There is still a long way to go in reviewing the facts of this tragic incident, but at this time we can confirm no service member has been charged with an offense."
A Navy official told Fox News that charges could not be "completely ruled out":
A senior defense official told Fox News on Monday morning that it is "extremely unlikely" that White would be charged; however, a proper investigation into the events in Chattanooga needed to occur.

"Even if remote, is there a chance [White] contributed to the chaos and got people killed? Hurt police efforts?" the official said. "We are exploring that."
The Navy did not immediately respond to TheBlaze's request for comment if charges could be brought in the future.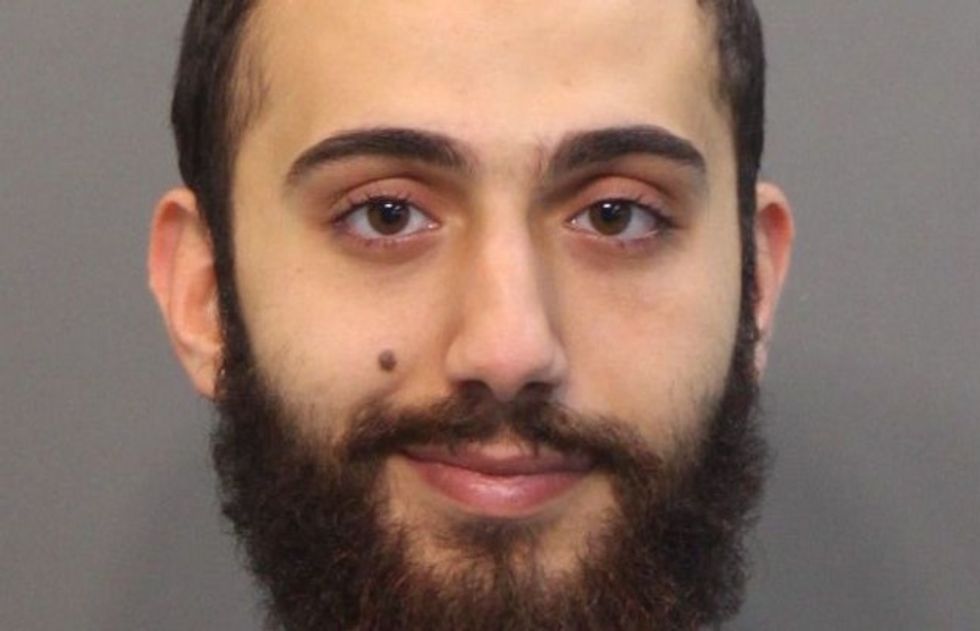 FBI identified the gunman in the Chattanooga shooting as 24-year-old Mohammod Youssef Abdulazeez. (Hamilton County Sheriff's Office/Getty Images)
Last week, the Navy Times reported that four sources confirmed that White used a personal firearm at the Navy Operational Support Center, which on July 16 was the first site of an attack by 24-year-old Abdulazeez. White later confirmed that he opened fire on Abdulazeez, who was later shot and killed by police after he had already killed four Marines and one sailor.
The Washington Post also reported a Navy source saying that one of the Marines killed in the attack might have been carrying a 9mm Glock and might have also returned fire.
The attack caused citizens around the country to take up armed post outside of military centers to defend service members who by law are not allowed to carry their own firearms. The Pentagon later asked people to stop doing this because "it could adversely impact our mission, and potentially create unintended security risks."
Secretary of Defense Ash Carter reminded the military service chiefs Thursday that Defense Department policy does allow some military personnel to be armed while working at recruiting centers and ROTC offices.
Carter directed the military branches Thursday to review security policies — including adding armed personnel — in the wake of the July shooting.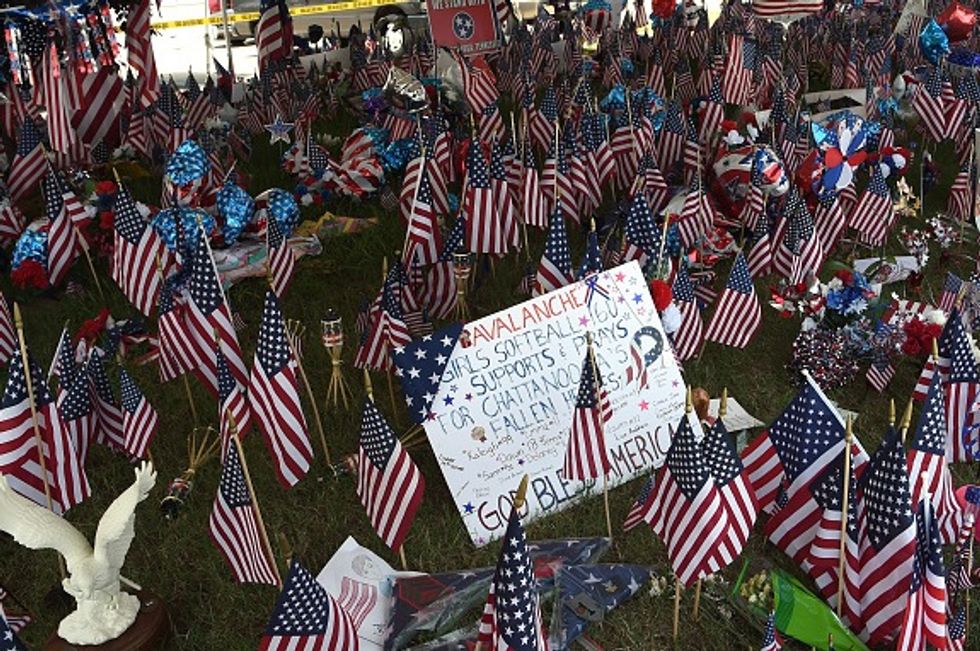 American flags, signs and other remembrances are gathered at the Lee Highway memorial on July 29, 2015 in Chattanooga, Tennessee. According to reports, Mohammod Youssuf Abdulazeez, 24, opened fire on the military recruiting station on July 16 at a strip mall and then drove to a Navy operational support center, killing four United States Marines and wounding a Navy sailor who died two days later. (Rick Diamond/Getty Images)
Carter said in a memorandum released Thursday that the service secretaries should develop plans that include the option of armed personnel. Military personnel are generally prohibited from carrying firearms at recruitment centers and bases, but he reminded the chiefs that existing policy allows for armed personnel for security, law enforcement and counterintelligence duties.
Pentagon spokesman Capt. Jeff Davis said the memo is focused on facilities outside of military bases, such as recruiting stations and ROTC offices. He said there are about 7,000 such facilities throughout the United States.
"Looking at arming personnel doesn't mean that's what the services will ultimately decide," Davis said. "But it does tell them that they have, within DOD policy anyway, the existing authority to do that."
Davis acknowledged that the service chiefs will have to deal with potential conflicts at private buildings or on university campuses that restrict firearms.
"I'm sure that the service chiefs, as they look at this, will be well aware of the constraints that they face in doing this, and that will be part of their plans," Davis said.
(H/T: Al.com)
—
The Associated Press contributed to this report. This story has been updated to include more information.