Residents of a Vermont town took matters into their own hands to replace a shredded American flag flying outside their post office.
Huntington resident Beverly Haskins, who lives across from the postal facility, was just one of several in the sleepy New England town to take their complaints directly to local officials.
"I think it's a disgrace to the nation and to the town of Huntington," Haskins told WPTZ-TV.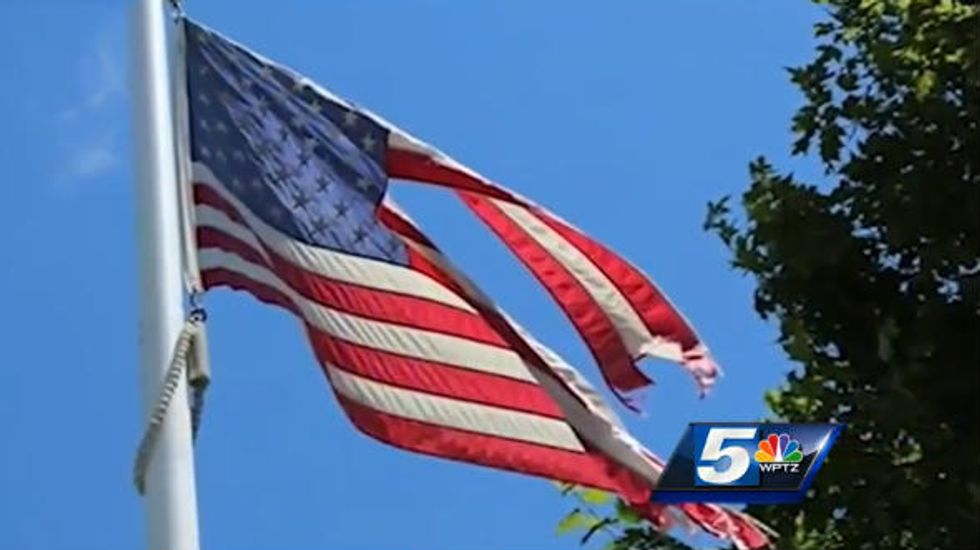 Image source: WPTZ-TV
But Dori Barton, who chairs the Huntington town select board, essentially told them that there was nothing she could do since the post office is on private property.
"I mean, people have died for this flag. And you can't even get anybody to replace it?" resident Lisa Haynes said.
Her husband, Roy Haynes, added, "You want other nation's to respect us? Our own citizens should have more respect for the flag."
After residents snapped photos of the flag and posted them to social media, WPTZ-TV sent one of them to post office officials in Boston, who responded swiftly to the TV station.
"That's appalling the way it looks," USPS spokesman Steve Doherty said. "This isn't a close call. It should've been replaced a long time ago and we'll get that done right away."
But the mail carrier couldn't act fast enough to beat one woman who happened to walk by and see the battered flag. That's when she took matters into her own hands.
The woman, who did not want to give her name, went home to get the flag that once draped from her father's coffin. She received it about a year ago from the Pentagon around the time that her father, a Korean War veteran, died.
It's not clear whether that flag will remain flying outside the post office in the sleepy New England town. However, the fix appears to be, at the very least, a temporary solution until the post office has time to raise another new flag.
(H/T: WPTZ-TV)
–
Follow Jon Street (@JonStreet) on Twitter