White House press secretary Josh Earnest and CNN's Chris Cuomo had a heated back-and-forth Monday regarding the Planned Parenthood sting videos that purport to show Planned Parenthood officials discussing the sale of aborted fetal tissue for research.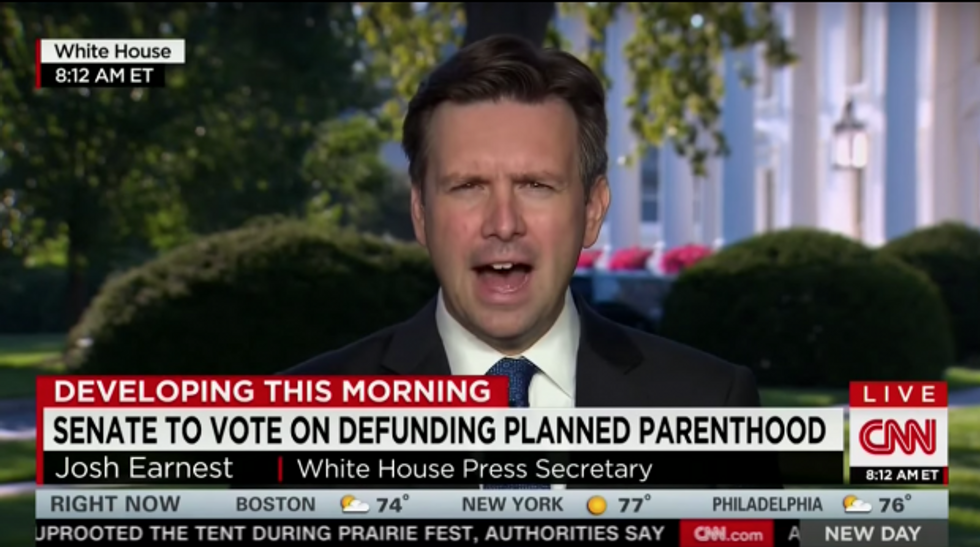 CNN
Cuomo opened the interview by asking Earnest whether it's time to "take a look at" what the nonprofit health care organization — the nation's largest abortion provider — does.
"I don't have a whole lot of insight into the specific policies and procedures that Planned Parenthood follows," Earnest responded. "But what they say, they say they follow the highest ethical standards in the industry."
Cuomo interjected, saying, "You saw the videos though, Josh. You saw the videos. No high ethical standards at play there. Base stuff, ugly stuff."
Earnest then reminded the CNN host that he hasn't seen the videos and suggested they only surfaced because of the "shock value" and not their "news value." Earnest went on to question whether the four videos — which are heavily edited — released so far are actually authentic.
"I haven't seen the videos. I can't render my own judgment on that. People who have looked at the video have raised significant concerns about that, and I think anybody would question the source. I think that's legitimate," Earnest said.
Earnest has repeatedly affirmed the administration's support for Planned Parenthood in the wake of the controversy, including telling TheBlaze that it would not reconsider future federal funding.
Congressional Republicans are vowing to defund Planned Parenthood, with a Senate vote to halt federal aid expected Monday.
(H/T: Mediaite)
–
Follow Jon Street (@JonStreet) on Twitter