As Congress and at least five states move forward on investigating allegations that Planned Parenthood is harvesting and selling fetal body parts, the Obama administration will not reconsider its support of federal funding for the nation's largest abortion provider, White House press secretary Josh Earnest said Monday.
TheBlaze asked White House press secretary Josh Earnest if in light of the investigations prompted by an undercover video, the administration might reconsider federal funding.
"No," Earnest answered. He did not elaborate.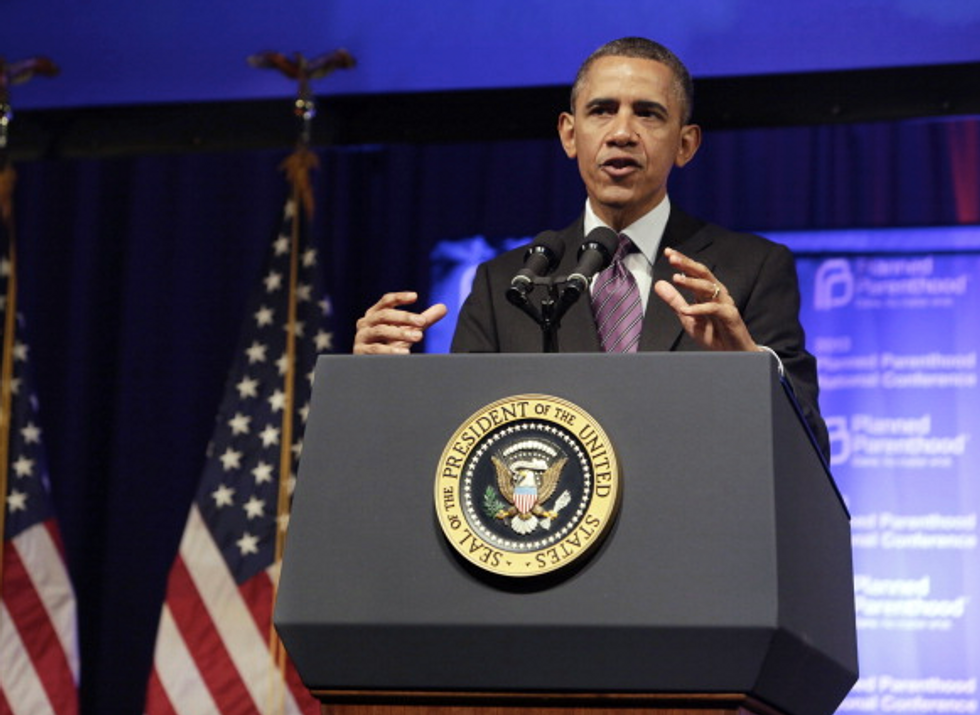 President Barack Obama speaks at the Planned Parenthood Gala at the Marriott Wardman Park Hotel on April 26, 2013 in Washington, DC. Obama defended the organization and told delegates that he would block efforts to cut off funding. (Photo by Chris Kleponis-Pool/Getty Images)
Last week, when asked about the video, Earnest only said that he did not know whether President Barack Obama had seen the video, and referred to statements by Planned Parenthood that the organization adheres to medical ethics.
The House Energy and Commerce Committee and the House Judiciary Committee are investigating the matter, so are the states of Georgia, Indiana, Louisiana, Ohio and Texas.
The undercover video by a medical ethics group opposed to abortion shows Dr. Deborah Nucatola, the Planned Parenthood Federation of America's senior director of medical services, casually discussing the selling of unborn baby body parts as she ate salad and drank wine.
Planned Parenthood President Cecile Richards last week apologized for Nucatola's "tone" in the video.
The White House has had little to say about an organization that has been a staunch political ally for the president in recent years. Planned Parenthood twice endorsed Obama for president.
In 2012, Richards took temporary leave from the organization to work fulltime on the Obama re-election campaign. Obama spoke to the organization in April 2013 and told the audience, "God bless you."
---