Before the candidates have even taken the stage to debate each other for the first time, the 2016 presidential campaign has already gone through two eras: "Before Trump" and "After Trump."
It's still a long way off from November 2016, but social media has been abuzz as more and more contenders throw their hats into the ring to vie to be the next occupant of the White House and George Washington University professors Dr. Michael Cornfield and Dr. Lara Brown are keeping track of their movements with the help of Zignal Labs.
Real estate mogul Donald Trump has, unsurprisingly, dominated the conversation, according to the second installment of the Public Echoes of Rhetoric in America, or PEORIA, Project, obtained by TheBlaze. Trump has amassed 32.5 percent of the total share of voice — a summation of all mentions of a candidate across social media — for all candidates, as well as nearly half of the share of voice among Republicans at 46.6 percent.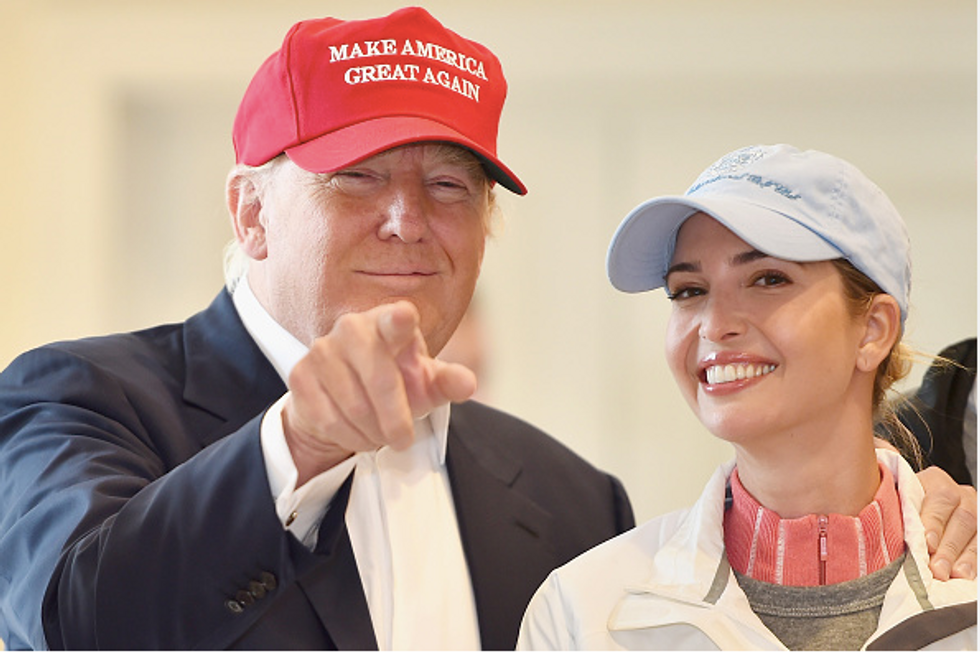 AYR, SCOTLAND - JULY 30: Republican Presidential Candidate Donald Trump visits his Scottish golf course Turnberry with his children Ivanka Trump and Eric Trump on July 30, 2015 in Ayr, Scotland. Donald Trump answered questions from the media at a press conference. (Photo by Jeff J Mitchell/Getty Images)
"We weren't surprised to see that Donald Trump was dominating the conversation. We just have some numbers that we can quantify that now," Cornfield told TheBlaze.
"Trump has not only pumped up the conversation, but changed the agenda," Brown observed in the report. "Process stories like campaign finance reports are out. Policy stories like immigration are in."
But despite dominating the conversation, Trump isn't faring well when it comes to "turning talk to action," according to the PEORIA Project. His announcement tweet was only retweeted 11,000 times, compared to Texas Sen. Ted Cruz's tweet, which garnered 13,000 retweets. In comparison, a tweet about climate change from former Secretary of State Hillary Clinton received 57,000 retweets.
The report even states that Sen. Bernie Sanders, the Vermont Independent vying for the Democratic slot, has a greater echo reach — the aggregate of mentions in the database of words and phrases issued by a campaign — than that of Trump. According to data shared with the Washington Examiner from New York-based ListenFirst Media, Sanders engaged 13.6 million times with social media users in the past month, with Trump not that far behind.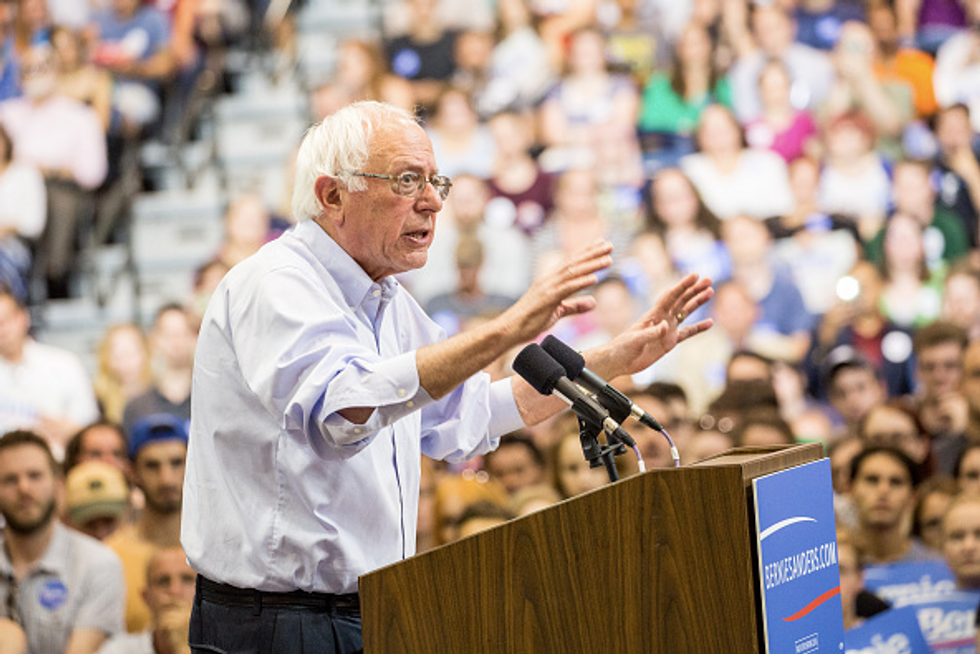 KENNER, LA - JULY 26: Democratic presidential candidate Senator Bernie Sanders (I-VT) speaks to guests at the Louisiana Rally with Bernie Sanders at Ponchartain Center on July 26, 2015 in Kenner, Louisiana. (Photo by Josh Brasted/Getty Images)
"We were also, I think, one of the first to notice that there was something going on with the Bernie Sanders campaign, that there were a lot more people talking about than maybe the news media was noticing at the time," Cornfield told TheBlaze.
Sanders was the only candidate the PEORIA project found that increased his social media mentions post-Trump.
Vincent Harris, chief digital media strategist for Republican presidential contender and Sen. Rand Paul, isn't surprised by Trump's lack of action. He told TheBlaze that when it comes to social media, there's a fine line between doing something for shock value and doing something that has a larger purpose.
"There's always a shock value of things online," Harris said. "Just because things go viral, it doesn't mean it's a success in winning an election. It's about growing a grassroots base and it's about being presidential. Senator Paul uses social media in a way that's presidential. Online can certainly be a place for loud and brash comments and often they get a lot of attention online, but there is a strategy to running a digital effort that's more that just getting a lot of retweets."
"Just saying something to get a bunch of retweets is just saying something to get a bunch of retweets," he continued. "It's not running for president and it's not winning."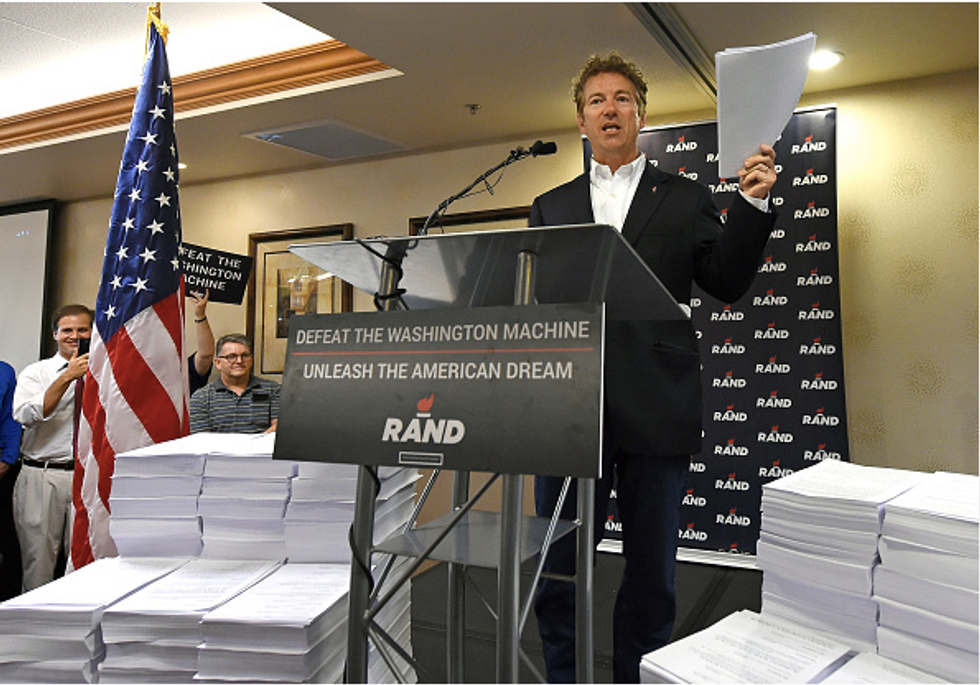 LAS VEGAS, NV - JUNE 29: Republican presidential candidate U.S. Sen. Rand Paul (R-KY) is flanked by more than 74,000 pieces of paper representing the size of the U.S. tax code as he speaks during a campaign stop at an Embassy Suites hotel on June 29, 2015 in Las Vegas, Nevada. Paul made stops in four cities in Nevada on Monday as he campaigns for the battleground state against 12 other Republican candidates in the 2016 presidential race. (Photo by Ethan Miller/Getty Images)
According to the PEORIA Project, the Kentucky senator has been "doing well" on social media.
"His top tweets relay his issue positions rather than reacting to events or to the comments of a competitor. He also has solid retweet numbers relative to his total number of mentions," the report states.
The report claimed that Cruz, who supported Trump, and Paul, who remained neutral on the candidate, have fare better for doing so.
Harris said that while 2016 will be the first presidential election where digital media brings the majority of voters their news, the Paul campaign is remembering what's at the core of social media — the social component. And while Paul doesn't garner the most retweets (the PEORIA Project hands that achievement to Cruz), he is quite social online: crowdsourcing T-shirt ideas on Facebook and Twitter, becoming the first candidate to utilize livestreaming video apps Meerkat and Periscope, conducting a townhall on Facebook and sending Snapchats to his libertarian fan base.
Harris also said that the campaign has purchased Snapchat ads in Iowa, New Hampshire, Nevada and South Carolina to target voters in those early states.
"I don't think there's a better campaign on either side of the aisle that's using social media," Harris said. "Senator Paul very much thinks that social media was very much a definer of President Obama's victory and he certainly wants to very innovative in its use."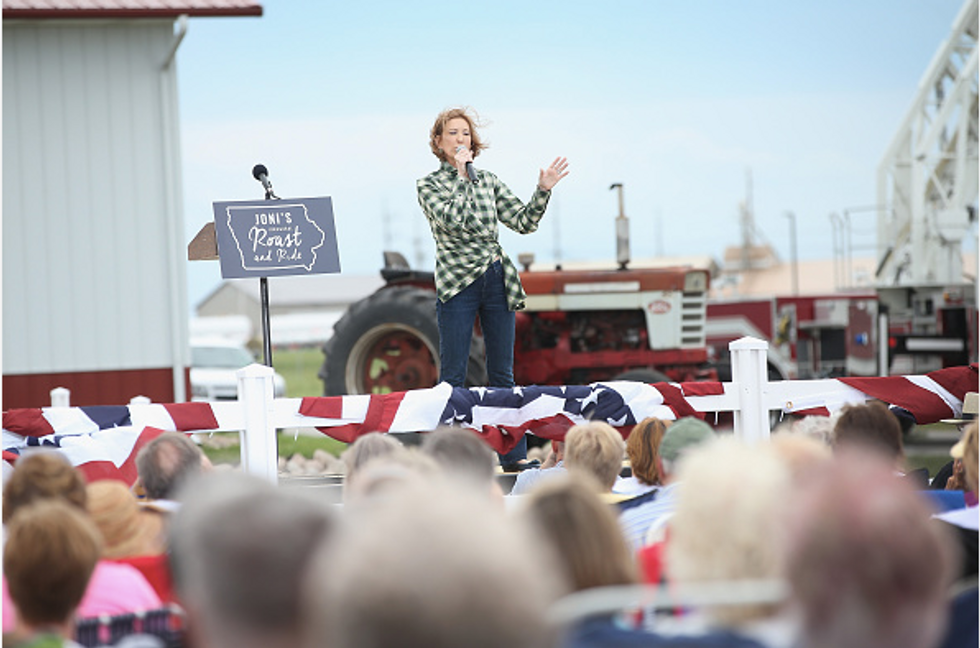 BOONE, IA - JUNE 06: Republican presidential hopeful former business executive Carly Fiorina speaks at a Roast and Ride event hosted by freshman Senator Joni Ernst (R-IA) on June 6, 2015 in Boone, Iowa. Ernst is hoping the event, which featured a motorcycle tour, a pig roast, and speeches from several 2016 presidential hopefuls, becomes an Iowa Republican tradition. (Photo by Scott Olson/Getty Images)
Carly Fiorina's campaign told TheBlaze they utilize Periscope as well to get the former Hewlett-Packard CEO's message out. Spokeswoman Anna Epstein said Fiorina's campaign also utilizes online collaborative blogging site Medium to spread the candidate's remarks.
According to PEORIA, in the post-Trump social media era, while most of the conversation surrounding candidates have been negative, Fiorina and former neurosurgeon Dr. Ben Carson have had positive conversations. Only three Democrats have had positive conversations: Clinton, Sanders and Lincoln Chafee.
But all of the other social media platforms aside, it's Cruz and Clinton that are dominating the echo reach on social media, according to the PEORIA Project. Cornfield said Cruz was smart to announce way ahead of the other candidates as it's given him more social media time.
However, when people on social media are only talking about Republican candidates, N.J. Gov. Chris Christie and former Texas Gov. Rick Perry dominate the conversation, according to the report.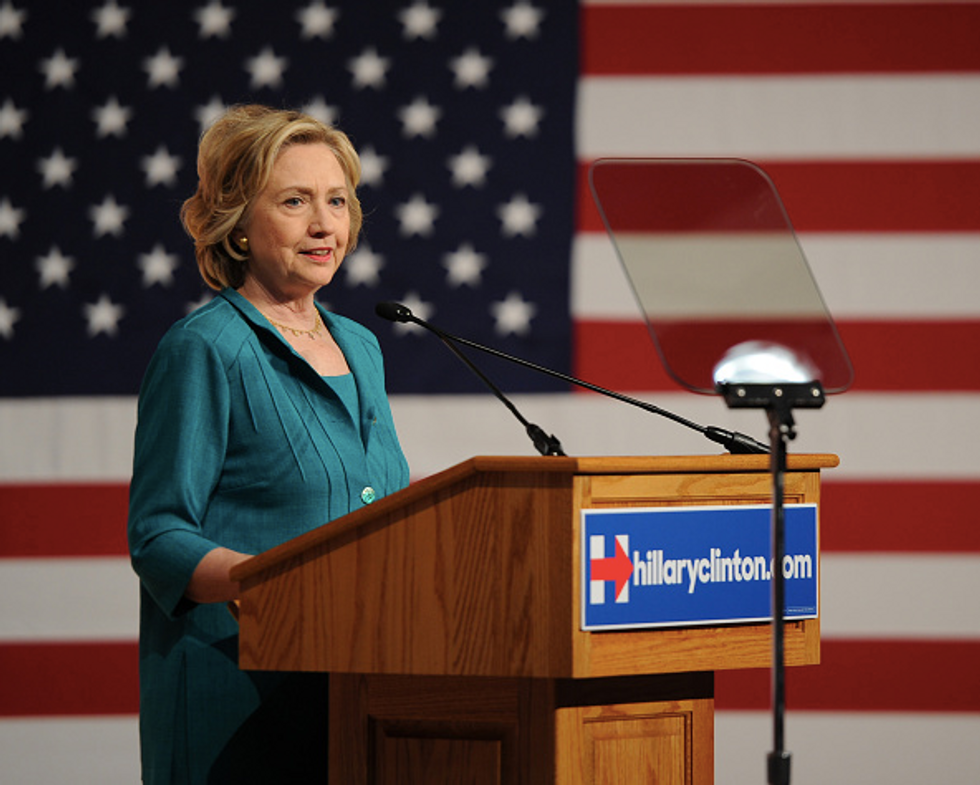 MIAMI FL JULY 31: Former First Lady and Secretary Of State Hillary Rodham Clinton speaks during a campaign stop at Florida International University on July 31, 2015 in Miami, Florida. (Photo by Uri Schanker/WireImage)
But as Clinton's most retweeted tweet shows, it's not all about candidates' announcements on the social media platform. Cornfield told TheBlaze that one of the most astonishing things he noticed in the first report was that when he examined when people were talking the most about former Arkansas Gov. Mike Huckabee, it wasn't about his presidential announcement, but instead comments he had made months prior in regards to the controversy in Ferguson, Missouri.
Data mining is something businesses and corporations have utilized for years, put applying that same technology to social media and elections is a project that Cornfield, an associate professor at GWU's Graduate School of Political Management, told TheBlaze has been on his mind for at least 10 years. And finally this year with the support he needed, as 22 presidential candidates are traveling the country in an attempt to woo voters, Cornfield and his partner are embedding themselves deep into the world of social media.
"I thought it would be a good idea to take that technology and apply that to politics — seeing how often presidential candidates' names are being mentioned in the news and social media, what the trends are, what the sentiment is and how they're doing relative to each other, which is crucial for politics," Cornfield said in an interview with TheBlaze.
The second report, however, only analyzes 20 candidates as John Kasich and Jim Gilmore announced their candidacies too late. The professors and Zignal Labs researched the social media patterns of this report from May 16 to July 19, 2015.
According to Pete Eskew, head of East Coast operations for Zignal Labs, their firm tracks media stories in real time and shows how a tweet can take a story and make it travel. Eskew said Zignal Labs works with politicians and businesses alike — the firm figures out just what their client wants to find out and uses boolean logic to extract that data.
Matthew Zito, vice president of social intelligence platform Synthesio, told the Washington Examiner that campaigns quickly and easily able to obtain information through data mining due in part to social media.
"If you wanted to get 10,000 people's opinions you'd have to do a poll, or survey, or an interest group, and that's a very time consuming process," Zito said. "The brilliant thing about social media is that people are actively giving their opinions not just on political topics, but on any topic you could possibly imagine."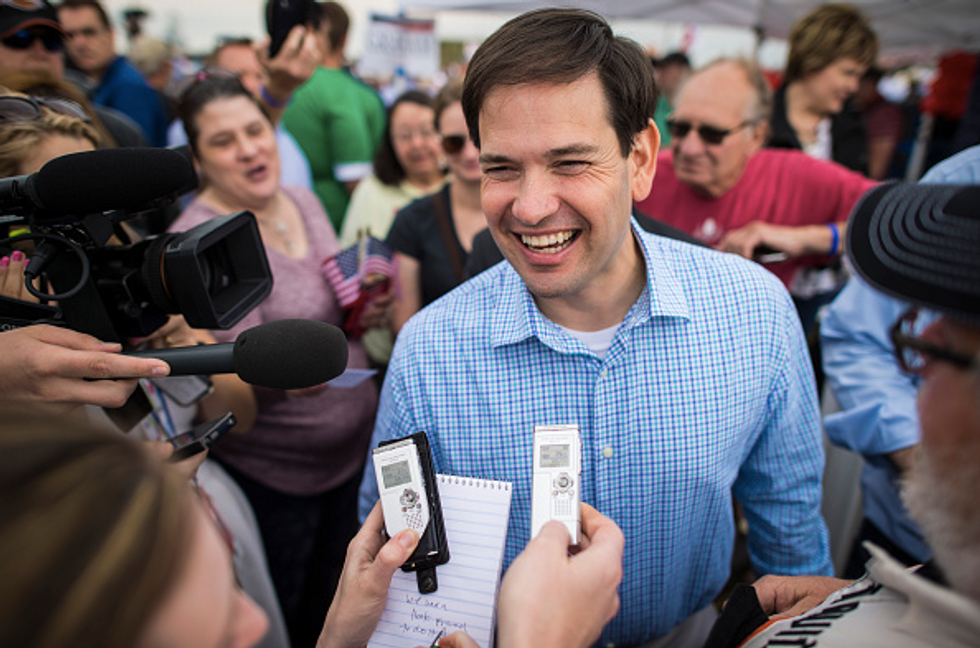 BOONE, IA - JUNE 6: Republican presidential candidate, Sen. Marco Rubio, R-Fla., greets people during Jonis Roast & Ride, a daylong political fund-raiser for GOP candidates, in Boone, IA on Saturday, June 06, 2015. (Photo by Jabin Botsford/The Washington Post via Getty Images)
Many campaigns declined to comment to TheBlaze on their social media use. Sen. Marco Rubio's campaign pointed TheBlaze to an interview the Florida Republican did at the Freedom Partners event in California on Sunday.
"You've got to use however people are communicating," Rubio said when asked about his Snapchat. "That's the only way you're going to reach them today. And so we try to harness all of that."
And as the data has shown Trump's ability to shine bright on social media — even taking some of the wind out of former Florida Gov. Jeb Bush's sails on his announcement day — Cornfield warns candidates not to take the boisterous man too lightly.
"It's tempting to write off the Trump phenomenon as a summer craze," he said in the report. "But the conversation data and the wide open structure of the race suggest that he could be a factor right into the voting process."