An internal investigation by the Department of Justice asserts there was no wrongdoing by the department in the controversial Operation Choke Point.
Operation Choke Point is run through the Department of Justice, the Federal Deposit Insurance Corporation and the Consumer Financial Protection Board and targets how banks handle accounts with the gun industry, payday lenders, casinos, check cashers and debt collectors, among other businesses deemed as high risk by the government.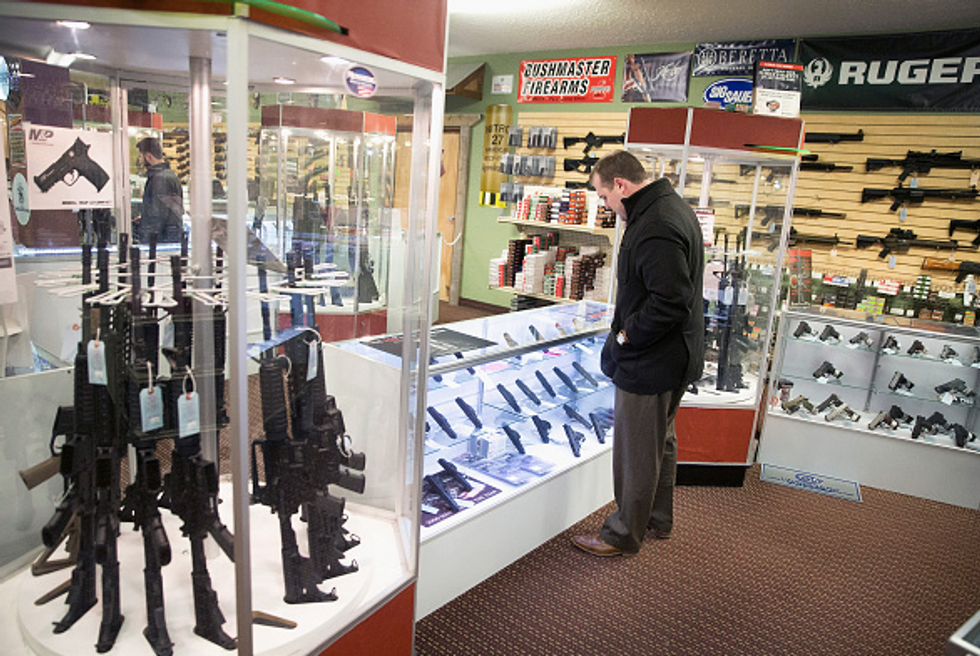 Scott Olson/Getty Images
Last May, the House Oversight and Government Reform Committee issued a report saying there was strong evidence to show the operation was unfairly targeting legal businesses by denying industries such as gun dealers, payday lenders and others access to financial services needed for survival and forcing banks to terminate relationships with several legitimate businesses that regulators said posed a "reputational risk" for the banks.
Rep. Blaine Luetkemeyer (R-Mo.) led more than 30 other members of Congress to ask for the Justice Department internal probe from the DOJ's Office of Professional Responsibility and from its inspector general.
The OPR determined that Justice Department attorneys did not engage in professional misconduct or target industries in an improper way during the operation.
"Neither the design nor the initial implementation of Operation Choke Point specifically focused on Internet payday lenders or their lending practices," the OPR report says.
The OPR is charged with conducting unbiased investigations of misconduct allegations against Department attorneys.
The report found that while Justice Department attorneys viewed payday lenders "in a negative light," there wasn't evidence to suggest that the department issued subpoenas unfairly.
Brian Wise, a senior adviser to the U.S. Consumer Coalition, which opposes the operation, called the investigation "a farce."
"If the administration was serious about an investigation, they wouldn't have had the very agency that is being investigated conduct it," Wise told TheBlaze in a statement.
"When watchdog groups like the U.S. Consumer Coalition called for an independent investigation, the president proceeded to restrict the authority of the offices of inspectors general within his own administration," Wise said. "This unprecedented move got little media attention and only proves to show that President Obama, in his final year in office, plans to continue these extra-legal programs and hide the truth. We believe Americans are smarter than that."
The inspector general at the Justice Department and other inspectors general have complained to Congress that they are inhibited from carrying out investigations.
The investigation lasted nine months and confirmed the operation was only to combat mass market fraud, Justice Department spokesman Patrick Rodenbush said.
"The report found that the Department's lawyers based each of their investigations on specific evidence of fraud victimizing consumers. OPR found no evidence that anyone, at any time, targeted any specific industry or lawful business, and no evidence that these efforts compelled banks to end their relationships with any lawful business," Rodenbush told TheBlaze.
Neither Luetkemeyer's office nor the House Oversight Committee immediately responded to inquiries from TheBlaze.
The House Financial Services Committee last week approved a bill sponsored by Luetkemeyer that would prevent federal agencies from blocking access from legally operating businesses to financial services.
"I am pleased a group of bipartisan Members of the Financial Services Committee showed there is a need to curb the abuse of authority seen in Operation Choke Point," Luetkemeyer said in a statement after the committee passage. "This legislation needs to be codified into law so that federal agencies don't fall into the illegal and abusive practices seen out of the FDIC and Justice Department. I hope this legislation is quickly brought to the floor so we can halt this unconstitutional and unprecedented program and return order and reason to the financial institution examination processes."
This post was updated to include a comment from Justice Department spokesman Patrick Rodenbush.