Fox News host Bill O'Reilly pressed Republican presidential candidate Donald Trump to get "specific" on his plan to make Mexico "pay" to build a wall on the U.S.-Mexico border — and he ended up getting a very Trump-like answer.
"You're going to expect question like, 'OK…tell me how you're going to make the Mexicans pay," O'Reilly said. "They're going to want you to be specific."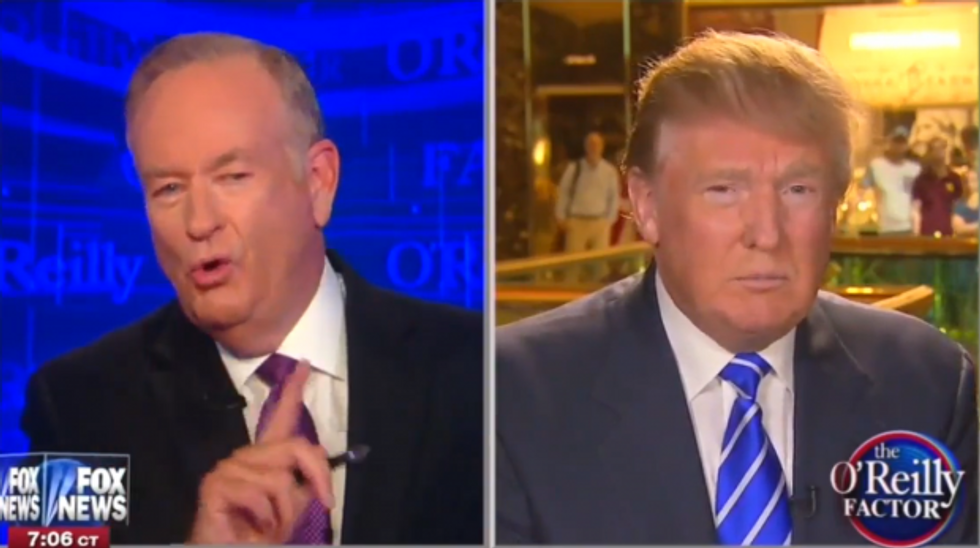 Fox News
Trump replied, "So simple."
He continued: "The Great Wall of China, but a long time ago, is 13,000 miles — I mean you are talking about big stuff…Mexico will pay for the wall. I will make sure it gets done properly."
"But How?!" O'Reilly pressed.
After arguing that Mexico is making a "fortune" on trade, Trump finally revealed his plan to get the border wall built.
"I'm gonna say, 'Mexico, guess what? This is not gonna continue. You're going to pay for the wall,'" Trump said. "They will pay for the wall.
The response got a light chuckle from O'Reilly.
Watch the interview via Fox News below:
(H/T: Mediaite)
---