The intense video that surfaced over the weekend showing the violent beach brawl between a lifeguard and some beach goers in Venice, California, might not tell the whole story.
New video shows the same confrontation but at a different time and shows the lifeguard pouring a bucket of water on the beach goers, KNBC-TV reported on Wednesday.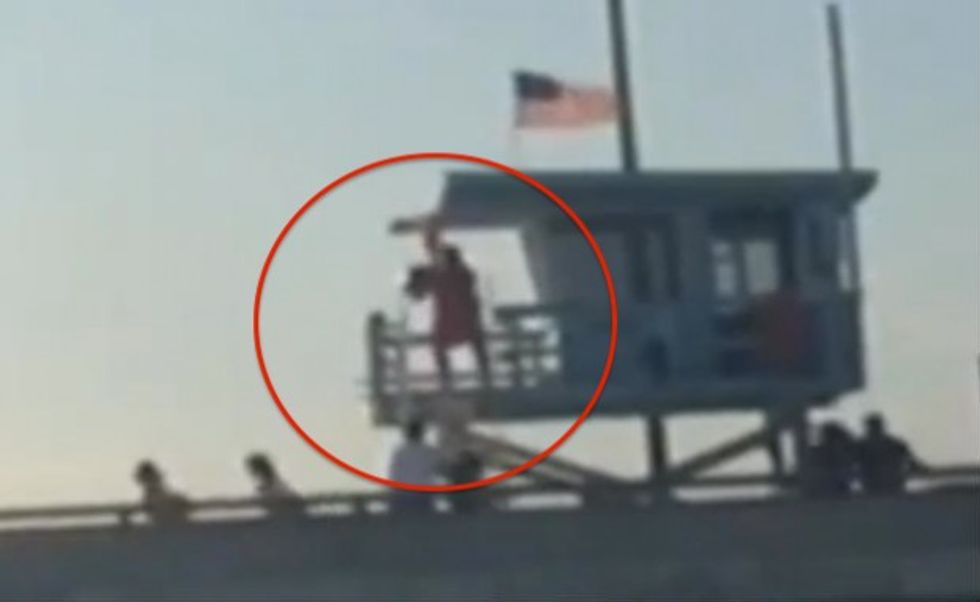 Image source: KNBC-TV
Watch the new footage that's prompting new questions about the violent confrontation:
The first video shows the visitors arguing with the lifeguard just moments before he hops down to confront them on the sidewalk, resulting in an all-out brawl caught on camera, as reported by the Huffington Post.
TMZ reported that the controversy began when someone threw a lit cigarette up toward the lifeguard's tower, which some witnesses have confirmed. That's when the lifeguard reportedly climbed down to explain the beach's smoking ban, but instead found himself involved in a fiery controversy.
Los Angeles County lifeguard supervisor Capt. Kenichi Haskett pointed out that there are no smoking signs near where the brawl broke out, the Huffington Post reported.
Police later arrested 30-year-old Harutiun Balyan, 28-year-old Ara Sarkisyan and 28-year-old woman, Arusiak Gekchyan on charges of battery of an executive officer, since lifeguards are considered peace officers.
The lifeguard, who was not identified, was treated for a possible broken hand and the alleged attacker was taken to a hospital on a stretcher.
The Los Angeles Police Department did not immediately respond to TheBlaze when asked to comment on the new video.
(H/T: KNBC-TV)