Actor and former California Governor Arnold Schwarzenegger submitted a tough immigration question for the candidates taking part in tonight's GOP debates, asking them to "tell me your plan to pass your plan" to address the nation's broken immigration system.
Schwarzenegger, a legal U.S. immigrant, also put his love for America on full display.
"As you know, I am an immigrant. And this country was built by immigrants," he says in a video posted on Facebook. "And, of course, this is the greatest country in the world. But we also have to admit there is an illegal immigration problem — and you have to solve that."
He continued, "I don't want to hear policy talks or anything like that. I want to know, how do you bring both of the parties together — Democrats and Republicans — and solve this problem once and for all."
My question for the #GOPDebate. Republicans and Democrats have tried for over a decade to fix our broken immigration system. Don't tell me your plan - tell me your plan to pass your plan. How will you bring both parties together around a solution?

Posted by Arnold Schwarzenegger on Thursday, August 6, 2015
Just a few minutes after posting the video, Schwarzenegger posted a photo in the comments section and revealed that the day he became a U.S. citizen was "one of the proudest days" of his entire life.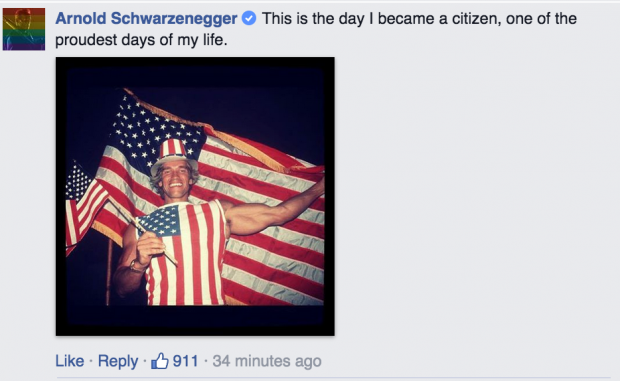 Facebook
With all that he's accomplished, that's saying a lot.
---