Sen. Rand Paul faced off with Gov. Chris Christie over the Fourth Amendment Thursday during the first Republican presidential debate.
The debate came after moderator Megyn Kelly asked the New Jersey governor about criticism he has leveled against Paul over the Kentucky senator's opposition to the the NSA's bulk collection of phone records.
"Do you really believe you can assign blame to Senator Paul just for opposing the people's bulk collection of phone records in the event of a terrorist attack?" Kelly asked.
"Yes, I do," Christie replied, noting his national security experience and recalling how he was in the area of the 9/11 terror attacks.
Paul quickly responded.
"I want to collect more records from terrorists, but less records from innocent Americans. The Fourth Amendment is what we fought the revolution over!" Paul said. "I'm proud of standing for the Bill of Rights and I will continue to stand for the Bill of Rights!"
Christie called it a "completely ridiculous answer."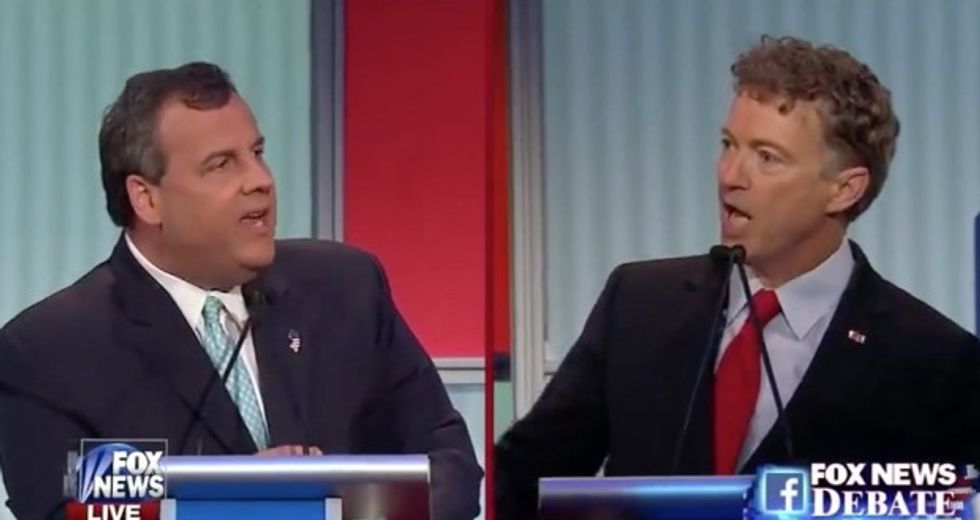 Fox News
"How are you supposed to know, Megyn?" the New Jersey governor asked.
"Use the Fourth Amendment! Get a warrant! Get a judge to sign a warrant!" Paul interjected.
"You know senator, when you're sitting in a sub-committee just blowing hot-air about this, you can say things like that. When you're responsible for protecting the lives of the American people, then what you need to do is to make sure that you use the system the way it's supposed to work!" Christie quipped back.
Paul responded.
"Here's the problem governor. You fundamentally misunderstand the Bill of Rights!" he said.
—
Follow the author of this story on Twitter and Facebook: