Republican presidential contender Carly Fiorina blasted Donald Trump late Friday night, after the real estate tycoon made a disparaging comment about Fox News host Megyn Kelly.
"Mr. Trump: There. Is. No. Excuse," Fiorina tweeted, before adding that she stands with Kelly.
The tweets came after Trump, who was unhappy with the questions Kelly asked him during Thursday's GOP debate, blasted the Fox News host with a shock insult Friday night.
"You could see there was blood coming out of her eyes. Blood coming out of her — wherever," Trump told CNN Friday evening.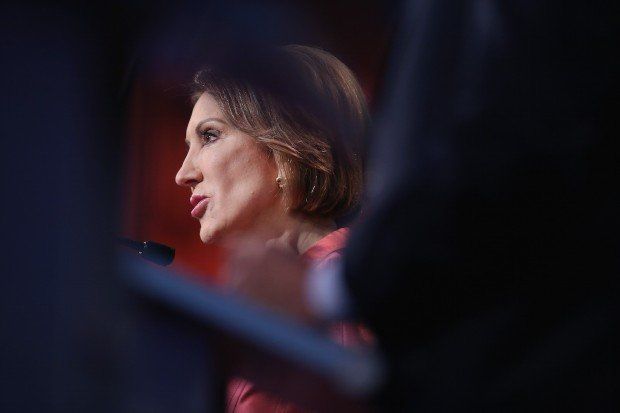 Rebulican presidential candidate Carly Fiorina fields a question during a presidential forum hosted by FOX News and Facebook at the Quicken Loans Arena August 6, 2015 in Cleveland, Ohio. (Photo by Scott Olson/Getty Images)
Fiorina was the first candidate to publicly condemn Trump's comments. She also went after Trump during Thursday night's debate, hitting him for donating money to the Clinton Foundation.
A representative for the Republican National Committee did not immediately respond to a request for comment form TheBlaze Friday night in regards to Trump's comment.
Trump's spat with Fox News began after Kelly asked him during the debate about degrading comments he had made towards women in the past.
After the debate, the GOP hopeful said the questions he faced from debate moderators were "not nice." Trump then turned to Twitter to blast Kelly and pollster Frank Luntz whose focus group showed that the outspoken businessman lost support.
When debate ratings came out, Trump continued to battle Fox News, saying the network "should be ashamed." He also called for the firing of pundit Charles Krauthammer who criticized his debate performance.
Kelly, for her part, has not directly addressed the comments — either on Twitter or on her show — and appears to be looking to take the higher ground in the dispute.
A Fox News spokesperson did, however, tell TheBlaze Friday that she would be a guest on Sunday's episode of "Media Buzz." In her appearance, which was pre-taped Friday, Kelly will talk about Thursday's debate and Trump.
—
Follow the author of this story on Twitter and Facebook: