This out of the park home run is "unlike anything you've ever seen before."
Renaud Lefort of the Montreal Les 4 Chevaliers, a traveling quartet softball team that entertains crowds with their eye-poppng tricks, stepped up to the plate and stood in the left-handed batter's box. But as Fox Nation noted, Lefort is right-handed — meaning that his back was facing the plate as the pitcher fired the ball from the mound.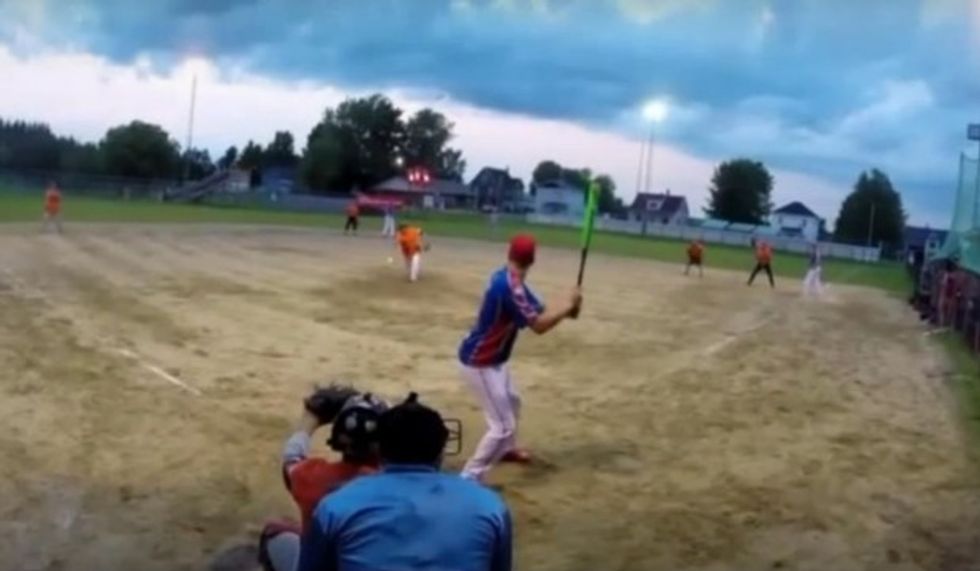 Image source: Les 4 Chevaliers
The team posted the video of the three-run homer to its Facebook page July 30 and since it then has attracted attention from people around the world.
As you can see in the video, as the baseball crosses the plate, Lefort suddenly turns around and swings the bat. The softball is launched high into the air and all the way out of the park.
The crowd and even players on the field erupted as Lefort ran down the baseline with his hands up in the air. Meanwhile, one announcer called it "a home run unlike anything you've ever seen before."
Watch the amazing sports spectacle for yourself:
Or, watch the clip on YouTube:
(H/T: Fox Nation)
–
Follow Jon Street (@JonStreet) on Twitter