FARMINGTON, N.M. (AP) — The Environmental Protection Agency says wastewater continues to drain from an abandoned mine in southwestern Colorado at a rate of about 550 gallons per minute.
Federal officials said Saturday that the rate was down from about 740 gallons per minute on Friday.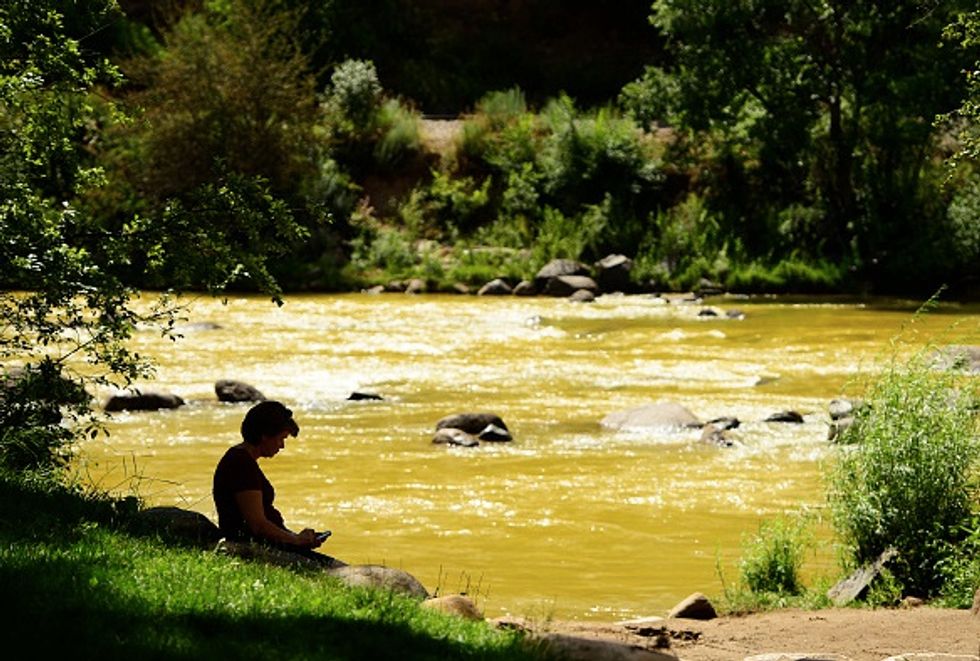 Trisha Rickey sits near the shore of the Animas River after taking pictures of the river August 8, 2015. Over a million gallons of mine wastewater from the Gold King Mine in Silverton has made it's way into the Animas River closing the river and put the city of Durango on alert. (Image source: Brent Lewis/The Denver Post via Getty Images)
About 1 million gallons of wastewater from Colorado's Gold King Mine began spilling into the Animas River on Wednesday when an EPA-supervised cleanup crew accidentally breached a debris dam that had formed inside the mine.
The plume has reached the northern New Mexico cities of Aztec and Farmington.
Experts are still analyzing the environmental and health impacts of the release, which contains heavy metals including lead and arsenic.
Officials responding to the spill say they have finished building two containment ponds to treat the yellow sludge.
—
Follow Dave Urbanski (@DaveVUrbanski) on Twitter