BARRE, Vt. (TheBlaze/AP) — A woman who lost custody of her 9-year-old daughter killed three relatives in a Vermont home and then headed to a nearby state office to gun down the social worker involved in the custody case, authorities alleged.
Gov. Peter Shumlin assured state workers and families at a news conference Saturday after the arrest of 40-year-old Jody Herring that any threat to others was over and that the care of Vermont's "most vulnerable children" remains a priority.
"We know that the incidents were horrific and absolutely heartbreaking," the governor said after returning from vacation in Nova Scotia upon hearing of the deaths. "We also know and firmly believe that this was an isolated attack based upon the person we have in custody, who is the alleged perpetrator of these crimes."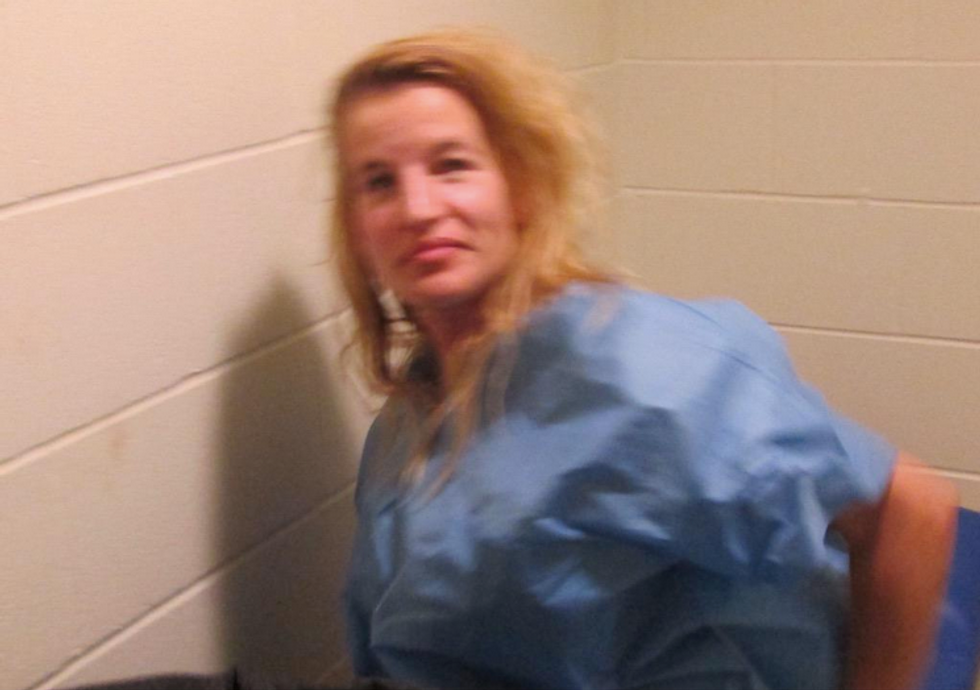 Jody Herring is being charged with first-degree murder for allegedly killing three family members and a social worker after losing custody of her daughter. (Image via Twitter @WCAX_Logan)
Social worker Lara Sobel was shot twice and killed Friday outside an office of Vermont's Department for Children and Families in Barre as she was leaving work, authorities say. Herring was tackled outside the building and arrested on a first-degree homicide charge.
The next morning, a 911 call brought officers to a Berlin home, where they found three women dead. Police said at least two of the women appeared to have been shot.
Shumlin tentatively identified Saturday's victims as Rhonda Herring and Regina Herring, the suspect's cousins and Julianne Falzarano, an aunt. The cousins were in their 40's, and the aunt in her 70's; the three were killed before Sobel's life was taken, Shumlin said.
According to the Burlington Free Press, the women were found by Rhonda's daughter, Tiffany, and a friend when they arrived at the farmhouse around 8 a.m. Saturday.
"Both doors were wide open, and I walked into the living room, and that's where I saw my mom dead," the 23-year-old said.
Tiffany said Falzarano appeared to have been shot while in bed, but Rhonda may have put up a fight.
"My mother got a call in [Friday] morning, maybe 7:30 or 8 o'clock, saying it was Jody Herring, saying 'You guys need to stop calling DCF unless you guys are going to have it coming to you,'" Tiffany said.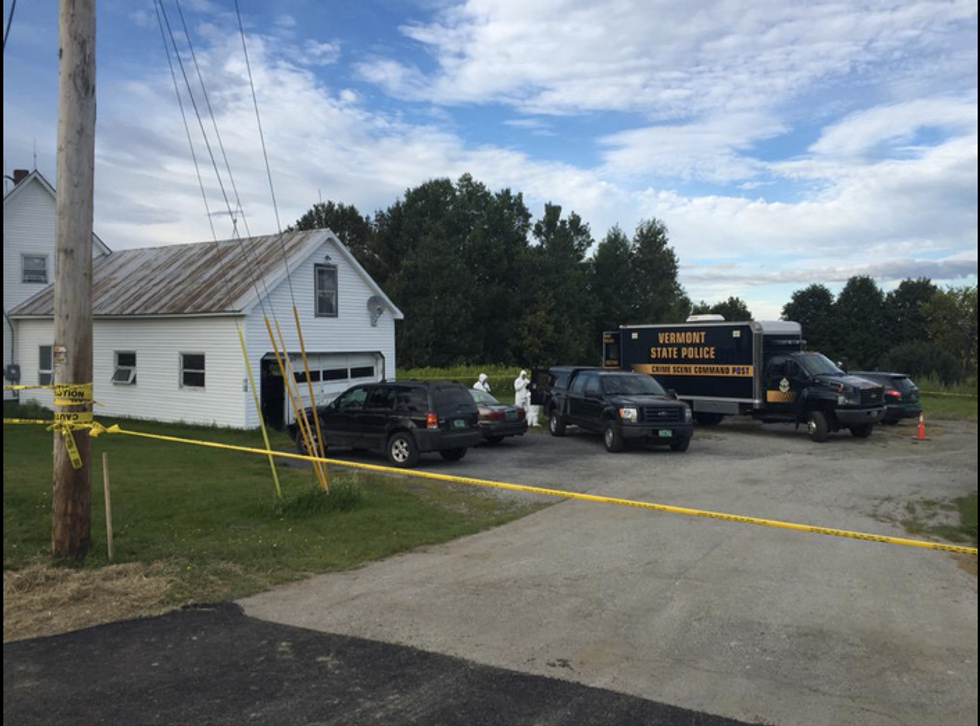 Police investigate a farmhouse after three people were found dead inside. The victims were all related to Jody Herring, who has been charged with first-degree murder in the deaths of the family members and a social worker. (Image via Twitter @ElysiaNECN )
"I think all Vermonters are as shocked, dismayed, horrified and grief-stricken as all of us are," Shumlin said. "I cannot remember, in my lifetime, four people being murdered by the same alleged perpetrator."
Lt. Gov. Phil Scott said he knew several members of the extended Herring family.
"It's my understanding after speaking with some of her (Jody Herring's) relatives that her father was one of 16 brothers and sisters. It's a large, extended family throughout central Vermont," Scott said.
Sobel's family released a statement thanking the community for its kindness during their ordeal and asking others to respect their privacy. The family said it hopes that the tragedy "can create awareness of the dedicated professionals who devote so much of their energy to ensuring the welfare of children."
Officials said after Sobel's shooting that Herring's daughter remained in state custody. Herring initially lost custody of her daughter on July 10, according to the Free Press.
Ken Schatz, the commissioner for the Department for Children and Families, called Sobel's shooting "a heartbreaking tragedy." He called Sobel "an experienced social worker. She had been providing public service for children and families for more than 14 years."
Officials said that in the wake of the deaths, counseling and other support would be made available to state workers.
Vermont's child protection agency, like those in many other states, frequently comes under criticism from parents for being too quick to remove children from homes in cases of alleged abuse and neglect; and from the public when children are left in the home and end up dying at the hands of family members.
A special legislative committee was set up to investigate the department system after the deaths last year of two toddlers who had been involved with DCF. Following the investigation, Vermont passed a law designed to improve communications between the department, law enforcement and the courts.
Herring is being held without bail on first-degree murder charges, at the Chittenden Regional Correctional Facility in South Burlington, a jail spokesman told the Free Press. Herring is to be arraigned Monday afternoon on the homicide charge. It wasn't clear if she had a lawyer who could comment on her behalf.
Attorney General Bill Sorrell said much investigative work remains to be done before he can say what, if any, additional charges will be filed against Herring.