Glenn Beck said the "black lives matter" protesters who shoved aside Democratic presidential candidate Bernie Sanders at an event Saturday in Seattle, forcing Sanders to leave before giving his speech, represent the "anger inside of us" and shows that "it is boiling over in all of the wrong ways."
When she eventually wrangled a microphone, one of the protesters screamed: "We're going to honor all of the black lives lost this year, and we're going to honor the fact that I had to fight through all these people to say, 'My life matters!' That I have to get up here in front of a bunch of screaming white racists to say, 'My life f***ing matters! My life matters!'"
"Where do you even start on that?" Beck asked on his television program. "Irrational? Delusional? I don't even know where to begin."
Beck said the woman didn't have to fight her way on stage because she's black; she had to fight her way on stage because it wasn't her event.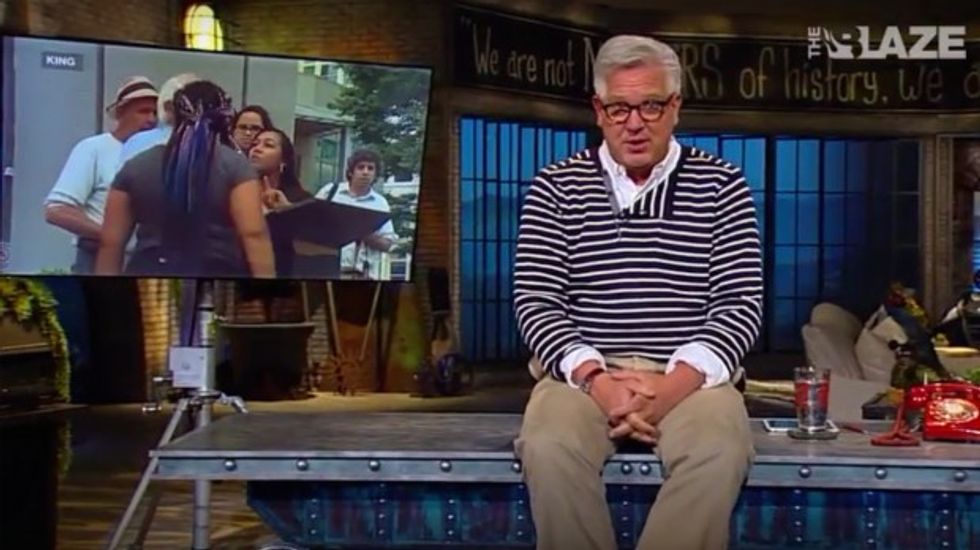 Glenn Beck speaks on his television program August 10, 2015. (Photo: TheBlaze TV)
"The crowd wasn't there to see you," he noted. "The crowd was there to see Bernie Sanders. He earned that microphone, not you. What gives you the right to take it away from him, besides socialism/communism? That's what usually happens; you take what is not yours."
Beck said Sanders had every right to tell the protesters to sit down, and to call security if they refused to do so.
"It is unacceptable behavior, and yet it is allowed to continue. It is happening all over the country. Occupy Wall Street was only a warm-up, and here's what scares me," Beck said. "Most of us won't even know that this happened. ... And we're content to watch our collective angst spill out into the streets from the sidelines."
Beck said that with Donald Trump on one side "connecting with real frustration and real anger on the streets," and "these people on the streets with their anger," someone needs to be asking: "How do you think this is going to end?"
"As our anger and frustration begins to surface more and more, is it just going to work itself out and go away? No," Beck concluded. "This is why we are standing up on 8/28."
The full episode of The Glenn Beck Program, along with many other live-streaming shows and thousands of hours of on-demand content, is available on just about any digital device. Click here to watch every Glenn Beck episode from the past 30 days for just $1!