TheBlaze posted a story earlier this week about Goodwell Nzou, a doctoral student from Zimbabwe, who penned a response to Americans outraged over the killing of Cecil the Lion.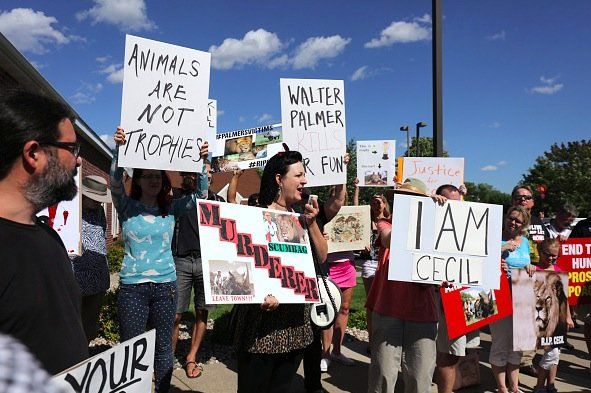 Rachel Augusta leads the protest of the killing of Cecil the lion in the parking lot of hunter Dr. Walter Palmer's River Bluff Dental Clinic on July 29, 2015 in Bloomington, Minnesota. (Image source: Adam Bettcher/Getty Images)
Nzou wrote that when he heard the news of Cecil's demise, "the village boy inside me instinctively cheered: One lion fewer to menace families like mine."
He went on to say, "Did all those Americans signing petitions understand that lions actually kill people? That all the talk about Cecil being 'beloved' or a 'local favorite' was media hype? Did Jimmy Kimmel choke up because Cecil was murdered or because he confused him with Simba from 'The Lion King'?"
"In my village in Zimbabwe, surrounded by wildlife conservation areas, no lion has ever been beloved, or granted an affectionate nickname," Nzou declared. "They are objects of terror."
Here's what some readers of TheBlaze had to say about Nzou's New York Times op-ed:
argyle58

Bravo. Strikes me as strange that most of these Cecil protestors are also supporters of Planned Parenthood.

A nice dose of reality for the liberal souls who read the New York Times.

That is about the funniest thing I have read in a year. I have liberal friends all in tears that poor old cuddly Cecil was killed. "Poor Cecil (sniff sniff)." When the REALITY is that Cecil is a hated predator that keeps people in at night and they are dancing in the streets over his death.

HEY LIBERALS — do you feel stupid now??? You SHOULD!!!!

Ditto the bravo, Mr. Nzou. Thanks for telling it like it really is. We have the cougar (mountain lion) in America…and it kills our livestock and attacks humans. We live in SW Oregon and we cannot walk w/out our guns outside our fenced property. We have three large guard dogs to protect our livestock w/in our fences. We've lost three sheep and two goats to these lions. We had a horse attacked (horse made it fine) by a cougar. All lions are vicious killers.

I feel nothing for the loss of Cecil's life. He killed many other critters before becoming dead himself. That's the life-and-death cycle. The only people who whine about Cecil's death are the city folks who've never met a lion themselves…up close and in the wild. They've never seen what the lion can do…to both animals and to humans.

Thanks Nzou. I wish you Godspeed on your journey.

One of the first days that this stupid lion hunter story broke, I made an offhanded remark about people in Africa being glad that the lion was dead. People around me were shocked.

People are so blinded by their own trappings and self-deception that they don't know what the real world is like.

I'm sorry Mr. Nzou, but progressive fantasy will trump Zimbabwean reality.

If liberals say Cecil was a beloved animal, then that's how it will be…they control the media.

Your village and others like it will just have to lose the money that hunting expeditions bring for locals and the preserves — along with the meat the villagers get.

It's for your own good…no lion should ever have to die at a hunter's hands again. Those poor cubs left fatherless….oh the humanity.

If a villager dies from a lion attack? Well…you asked for it. How dare you live in Africa and deal with its harsh realities each day when you can live in progressive fantasyland instead.

I don't care one iota about the outrage of those crying over the death of Cecil when those same heathens turn a blind eye to the wholesale slaughter and sale of millions of unborn (aborted) babies.

Mr. Nzou will start getting hate mail and calls for deportation. The administration will have DHS check his immigration status.

I am not for trophy hunting, but if a country wants to give licenses, it's that nation's right.

I have a question for all the ANTI-hunters out there.

Would it be OK if the lion was a lioness? And her name was Cecilia? And the hunter decided to just take her unborn cubs out of her womb and leave her be afterward and then kill the young and sell their body parts and tissues? Would that be OK with you all?? I mean after all, Cecilia would be alive.

So taking the life of a lion is NOT OK, but taking the unborn cubs from a lioness, killing them, and selling their body parts and tissues and leaving the lioness to live after is OK?

Where is the fre**king logic with liberals?

Progressives won't care about this personal story. Facts and truth get in the way of their agenda. Nzou will be demonized, by way of hashtag, all over social media.

As I posted the first day this story came out, if these PETA types like lions so much, go up and give one a hug.

Amen, brother!

People see lions, giraffes, etc., as exotic because we find them in zoos around the world. They are the animals that live in that part of the world. Here in America, we have turkey, boars, gators, duck, deer, bears, etc. You hunt the animals that are in your part of the world. No animal is beloved, except maybe your pet cat or dog. The rest are all wild animals that God put here for us to hunt and eat. Regardless of whether you LIKE trophy hunting, it is not illegal. There is no law saying what you must do with the animal once you kill it. The only thing the law requires is hunting a certain type of animal, gender, and size, etc. and that you have a license/permit. So it doesn't matter where in the world you are, there ARE animals you can hunt with a permit. We look at lions and giraffes and cringe because they are "beloved" zoo animals, but they are meat sources to African. They don't have deer or bears! There are not in zoos in Africa — just as deer are not in zoos here! Unless you LIVE in the African bush, you have no idea what the animals are capable of.

I live in Montana near Yellowstone. We have had at least three gorgings by buffalos because tourists assume they are "cool" and try and get close to them to get a picture. These wild animals, along with grizzly and black bears, are dangerous. Unpredictable. And guess what? You are on the bottom of the food chain. The problem with the U.S. is that we've named them and people get the idea that somehow they're just soft and cuddly. No, THEY ARE dangerous. Smokey the Bear, Bullwinkle the Moose, Bambi, Simba — and I'm sure there's a Disney movie with a cute polar bear (Coca-Cola ad). Most people are disconnected from reality, and because they don't live in and around wild animals, they have no idea how dangerous these critters are and how fast they can react to you and kill you or cause some serious bodily injury. The wild is not Disneyland.

What everyone should take from this uproar is that something as inconsequential as killing a lion in Africa has taken on a life of its own here in the U.S. — even with some in Congress seeking to ban the import of trophies from overseas on the pretext of stemming wildlife trafficking. This wouldn't be happening unless a larger agenda was percolating in the background — such as ultimately restricting or banning similar hunting here in the States. The next step would be to expand this ban to Canadian trophies — and the ripple effect would impact the hunting and firearms industries across the board. Creeping encroachment at work.

Wow! A different perspective from an actual citizen. The New York Times publishing this is shocking in and of itself.

I wonder how many of these "Americans" had ill feelings toward the lion who ate the tourist some weeks ago — she had a name, too.

Good luck to you in your endeavors, Mr. Nzou. Thank you for setting the record straight. And please don't view all Americans as the useful idiots on the hashtag train. You'll find the only truly "dumb animals" are the tree-hugging thumb-suckers who live on the social media platform. Unfortunately, they are taking over.

Finally, a REAL African-American speaks up (and if he's a not a citizen, he should be) in a manner I find refreshing and believable. Anthropomorphizing wild animals can really bring out the stupid in some people. All that emotion and hand wringing would be better spent on issues like Mr. Zhou mentioned. Baby-body part trafficking anyone?
—
Follow Dave Urbanski (@DaveVUrbanski) on Twitter