Glenn Beck on Monday speculated that the conversation between Republican presidential candidate Donald Trump and Fox News chairman Roger Ailes may have been slightly different than what Trump presented on Twitter.
"I expect that Roger Ailes called Donald," Beck said. "Donald is not afraid of anybody but Roger Ailes. ... [So] Donald was not looking forward to a phone call from Roger Ailes. And he gets that phone call and Roger said, 'Trump, knock it off. Knock it off.'"
Because Trump is an "egomaniac," Beck said, the only "win" he had in the situation was that Ailes called him and not the other way around, so that's what Trump focused on in his tweet.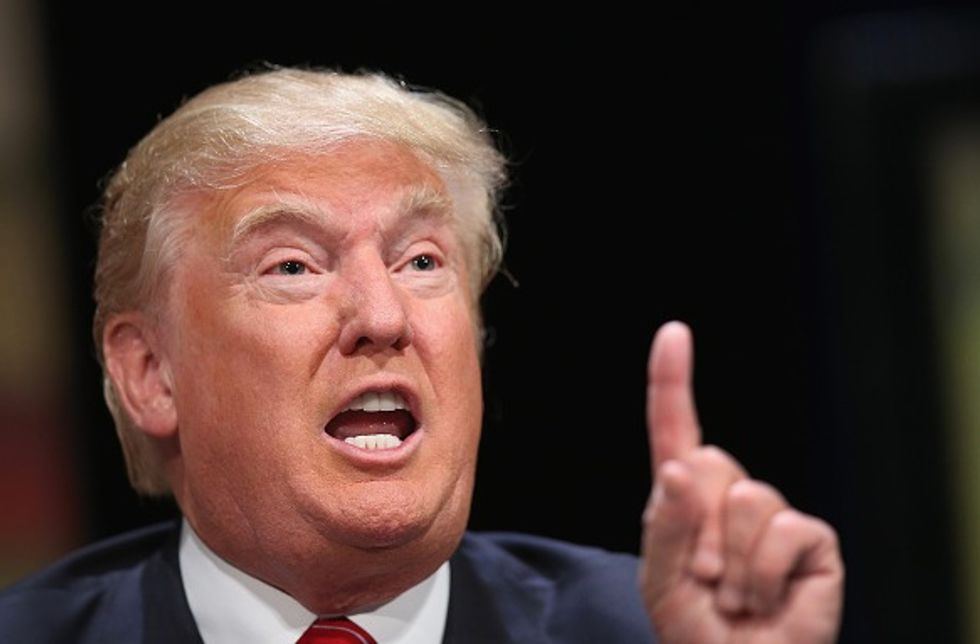 One taco? Coming right up. (Scott Olson/Getty Images)
"He got his butt handed to him," Beck said of Trump. "Then Roger said to [Fox News host Megyn Kelly]: 'Megyn, I support you. Those were good questions. You keep it up. Take the high road.' Megyn got on last night and said: 'I'm above this. This whole thing is ridiculous. It's a circus. It's a sideshow. We're above this.'"
Trump had blasted Fox News for days after the network's GOP debate, and many of his disparaging comments were aimed at Fox News host Megyn Kelly, who he said is "highly overrated."
"You could see there was blood coming out of her eyes. Blood coming out of her — wherever," Trump said of Kelly in a comment that sparked shock and outrage on social media.
In a statement provided to TheBlaze, Ailes described his conversation with Trump: "We discussed our concerns, and I again expressed my confidence in Megyn Kelly. She is a brilliant journalist and I support her 100 percent. ... I assured him that we will continue to cover this campaign with fairness & balance. We had a blunt but cordial conversation and the air has been cleared."
"Knowing both of them, which we do, which one is telling the truth?" Beck asked. "[Roger Ailes is,] there's not even a moment of hesitation."
The full episode of The Glenn Beck Program, along with many other live-streaming shows and thousands of hours of on-demand content, is available on just about any digital device. Click here to watch every Glenn Beck episode from the past 30 days for just $1!