Famed neurosurgeon and 2016 Republican presidential candidate Ben Carson, who was among the many critics who recently called attention to the graphic Planned Parenthood videos, was forced to respond to reports that he himself used fetal tissue for medical research more than 20 years ago.
Carson was asked about the revelation but dismissed reporters' questions and referred to the reports as "desperate," the Washington Post reported.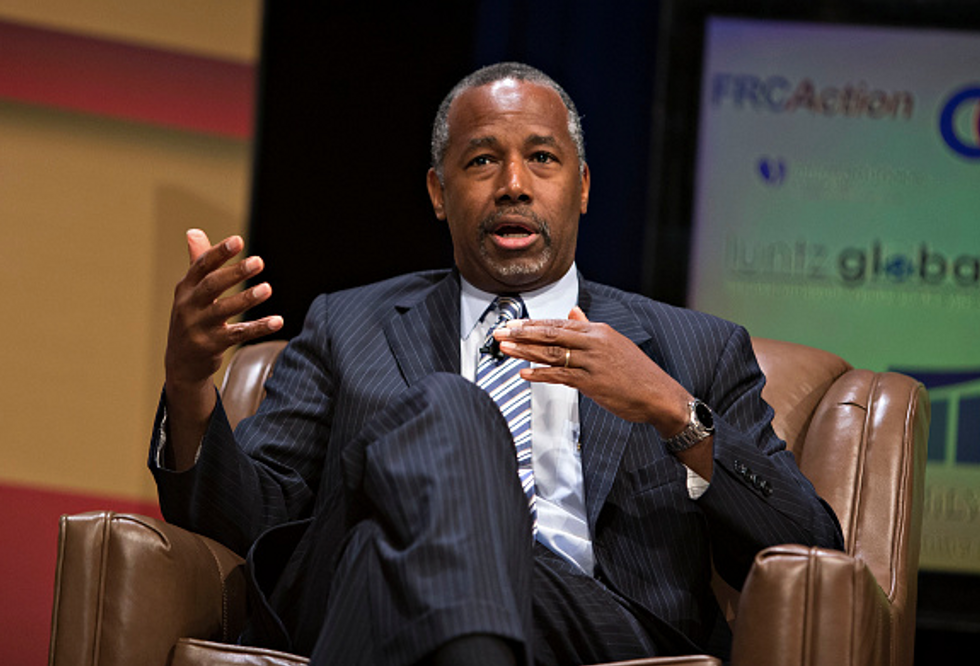 Ben Carson, Republican 2016 U.S. presidential candidate, speaks during The Family Leadership Summit in Ames, Iowa, U.S., on Saturday, July 18, 2015. The sponsor, The FAMiLY LEADER, is a 'pro-family, pro-marriage, pro-life organization which champions the principle that God is the ultimate leader of the family.' (Daniel Acker/Bloomberg via Getty Images)
Dr. Jen Gunter, with the healthcare provider Kaiser Permanente, recently uncovered a paper Carson co-authored in 1992, in which he and other doctors said they used "human choroid plexus ependyma and nasal mucosa from two fetuses aborted in the ninth and 17th week of gestation," an admission that now appears in stark contrast to the position Carson has taken as a presidential candidate.
Carson went on Fox News, not long after the first undercover Planned Parenthood videos were released in July, where he laid out his criticism of the footage that appeared to show some of the healthcare nonprofit's executives coldly discussing the sale of fetal tissue.
"It's been over-promised what the benefits of fetal research would be and very much under-delivered," Carson said in response to a question from anchor Megyn Kelly. "And if you go back over the years, and look at the research that has been done and all the things that it was supposed to deliver, very little of that has been done, and there's nothing that can't be done without fetal tissue."
But as Carson told the Post on Thursday, saying that "you have to look at the intent" of using fetal tissue.
"To willfully ignore evidence that you have for some ideological reason is wrong. If you're killing babies and taking the tissue, that's a very different thing than taking a dead specimen and keeping a record of it," Carson said.
But as the candidate continues to surge in national polls, Carson could soon be forced by critics to get more specific on his previous medical research.
"Could he think his own research was useless? If it was non contributory to the field why was it published?" Gunter asked. "Maybe he forgot that he'd done the research on fetal tissue?"
The GOP candidate added that he hasn't used fetal tissue samples since the 1992 paper was published and further explained his role in dealing with the aborted tissue.
"Bear this in mind about pathologists. Regardless of what their ideology is, when they receive tissue, they prepare the tissue. They label it. They mark how it got there," Carson said.
"Regardless of whether it's from a fetus or someone who's 150 years old, they bank them in tissue blocks. Other people doing comparative research need to have a basis. When pathologists receive specimen, their job is to prepare the specimen. They have no job opining on where the tissue came from," Carson added.
(H/T: Washington Post)
–
Follow Jon Street (@JonStreet) on Twitter