A Texas neighbor feud that started over barking dogs has escalated into quite the community controversy.
Lisa Price is advertising her Farmer's Branch, Texas, home as "for sale," and blaming it all on her neighbor.
"House for sale by owner because my neighbor's a douchebag," a sign in Price's front yard reads.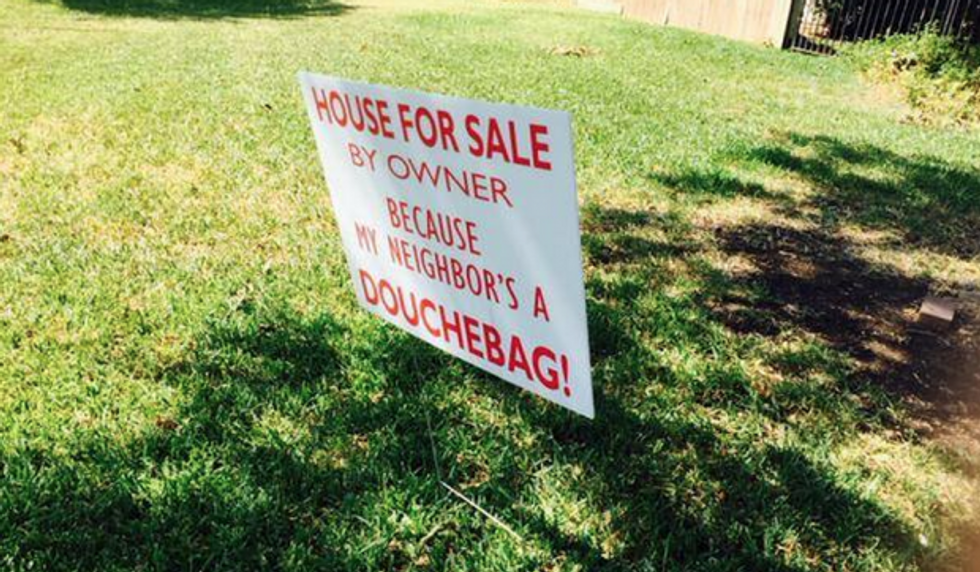 Screengrab via CBS DFW
It all started over Price's barking dogs, which she said the neighbor knew about when he moved in. The controversy later escalated after the neighbor reportedly put up a camera to see into Price's backyard, where her daughter sunbathes, KDFW-TV reported.
Price said the man constantly complained about the dogs barking before 9 a.m. and that she tried to resolve the problem by bringing the dogs in at night and even installing a doggie door.
However, that didn't appear to be enough for the fed-up neighbor.
Price said it wasn't until after she got a $120 ticket in the mail for a "barking dog" that she decided to get even. Price placed one sign in her front yard and another in her backyard, facing a country club.
Police and other neighbors have asked Price to take the signs down, but she is refusing.
"All our neighbor has to do is come over and talk to us and take the cameras down and be a nice neighbor," Price told KDFW-TV.
There isn't a homeowner's association, and the sign meets city ordinance standards, so there really isn't anything police – or anyone else for that matter – can do about it.
Price said she really doesn't want to sell her home, adding the sign was really just meant to get her neighbor to "back off."
"It's my First Amendment right to say whatever I want to, and I'm sorry if it's offensive to someone, but we didn't put a curse word on it," Price said.
Others in the area have shown mixed reactions. Some residents on the same street referred to it as a "marvelous" move.
"It could have been a lot cruder," Jim Jay opined.
But Ann Felton called thought it was "distasteful."
"It's not what I [would] put out there, but it's made its point," Felton said.
(H/T: KDFW-TV)
–