Charnesia Corely described in graphic detail the night two months ago when she said a sheriff's deputy in Texas pulled her pants down in a gas station parking lot and conducted a search of her genitals over suspicion of marijuana possession.
"I felt like they raped me," Corley told CNN's Don Lemon.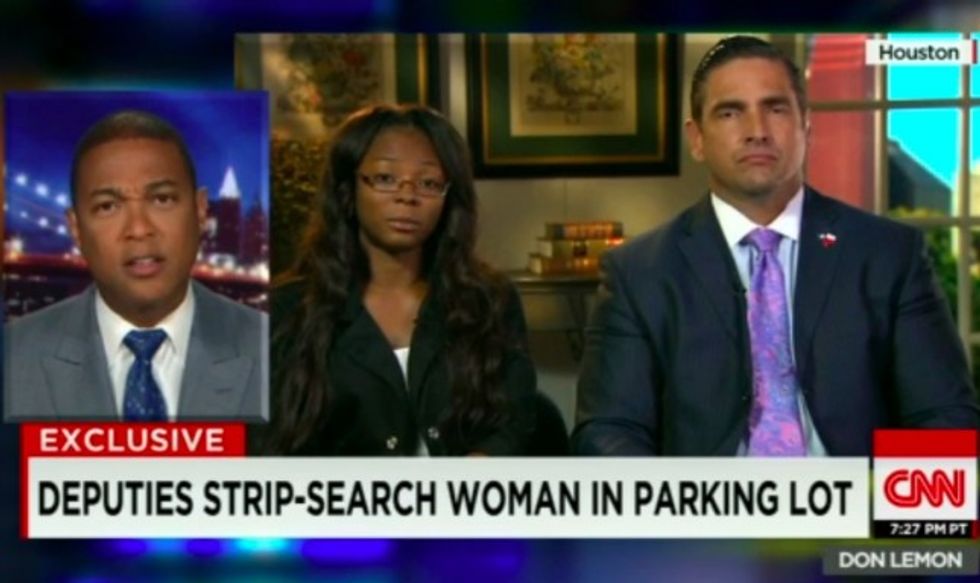 Image source: CNN
After a white Harris County sheriff's deputy pulled Corley over for allegedly running a stop sign on the night of June 21, he searched her car, saying he smelled marijuana, she said.
No marijuana was found, but Corely said he called a female deputy — who was black — to continue the search.
"They took me around to the side of my car, and she tells me, 'Pull your pants down,'" Corley told CNN.
Corley was handcuffed and replied that she wasn't wearing underwear, but the deputy said it didn't matter, she told CNN, and pulled her pants down and told her bend over.
"I bent over and she proceeded to stick her fingers in me, and I popped up immediately and I told her, 'No! What are you doing? You can't do that to me,'" she said.
The deputy replied that she could do what she wanted since she was searching for drugs, Corely said. She said another female deputy — who was white — helped complete the search after Corely resisted.
"Did they find any marijuana or anything?" Lemon asked, before quickly adding, "It doesn't matter because your rights are being violated by them doing that out in public anyway. But what were they searching for? Why did they choose to search you right there?"
"I have no idea," Corely replied.
"And they never found anything right?" Lemon asked.
"No," she answered. "I don't know if they were discriminating against me or what. But it was embarrassing, degrading. I felt low. I felt helpless, like I couldn't do anything."
However, KTRK-TV reported that investigators said they found .02 ounces of marijuana on Corely. She was charged her with drug possession and resisting arrest.
In addition, one deputy wrote in the report that Corley said they could "strip-search her if I needed to," Harris County Sheriff's spokesperson Thomas Gilleland told KTRK. Corley told the station she did not give consent.
Corley's attorney Samuel Cammack III said what happened to his client was unconstitutional and told CNN the district attorney's office dropped charges against Corely.
"It's more about police conduct, I think, than it is race," he told CNN.
The district attorney's office could not immediately be reached for comment Friday morning.
The Harris County Sheriff's Office said in a statement it couldn't comment on the issue "until the completion of an ongoing internal affairs investigation, and pending the status of civil litigation," according to CNN.
—
Follow Dave Urbanski (@DaveVUrbanski) on Twitter