Planned Parenthood officials and supporters have adamantly said that if the organization were to be defunded, it would be detrimental to women seeking affordable healthcare, but on Monday two anti-abortion groups teamed up in an attempt to prove that wrong.
The Alliance Defending Freedom, a Christian legal nonprofit, and the Charlotte Lozier Institute, the education and research arm of the Susan B. Anthony List, paired together to release a series of maps and data that shows the existence of thousands of other community health clinics that could serve as options for women. According to data collected by the organizations, 13,540 clinics provide comprehensive healthcare for women across the country, compared to the approximately 700 facilities Planned Parenthood says it operates.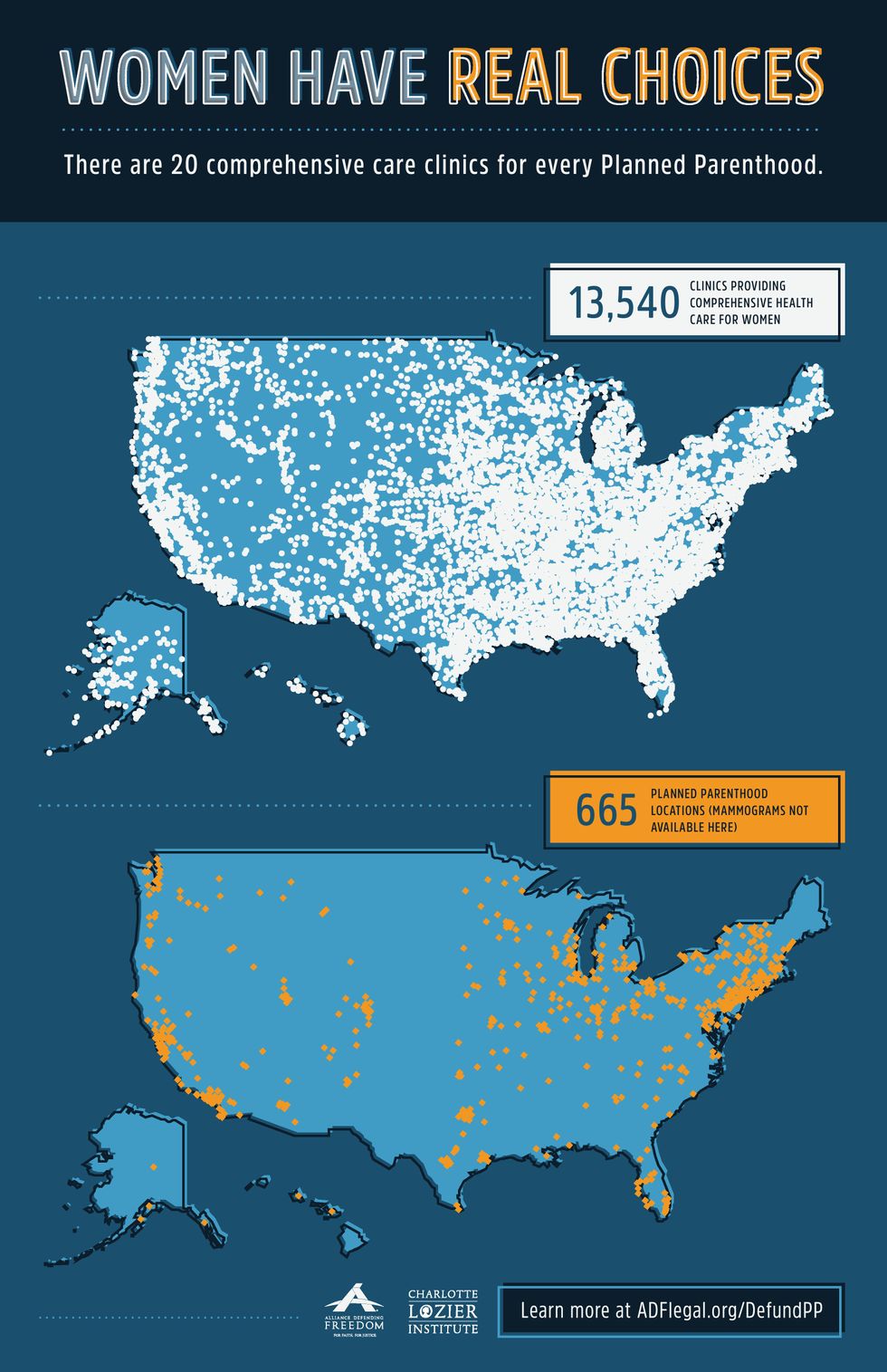 Image courtesy of Alliance Defending Freedom
The two organizations argue that should Planned Parenthood, the nation's leading abortion provider, be stripped of its taxpayer funding, the federal money could be absorbed by any of these other clinics. A senior legal counsel at ADF told TheBlaze that with the organizations wanted to make sure that "as people are discussing Planned Parenthood and its receiving of taxpayer dollars, they have the facts."
"The bottom line is that Planned Parenthood is not a necessary evil — it's an unnecessary one," Casey Mattox, who focuses on human life issues, told TheBlaze in an interview. "There are plenty of other healthcare options for women that offer far more comprehensive services."
Mattox said that their data only shows the more than 13,000 public health options women have across the country, which doesn't include private doctors or private practices.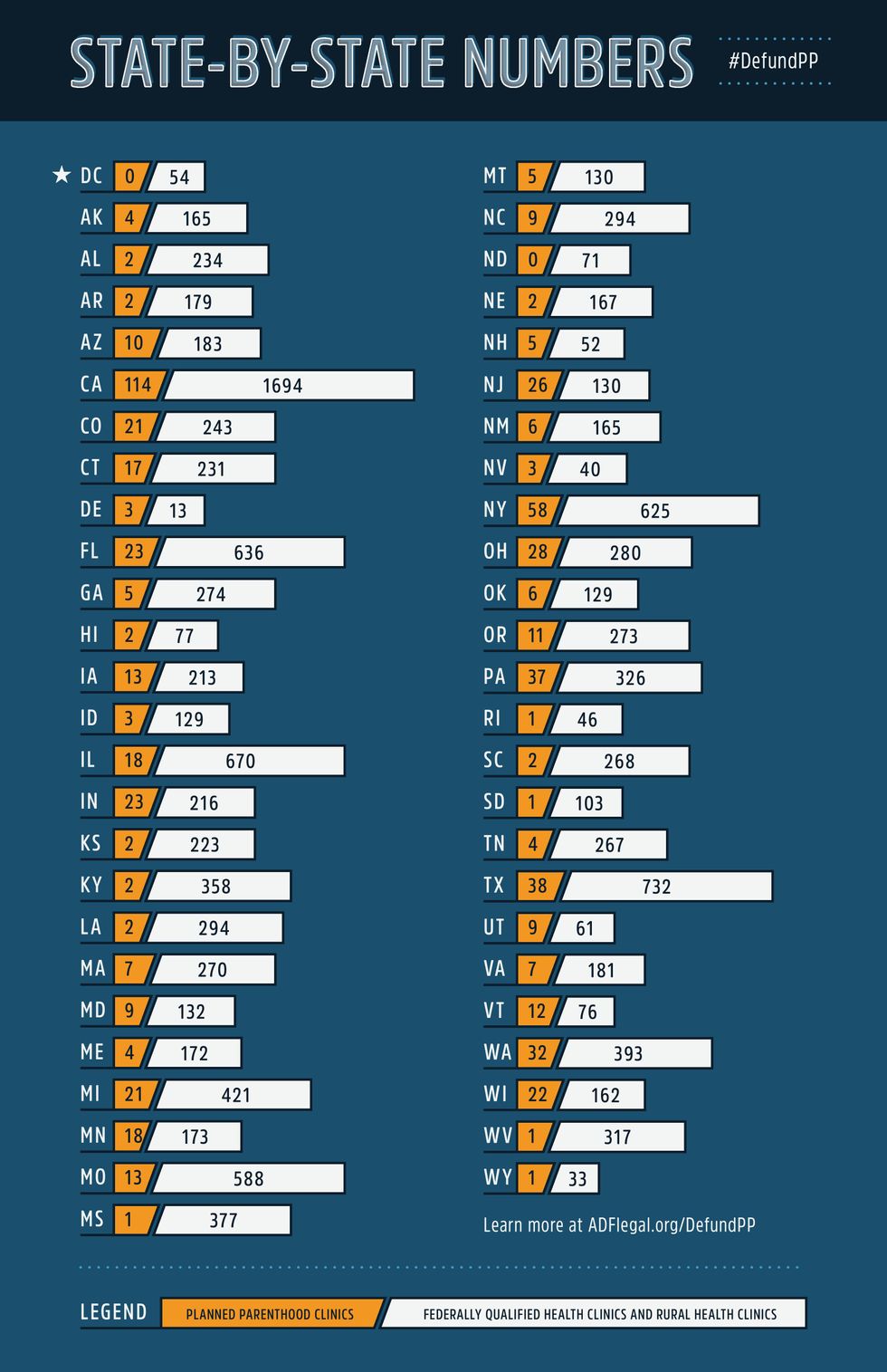 Image courtesy of Alliance Defending Freedom
"Just imagine if we took that $500 million of [annual] taxpayer money and redirected it" to those public healthcare providers, Mattox said, adding that since Planned Parenthood receives so much money from other venues, the loss of taxpayer money would not be detrimental to the survival of the company.
According to the National Association of Community Health Centers, these clinics provide affordable healthcare to millions of uninsured, newly poor or unemployed Americans. A spokesperson for NACHC did not respond to a request for comment from TheBlaze on what kinds of women's health services their clinics currently provide.
However, Sara Rosenbaum, a professor of health law and policy at George Washington University, told the Daily Signal that should Planned Parenthood cease to exist, the other healthcare facilities would not be equipped to absorb the abortion provider's patients. 
"The notion that you could literally overnight defund providers serving a couple million people and think that health centers — even if they're right nearby, which is not always the case — could just magically absorb patients, I think shows an astounding naivety in healthcare," Rosenbaum said. "You can map all you want and the fact of the matter is health centers are not magicians and health care doesn't work this way."
Rosenbaum used Texas, a state that stopped giving taxpayer money to Planned Parenthood in 2012 and created the Women's Health Program in 2012, as an example of why the anti-abortion organization's plan could not work.
"Yes, health centers eventually ramped up. Yes, they offer more family planning services than they did before because they had to respond to a crisis and health centers are remarkable at responding to crises," Rosenbaum said. "But the state's own data show that the actual number of patients served dropped."
Besides access to health care, the National Women's Law Center recently argued that defunding Planned Parenthood would destroy "progress" and access to sex education, especially for those who aren't taught in a school class.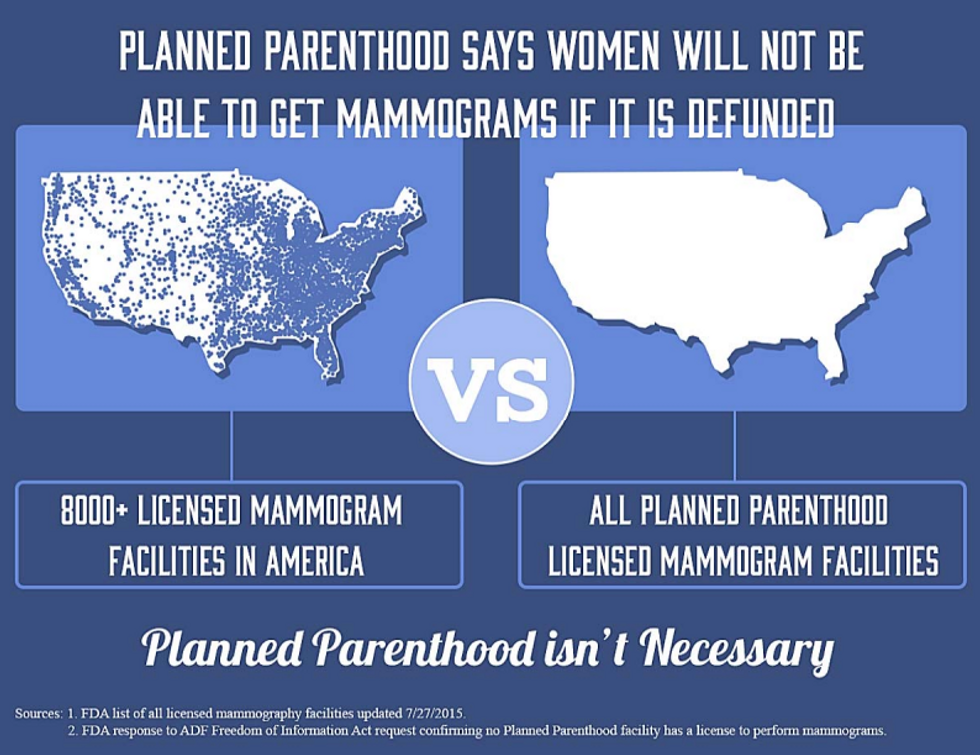 Image courtesy of Alliance Defending Freedom
According to Planned Parenthood's website, only three percent of the organization's services is to provide abortions; however, that statistic has been heavily criticized by conservatives and liberals alike. A 2013 report in Slate called that percentage the "most meaningless abortion statistic ever," and the Washington Post said that while the statistic is technically accurate if counting every single service individually, many clients receive multiple services at once — such as a pregnancy test, pap smear and birth control.
"If abortion is such a small part of their business, then why are their senior-level execs discussing for hours" the sale of aborted fetal tissue, Mattox rhetorically asked TheBlaze.
The groups' data was released amid the national conversation about whether or not taxpayer money should be used to fund Planned Parenthood after a series of undercover and edited videos allege to show the sale of aborted fetal tissue by the abortion provider's officials. Leaders of several states have called for investigations into facilities as well as the termination of taxpayer funding. 
Arkansas Gov. Asa Hutchinson and Utah Gov. Gary Herbert, both Republicans, ordered state agencies to terminate all contracts with the organization's facilities within their states as well as stop funneling to the group. 
Alabama, Louisiana and New Hampshire have also cut state funding to Planned Parenthood.
StemExpress, the tissue supply company that worked with Planned Parenthood to obtain aborted fetal tissue, also cut ties with the organization while still denying allegations — revealed in one of the undercover videos released by the Center for Medical Progress — by a former employee that she and coworkers were encouraged to take fetal tissue or blood even without the mother's permission during abortion procedures.
The issue over funding for Planned Parenthood has also been a contentious point among the vast field of 2016 presidential candidates. Democratic frontrunner Hillary Clinton defended Planned Parenthood and called the release of the undercover videos an "attack against a woman's right to choose." Republican frontrunner Donald Trump said Planned Parenthood should be defunded, although he isn't certain if he's ever donated to the organization himself or not.
Mike Huckabee, the evangelical who also ran as a Republican in 2008, went further than simply defunding Planned Parenthood; Huckabee said at the Iowa State Fair that the phrase "God Bless America" could become a cliche as long as abortion is legal in the U.S.
"If we are going to invoke his blessing, as we often do – and it doesn't matter if it's a Democrat or a Republican running for president — here's something we always say at the end of our speeches: God bless you and God bless America," Huckabee said. "Every Democrat says it. Every Republican says it. But folks, I'm not sure how we fully expect invoke God's blessing on this country if we continue the slaughter of unborn children in their mother's wombs, 60 million of whom have passed away since 1973."
Last week Republican contender Ben Carson, an avid critic of Planned Parenthood, was forced to defend himself last week from reports that he himself used aborted fetal tissue for research more than 20 years ago while he was a doctor.
Planned Parenthood did not respond to a request for comment from TheBlaze.