A Palestinian Muslim cleric blasted a proposal by Republican presidential candidate Donald Trump to resolve the Israeli-Palestinian conflict — by moving the Palestinians to Puerto Rico.
The problem with the preacher's assertion is that the so-called "Trump Solution" was the brainchild of a Middle East satire site penned under a Hebrew pseudonym that includes a kiddie term for penis.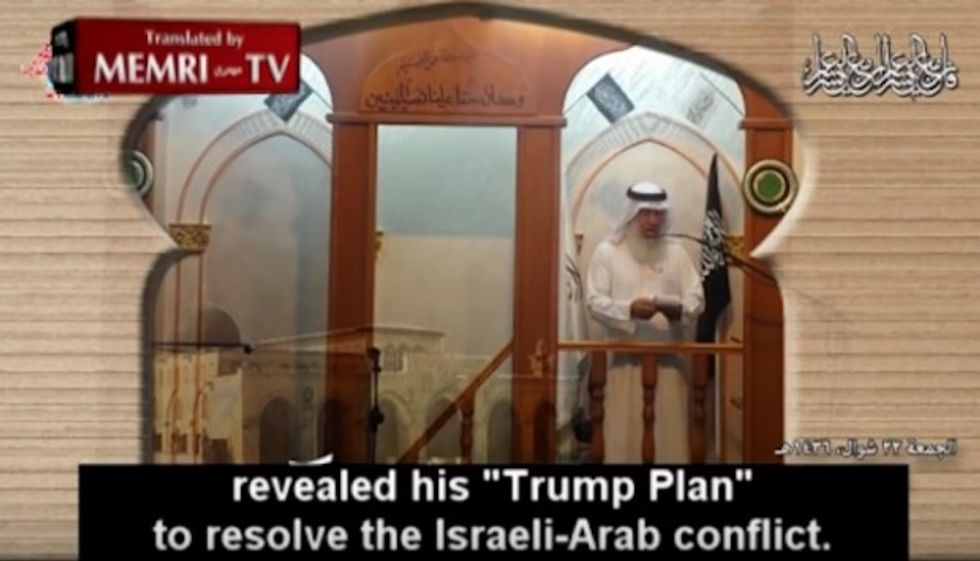 As Sheikh Issam Amira scolded the Republican presidential candidate, the Muslim preacher referred to him as "that Trump." (Image source: MEMRI)
The Mideast Beast posted the spoof detailing the mock proposal last month. It involved building a replica of Jerusalem's Al-Aqsa Mosque in Puerto Rico and offering "a topless '72 Virgins Casino'" for the people who would be renamed "Puertostinians":
According to the so-called "Trump Solution," rolled out by the outspoken business magnate at a Manhattan press conference, the U.S. would fund the relocation of all four or so million Palestinians living in the West Bank and Gaza Strip to the Caribbean archipelago, and offer them "free housing, job training and a lifetime supply of deodorant."
Another telltale sign that it was all in jest was the name of the author of the post, "Boaz Bulbulovitz." In Hebrew, "bulbul" is a term used by toddler boys, like "pee-pee."
Cleric Rejects Alleged Donald #Trump Plan to Establish #Palestine in Puerto Rico http://t.co/ht2gdnHUq7 - Yea, it's satire from us ya fool.

— The Mideast Beast (@atmideastbeast) August 17, 2015
But the clear signs pointing to parody didn't stop Sheikh Issam Amira from waving his finger vigorously as he scolded the Republican candidate at Friday prayers in Jerusalem.
"We say to that Trump: Palestine is not the same as Puerto Rico and the Al-Aqsa mosque is not a mere building made of stone," Amira said on Aug. 7, according to a translation from the Middle East Media Research Institute.
MEMRI, which posted a translated clip of his sermon, reported that Amira is with Hizb al-Tahrir, an international Muslim organization that seeks to establish a global caliphate.