The suggestion by a prominent Black Lives Matter activist that he was the victim of a racially charged mob beating is not supported by witness statements, a police report or details provided to TheBlaze by the detective who was assigned to the case.
Well-known Ferguson activist Shaun King has on multiple occasions recounted the story of a brutal 1995 assault he says took place during his sophomore year at Woodford County High School in Versailles, Kentucky.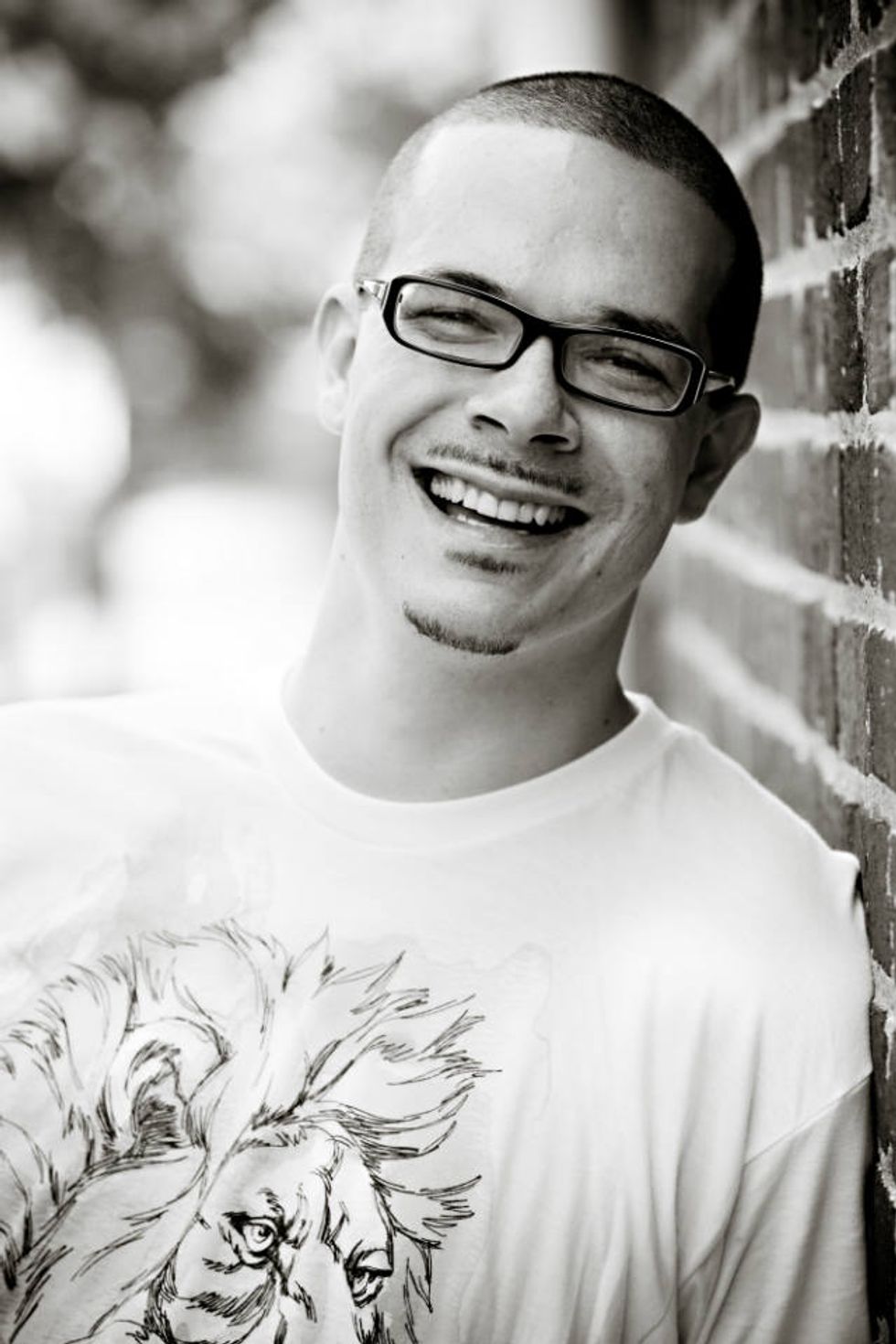 Shaun King (Image source: Twitter)
Writing in his self-help book "The Power of 100!," King implied he was the victim of a racially motivated attack by a gang of more than two dozen students who relentlessly beat him until he was a "bloody mess on the floor" and "physically ruined."
King wrote that he had been "harassed almost daily by a growing group of self-proclaimed rednecks" before a mob one day swarmed around him and "started punching him from every angle," stomping on his "broken body" with "steel-toed boots."
In at least two media profiles, the incident is described as a hate crime.
Rebel magazine wrote that King was "savagely beaten by a dozen self-described 'rednecks' in one of Kentucky's first registered hate crimes." Forbes magazine's profile said that "as a fifteen-year-old he was beaten so badly in what was one of the first registered hate crimes in the state."
King wrote that his injuries forced him to miss more than a year of school and required several surgeries. "Needless to say, my body never fully mended," he added.
But claims of King being the victim of a brutal racially charged mob beating are heavily disputed by documents reviewed by TheBlaze, as well as by details provided by the detective who worked the case. Some of these details were also reported in a July story published in the conservative Daily Caller, but TheBlaze has gathered additional information that further disputes King's claims.
The police report and witness statements from the incident characterize King's injuries as only "minor" and make no mention of a gang assault, but suggest it was rather a one-on-one fight over a girl.
"His description of his injuries are different from what I observed," former Versailles detective Keith Broughton told TheBlaze. "Keep in mind I didn't see any X-rays or anything taken, but when I interviewed him and saw him in the emergency room he was not beaten to a pulp. His injuries appeared to be minor to me."
"He had an abrasion on his face. He complained that he had some rib pain. But he was able to talk to me and describe to me — he talked to me and told me what happened. I do not recall anything mentioned about a gang assault because obviously I would have noted that in my police report," Broughton continued.
"All of the witnesses described it as a one-on-one fight. Now there was a crowd gathered around, but I assume they were just watching the fight. Only Mr. King and the individual that assaulted him were involved in the altercation," Broughton added.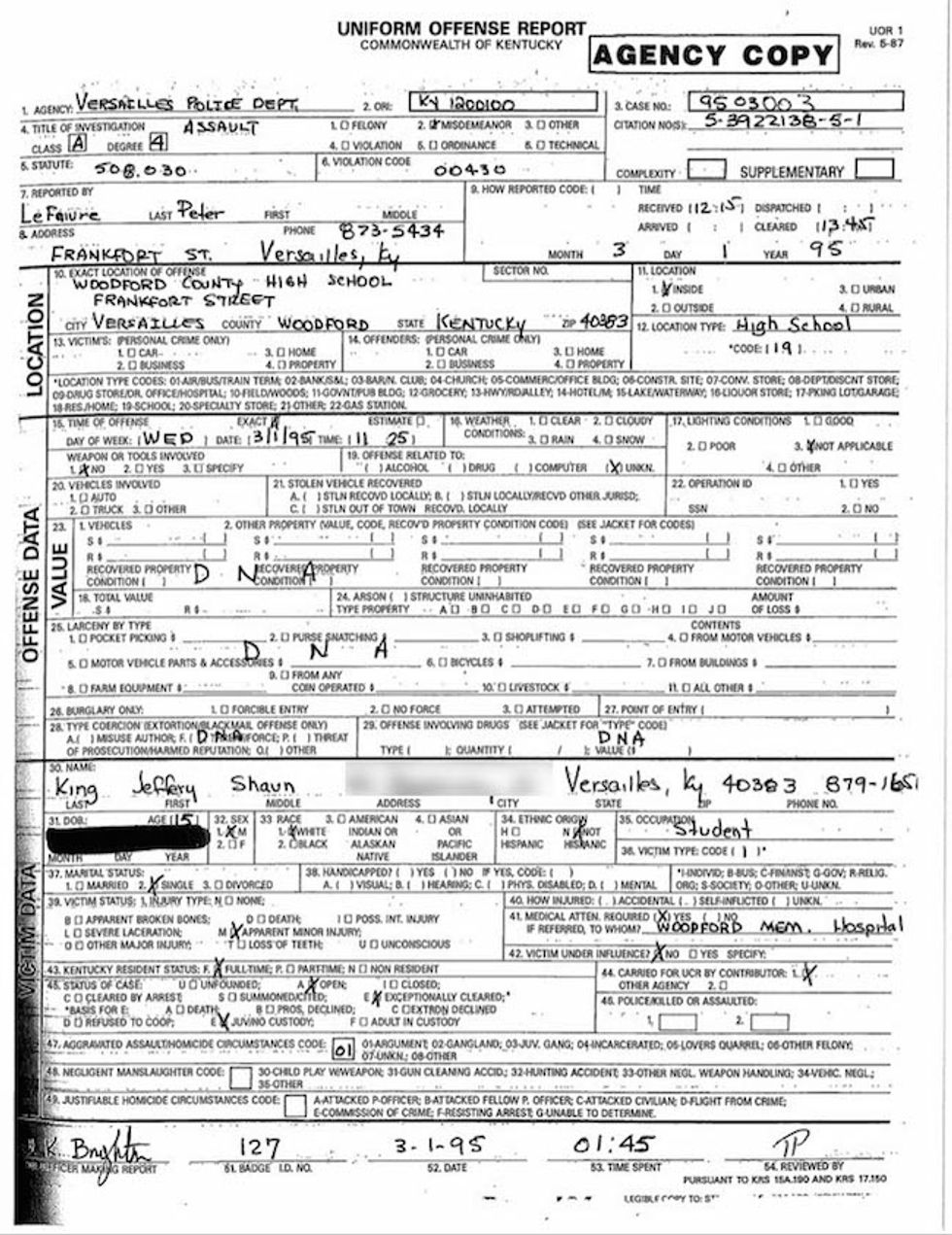 Image source: Versailles Police Department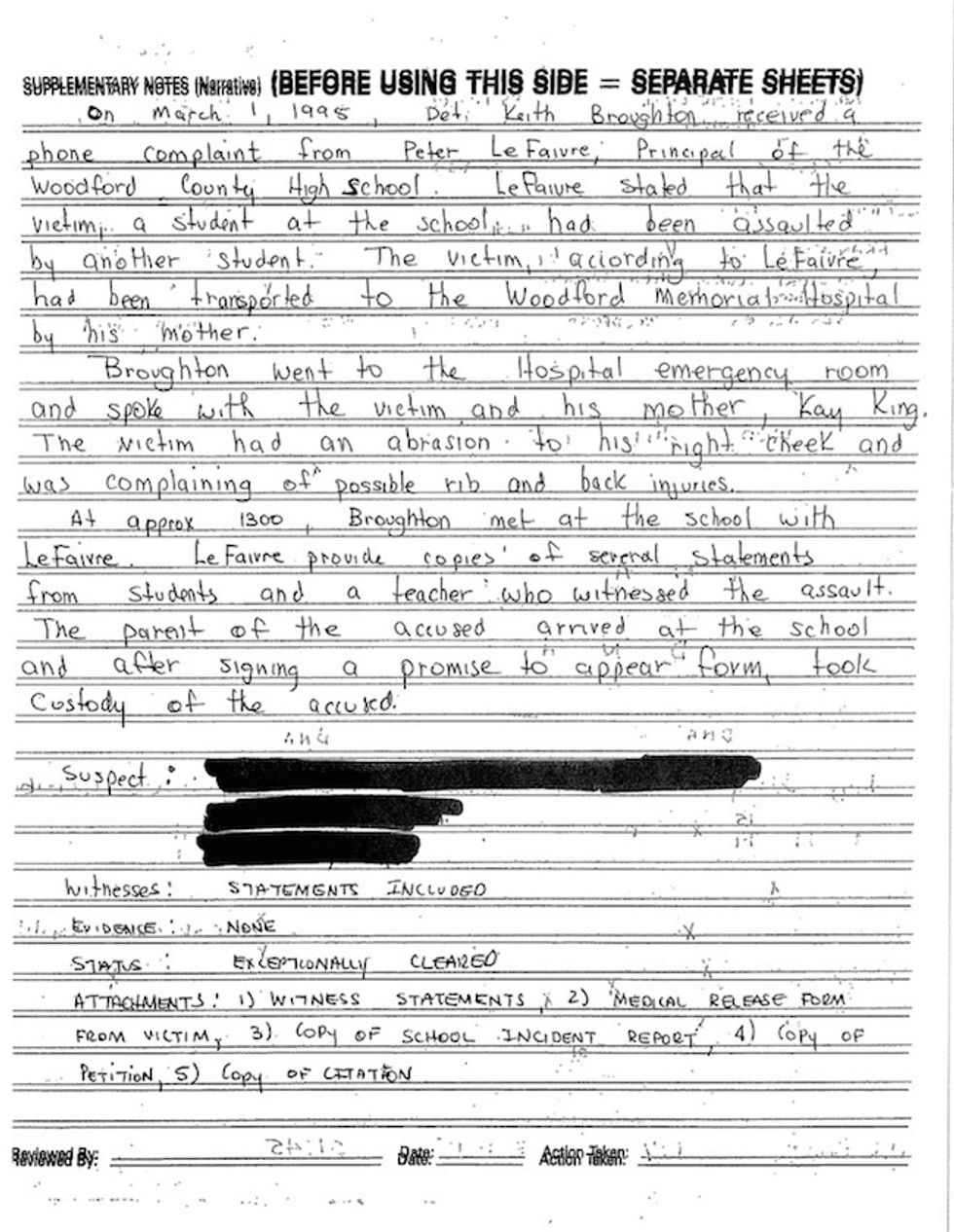 Image source: Versailles Police Department
The detective's description matches several witness statements made about the incident.
"There was no help involved in the fight and that is a fact," wrote one individual, whom TheBlaze has chosen not to name because the person was a minor at the time of incident.
"I didn't see what happened to Shon [sic] when he hit the floor, but I do know no one else touched the boy but [redacted]," echoed another. "It was one on one."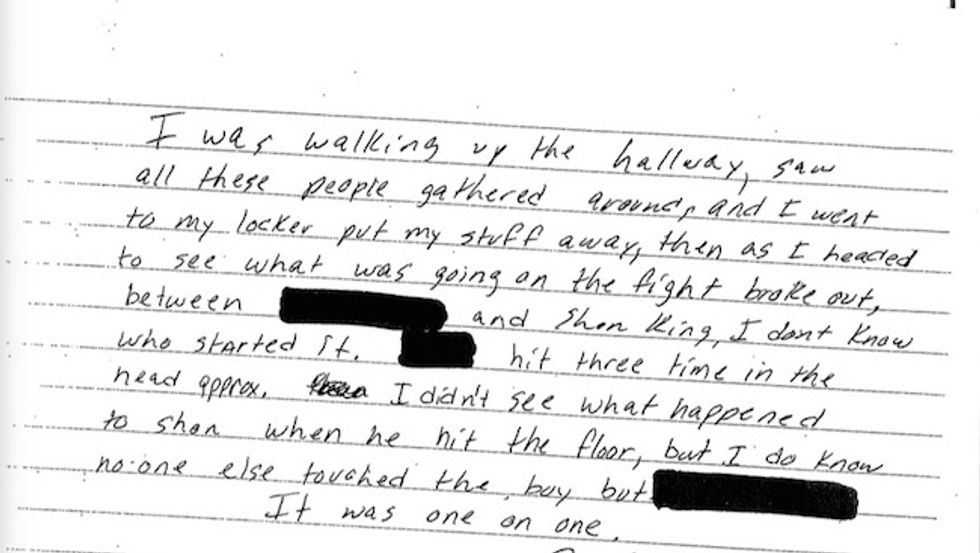 Image source: Versailles Police Department
The statement given to police by teacher Theresa Epperson seems to support this claim as well. When she broke up the fight, Epperson reported only taking two students to the office: the assailant and King.
Moreover, three of the statements provided to police indicate the assault was over a dispute King had with a girl. The girl, whom TheBlaze has chosen not to name because she too was a minor at the time of incident, told authorities that the fight was a result of King confronting her over $8 she allegedly owed him after knocking over his bag and breaking a CD two weeks prior. She said King initially told her she wouldn't have to pay him back because it was an accident, but that two weeks later, he confronted her and asked for the money immediately.
The assailant, the girl's ex-boyfriend, told police the incident stemmed from King demanding the money. Another individual made the same claim.
"The reason I hit Shawn [sic] is because he pushed my x-girlfriend up against the wall yesterday and threatened to break her neck over $8 dollars she owed him and I care for her and she was scared yesterday because she thought he was going to hurt her and I didn't want to see her get hurt," the assailant, who was cited with fourth-degree assault, told police. "I know it was wrong but I couldn't stand him threatening a girl like that."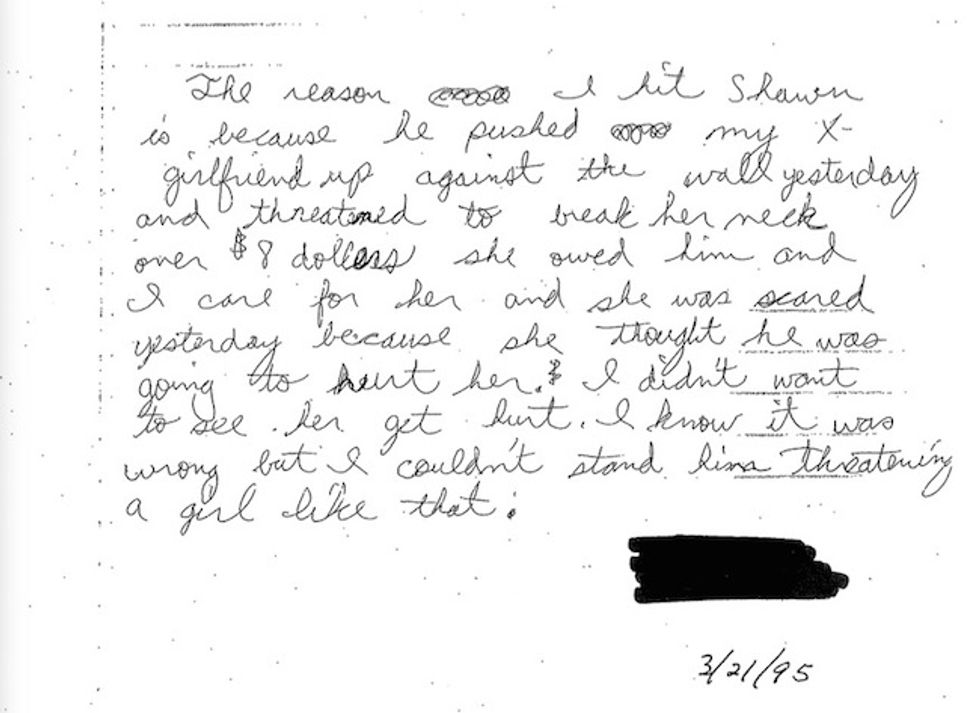 Image source: Versailles Police Department
From those statements, Broughton told TheBlaze his investigation concluded the assault "derived over Mr. King allegedly threatening his girlfriend, either that day or the day before, over some property of Mr. King's that had been damaged some time in the past."
"There was nothing to indicate this was a hate crime … nothing indicated it was a hate crime," he added. "This is a small community, so something like that where someone was assaulted by 10 to 12 people, I would have remembered that, especially if I was the investigating officer."
[sharequote align="center"]"There was nothing to indicate this was a hate crime…nothing indicated it was a hate crime."[/sharequote]
Not only does the police report not record the incident as a hate crime, but the FBI told TheBlaze that the agency's records show zero hate crime incidents were reported in Versailles for the entire year of 1995.
An open-records request to the federal agency also came back empty.
"Based on the information you provided, we conducted a search of the Central Records System. We were unable to identify main file records responsive to the FOIA," a letter sent to TheBlaze in response to the request said.
King did not respond to multiple requests for comment from TheBlaze made over a period of two weeks.
The Black Lives Matter activist, who boasts more than 166,000 followers on Twitter, is a justice columnist at the liberal Daily Kos. On his LinkedIn page, he claims to have raised nearly $10 million for various charities, including one that he founded and served as its CEO. Inflammatory tweets, such as ones calling "most Ferguson police" and former officer Daren Wilson "uneducated and unskilled" in the aftermath of the fatal shooting of Michael Brown led to him gaining increased notoriety. He has appeared on CNN and been quoted in countless media outlets.
UPDATE, 8:30 p.m. ET: Hours after this story was published, King tweeted the following:
The Black Lives Matter activist has still, however, failed to respond to TheBlaze's requests for comment.
—
Follow the author of this story on Twitter and Facebook: