The Obama Administration proposed the first-ever regulations to reduce methane emissions, a greenhouse gas that has been cited as worse than carbon dioxide in terms of its heat-trapping capabilities.
The administration's overall target is to cut methane from oil and gas drilling by 40 to 45 percent by 2025, compared to 2012 levels. The move was not unexpected — officials set the same goal in a preliminary blueprint in January. Still, by moving forward with the official proposal, President Barack Obama is adding to a list of energy regulations that have drawn applause from environmentalists and ire from energy advocates.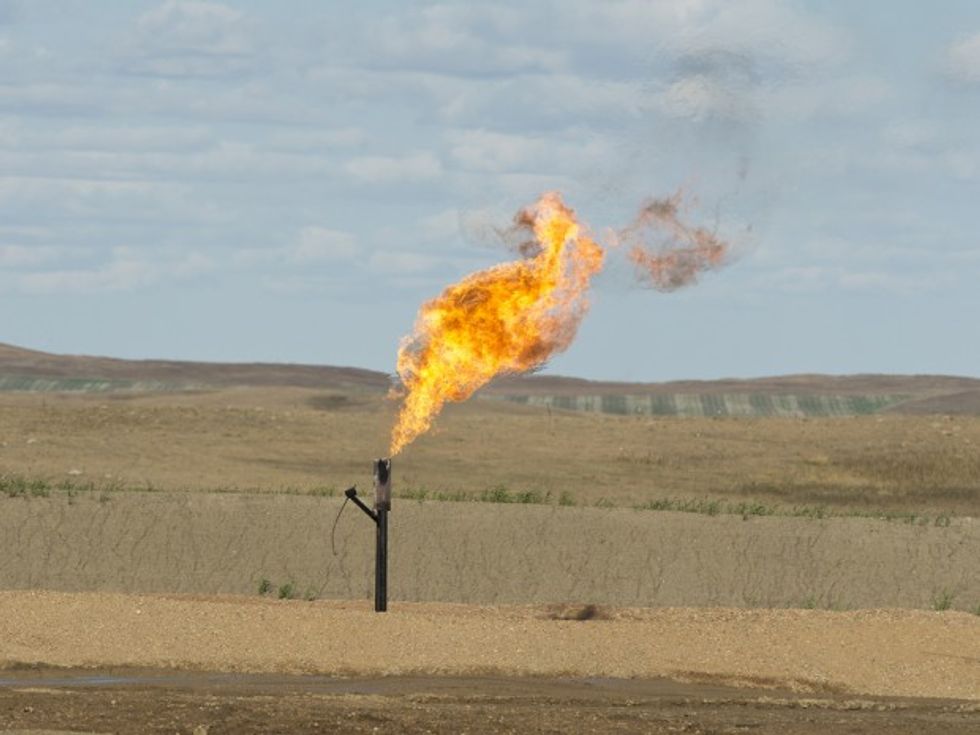 Photo credit: Shutterstock
The announcement from the U.S. Environmental Protection Agency Tuesday proposed standards "for new and modified sources are expected to reduce 340,000 to 400,000 short tons of methane in 2025, the equivalent of reducing 7.7 to 9 million metric tons of carbon dioxide," the news release from the agency stated. "EPA estimates the rule will yield net climate benefits of $120 to $150 million in 2025. Those standards are also expected to reduce 170,000 to 180,000 tons of ozone-forming VOCs in 2025, along with 1,900 to 2,500 tons of air toxics, such as benzene, toluene, ethylbenzene and xylene."
EPA Administrator Gina McCarthy said called the standards "cost-effective" and "underscoring our commitment to reducing the pollution fueling climate change and protecting public health while supporting responsible energy development, transparency and accountability."
This new proposal, part of President Barack Obama's larger Climate Action Plan, comes on top of the agency's Clean Power Plan, which was announced earlier this month as the "first-ever national limits on carbon pollution."
"Cleaner-burning energy sources like natural gas are key compliance options for our Clean Power Plan and we are committed to ensuring safe and responsible production that supports a robust clean energy economy," McCarthy said in a statement.
According to the EPA, methane is considered the "second most prevalent greenhouse gas emitted in the United States from human activities," accounting for about 10 percent of all greenhouse gas emissions in the U.S. as a result of human activity.
"Methane's lifetime in the atmosphere is much shorter than carbon dioxide (CO2), but CH4 is more efficient at trapping radiation than CO2. Pound for pound, the comparative impact of CH4 on climate change is 25 times greater than CO2 over a 100-year period," EPA stated.
Methane gas enters the atmosphere from natural sources, but the natural gas and oil industry as well as agriculture are contributors as well.
As one might expect, those in the industry impacted by the proposed regulations are none too pleased.
"Methane emissions have fallen 38 percent since 2005 even as natural gas production soared by 26 percent. Those reductions were the result of industry innovation and voluntary measures," Kathleen Sgamma, vice president of government and public relations for Western Energy Alliance, said in a statement. "Now EPA wants to glom onto that success by adding costly red tape. The problem with EPA making mandatory what industry is already doing is that it simply adds bureaucratic layers that remove flexibility and innovation while discouraging the development of the single most significant source of U.S. greenhouse gas reductions. Rather than chasing a small amount of emissions at production sites, EPA's time is better spent on issues that will deliver real environmental benefit."
On the flip side, some environmental groups said the EPA's proposal doesn't do enough.
Friends of the Earth Climate and Energy campaigner Kate DeAngelis said that while the group applauds the administration for this step, "regulation of methane cannot become a justification for continuing our reliance on fossil fuels."
"We have a serious problem with existing and abandoned wells, and the final rule needs to address them. The real solution to climate change is to leave fossil fuels in the ground and to clean up the abandoned wells that continue to poison our air," DeAngelis continued in a statement.
On Friday,  EPA announced new rules that would tighten emission standards and other air pollutants from landfills. It estimated the new rules, which are also part of Obama's Climate Action Plan, will reduce methane from decomposing household waste by about 480,000 tons a year by 2025.
Landfills rank as the third-largest human-related source of methane, a potent greenhouse gas that contributes to global warming at 25 times the rate of an equivalent amount of carbon dioxide. Landfills also emit such toxic gasses as benzene, toluene and vinyl chloride.
EPA said implementing the new standards for landfills will cost about $55 million over the next decade.
A spokeswoman for the Solid Waste Association of North America said at the time the industry group is studying the new standards before responding.
—
The Associated Press contributed to this report. This story has been updated for clarification and to add more information.