The mayor of a small town in Iowa has padlocked the doors to city hall and threatened to resign unless the city council votes to oust the city clerk, whose work a number of residents say the state should audit.
George Lange posted a note on the door to city hall in Lorimor that read, "If the council votes to keep city clerk, I will resign as mayor immediately and Sue will become mayor," KCCI-TV reported.
Resident Pam Sirdoreus said the entry was also sealed tight.
"Actual huge chains and padlocked and nobody could get in," she said.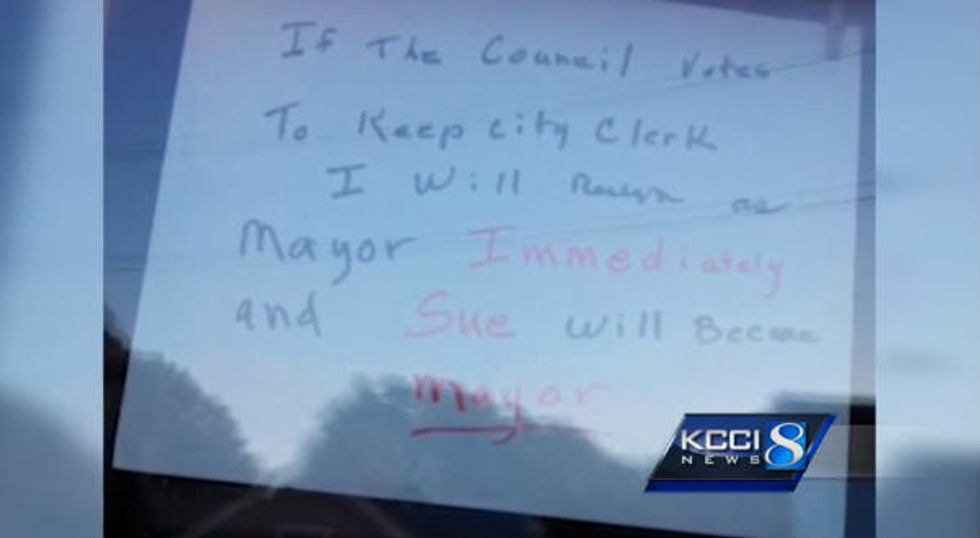 Image source: KCCI-TV
Lange defended his decision to close up shop, saying that "under certain circumstances," the people's headquarters should be closed, even if that means city councilors have to move their meetings outside.
"The council people had no business being there," Lange told KCCI.
The issue that prompted the mayor's resignation threat and the closing of city hall is centered around city clerk Doris Loy, whom some accuse of misspending taxpayer dollars.
Loy has denied the allegations, but KCCI reported that a state audit found she had misspent $27,000 in another Iowa town in 2013. The misallocated funds included $1,217 of improper reimbursements to herself, according to the Des Moines Register.
"Doris Loy has been going around preying on small town communities who do not have enough protection," said Connie Hallberg, who organized a petition asking for a state audit.
Meanwhile, residents are demanding answers as to where how their money is spent.
"All we want is facts. That's what we're looking for," Sirdoreus said.
"I want to see someone in our office taking care of the taxpayer dollars the way they should be taking care of it," Hallberg added.
(H/T: KCCI-TV)
–
Follow Jon Street (@JonStreet) on Twitter