HAIFA, Israel — Former Arkansas Gov. Mike Huckabee said the Iran nuclear deal holds real danger not just for Israel, but for the United States as well.
Visiting Israel this week to meet with political and business leaders and to fundraise, the Republican presidential candidate told TheBlaze by phone Tuesday that Iran's leadership has hardly been secretive about their ultimate goal.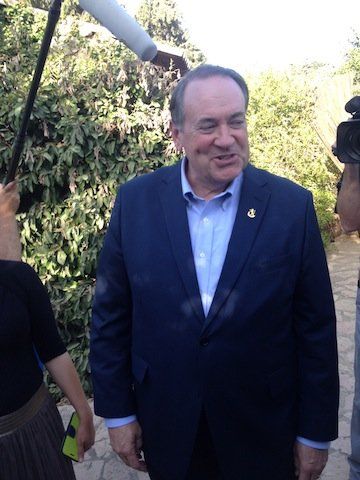 Former Arkansas Gov. Mike Huckabee arrives in the Jewish community of Shiloh in Samaria, a place mentioned in the Bible. (Photo courtesy: Jeff Daube)
"They've already said they want to wipe Israel off the face of the map," Huckabee said. "I think what a lot of Americans don't understand is Israel is the opening act, but the main event is America."
To emphasize his point, Huckabee noted Iran's continued description of the U.S. as the "Great Satan," while Israel is their "small target."
"They've not been subtle or coy about it. You have to take people seriously when they say they're going to kill you," Huckabee said.
Atypically for an American politician, Huckabee traveled Tuesday evening to the Jewish community of Shiloh, located in Judea and Samaria, commonly known as the West Bank. He was attending a fundraiser with U.S. citizens, including those who live in Israel.
"I think that it's important for Americans to visit in Judea and Samaria and understand that this is very much an important part of Israel's future," Huckabee said.
"I think sometimes a lot of Americans hear terms like 'West Bank' and 'settlements,'" he continued. "I don't refer to it as the 'West Bank' — it's Judea and Samaria, it's a part of Israel. These are neighborhoods. 'Settlements' sound very temporary."
"The world has, I think, completely misrepresented how important these areas are for Israel's security," he said.
Many Israelis have pointed to the danger to their security in handing the West Bank to the Palestinians, citing the experience of withdrawing from Gaza in 2005, only to see the Islamist Hamas terrorist group come to power and having thousands of rockets fired into Israel.
While security is one argument for leaving Israel in control of the territory not already given to the Palestinians under the 1993 Oslo Accords, another is Jewish biblical heritage.
Huckabee's campaign website makes reference to this connection: "Sadly, this administration spends more time berating Israel for building houses in the lands given to Abraham than telling the Iranians to stop building bombs pointed at us."
Yisrael Medad, who writes the blog My Right Word from Shiloh, said he views Huckabee's visit as an affirmation of the links of the Jewish people to their biblical homeland, including Judea and Samaria, which is not recognized as belonging to Israel by most of the world.
"The presence of Governor Huckabee at the ancient site of Shiloh, which has a history extending back over 3,500 years, where the first permanent institutions of government and religious worship in the land of Israel were established, is yet another confirmation of the narrative of the strong national and cultural and legal links between the Jewish people and its homeland," Medad, who has lived in Shiloh for 30 years, told TheBlaze.
Situated in Samaria, north of Jerusalem, Shiloh appears several times in the Bible, including in the book of Joshua, as the site where the tabernacle was erected and where the Israelite tribes were given their allotted portions in the promised land. In 1 Samuel, it is also noted as the place the prophet Samuel was inducted into his ministry.
Huckabee tweeted that he ran into "Duck Dynasty" star Willie Robertson while in Israel. A fundraiser attendee told TheBlaze that Robertson was not at that event.
In Israel for meetings about the disastrous #IranDeal...& look who I ran into! Great to see my friend @williebosshog. pic.twitter.com/p0oleTxMmc

— Gov. Mike Huckabee (@GovMikeHuckabee) August 18, 2015
An Israeli source who helped organize part of Huckabee's schedule told TheBlaze that the Shiloh fundraiser was organized by Simon Falic of Florida who along with other members of his family owns the Duty Free Americas airport shops.
The Jerusalem Post reported that Falic has supported various projects in the Shiloh area and has contributed to other pro-Israel politicians in the U.S. as well as to Prime Minister Benjamin Netanyahu's political campaigns.
"They care very deeply [and] … thought it would be meaningful if they had this event there," Jeff Daube, the director of the Zionist Organization of America's Israel office told TheBlaze.
Huckabee faced criticism last month when he said that with the Iran deal, Obama was marching Israelis "to the door of the oven."
Huckabee said he "absolutely" stands by his remarks, and blasted Obama not only for his Iran policy but his Middle East policy overall.
"We have seemingly, consistently picked the most odd dance partner — in Syria we picked the wrong side, in Egypt we picked the wrong side — we have misjudgments about Yemen, about Libya," he said. "There's a zero batting average for this administration when it comes to making smart decisions in the Middle East."