Glenn Beck released his latest book "It IS About Islam" on Tuesday, and he said there is something very different about this book than all of the others he has released. While his other publications have countless names on the title page, giving credit to the many people who helped create them, only Beck's name appears in "It IS About Islam" because everyone else was afraid to be associated with it, he said.
"We had really, really good researchers on this book. But no one wanted their name on this book. Not that they disagreed with it -- they just know what it means. So do I," Beck said on his radio program. "We are so politically correct that ... their jobs could be lost. They could be fired. They could come under persecution or death."
"Boy, that sounds like a problem, doesn't it?" he continued. "But I believe this book needed to be printed because these things needed to be said. Need to be said. Need to be heard. Need to be spoken out in the public sphere. And I'm not ... doing a cartoon contest, and none of this is my opinion."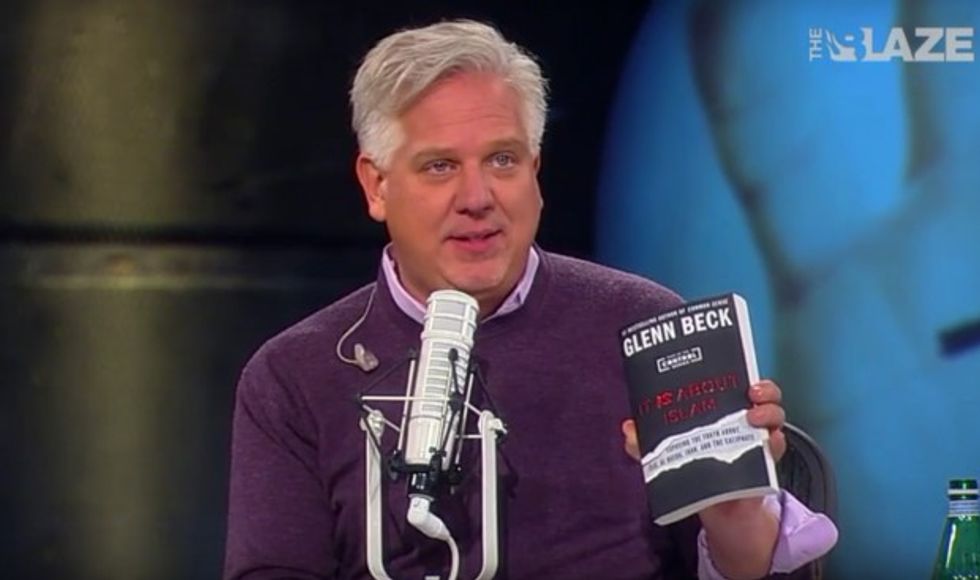 Glenn Beck speaks on his radio program August 18, 2015. (Photo: TheBlaze TV)
Beck said the book describes Islam in the words of the Koran and the Hadith, not his own words, and therefore it shouldn't be controversial.
"But I will tell you, I'm not sure this book will ever make it into our libraries," he said. "I doubt this book is on any library shelf in America when all is said and done, even if it sold 2 million copies."
Beck said they made the book as cheap as possible because he truly believes Americans must educate themselves.
"The stuff in here will take you all the way from what [the Islamists are] saying today [and how] they possibly think they can get away with this, to what they believe the future is, to what their actual plans are for America," Beck said.
"Everybody in this audience should have this because this is the fight of the future. This is not going to go away. The only way this goes away is total defeat," he continued. "The first thing you can do is be brave enough to speak the truth, but to speak it without malice, to speak it without opinion. ... Just to speak the truth is an act of bravery in today's world."
Beck said the book will likely be the least controversial among members of the Islamic State because "they are the ones who believe it 100 percent."
"They're the ones who are checking with the imams and the clerics and saying, 'Is it okay that I rape her?' 'Yes, it is,'" Beck said. "I'm not doing this for shock value. I'm not doing this for money. I'm doing this for truth."
The full episode of The Glenn Beck Program, along with many other live-streaming shows and thousands of hours of on-demand content, is available on just about any digital device. Click here to watch every Glenn Beck episode from the past 30 days for just $1!