Republican presidential candidate Rick Santorum brought up Planned Parenthood founder Margaret Sanger's past with eugenics when talking about the series of videos on the organization.
"I am worried about an organization that was founded by a eugenicist whose purpose was to eliminate undesirable races and people," the former Pennsylvania senator said Thursday at the National Press Club in Washington. "It's stunning to me that a eugenicist who has such a horrific record of man's inhumanity to man is someone who current-day politicians are proud to receive awards in her name."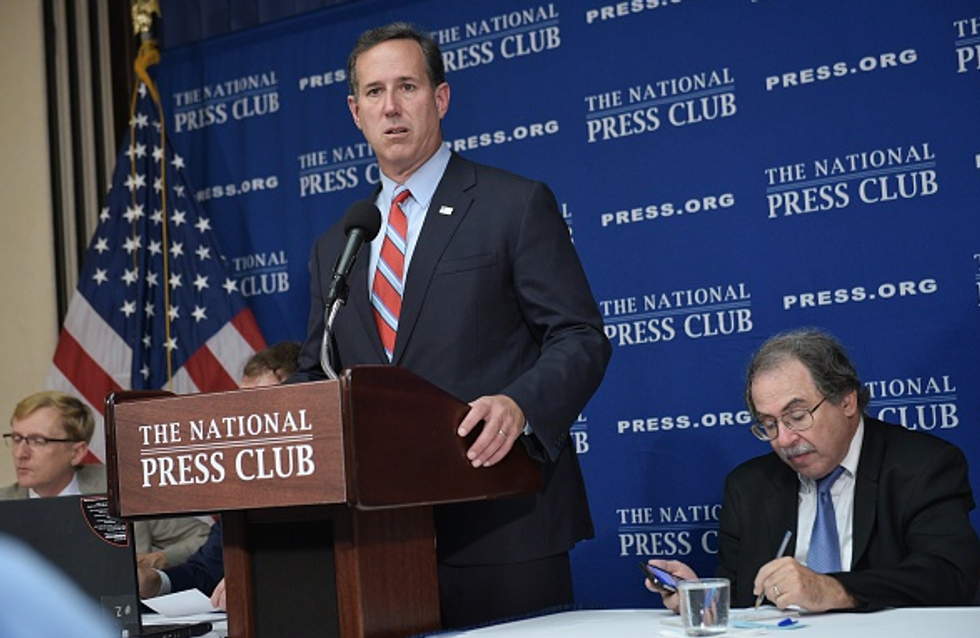 Republican presidential hopeful Rick Santorum speaks at the National Press Club, Aug. 20, 2015 in Washington. (MANDEL NGAN/AFP/Getty Images)
An anti-abortion group has released a series of undercover videos that purport to show Planned Parenthood executives and staff cavalierly discussing the sale of aborted fetal body parts for research. The videos have prompted a renewed effort in Congress to defund the organization that gets about $500 million each year in federal funds.
"Planned Parenthood is about and has been an organization whose objective was to dehumanize certain individuals, " Santorum said.
Santorum referred to the most recent video released Wednesday that showed a Planned Parenthood employee discussing the procurement a baby's brain tissue after its heart was reportedly still beating following an abortion procedure. Santorum sponsored the Born-Alive Infants Protection Act.
"It says if a child is born alive as a result of an abortion you couldn't kill it, much less harvest its brain," Santorum said. "At Planned Parenthood they are doing that. That should be prosecuted. It shouldn't just be defunded."
Santorum said eugenics and abortion are both based on lies.
"It's about a lie about what a child in the womb really is. 'It's just a blob of tissue. It's pre-human. It's not something we need to be concerned about.' Just like the argument was from Margaret Sanger about other races and other disabled and others who were, in her mind, subhuman and didn't need to be concerned about," Santorum said. "That's what Planned Parenthood is doing. They are treating these children in the womb as if they are not really human beings."