Amid the controversy surrounding the graphic Planned Parenthood videos, the nation's largest abortion provider reportedly handed out awards to at least 15 journalists for their reporting on "reproductive rights."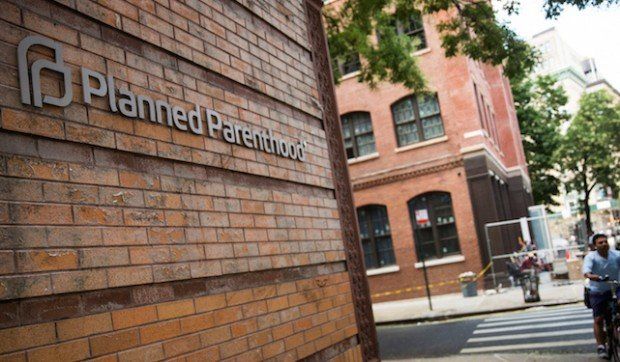 A Planned Parenthood location is seen on August 5, 2015 in New York City. (Photo by Andrew Burton/Getty Images)
The Media Research Center searched Twitter to put together a list of media members who were either awarded or in attendance at the Planned Parenthood Federation of America Maggie Awards for Media Excellence on Tuesday night:
• Buzzfeed – via Casey Gueren

• Colorlines.com – via Akiba Solomon and Aura Bogado

• Cosmopolitan – via Jill Filipovic

• Ebony – via Jamilah Lemieux

• Elle – via Laurie Abraham and Leah Chernikoff

• Esquire – via John H. Richardson

• Mic – via Elizabeth Plank

• MSNBC – via Irin Carmon

• Pearl of Africa documentary – via Cleo Kambugu and Jonny von Wallström

• Salon – via Valerie Tarico

• Teen Vogue – via Phillip Picardi

• The Nation – via Katha Pollitt

• UpWorthy – via Ariel Azoff, Wagatwe Wanjuki and Lori White

• Vice – via Fazeelat Aslam

• Yahoo! Health – via Jen Gerson

• Uffalussy Tai Beauchamp of InStyle hosted the event.
First ever global Maggie goes to... The Pearl of Africa #maggieawards pic.twitter.com/fUsiv1NkXZ

— The Pearl Of Africa (@pearlofafricatv) August 18, 2015
In 1978, Planned Parenthood started the Maggie Awards for Media Excellence to honor its founder, Margaret Sanger, and "recognize exceptional contributions by the media and arts and entertainment industries that enhance the public's understanding of reproductive rights and health care issues, including contraception, sex education, teen pregnancy, abortion, and international family planning," according to the group's website.
The Media Research Center has also hit the big networks for providing little coverage to the controversial Planned Parenthood videos. The conservative center claims CBS has given just 14 minutes and 59 seconds of coverage to the videos, while NBC has given just under 7 minutes and ABC offered just 1 minute and 41 seconds of coverage.
MRC claimed the networks have not discussed the content in the third, fifth, sixth or seventh Planned Parenthood videos released by the Center for Medical Progress.
You can watch the most recent video released here.
---