It's arguably not the prettiest or palatable of research, but the work being done at North Carolina State University on a particularly nasty virus leads to better understanding of its spread and, thus, how it could be contained in the future.
In a fume hood in NC State's NoroCORE lab is a box with a modeled head smaller than the size of a human hand. That head with an opened mouth is attached to a tube that shoots a virus-laced liquid into the box that has various sensors to take measurements of the simulated projectile vomit.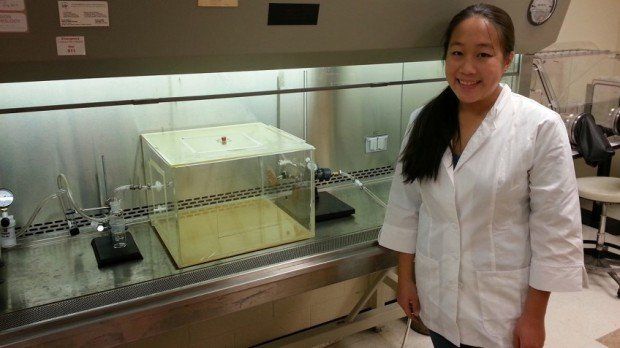 Researcher Grace Tung-Thompson at North Carolina State's NoroCORE Lab stands in front of the vomiting machine they created to simulate projectile vomiting and measure any virus in the air. (Image source: North Carolina State University)
The NoroCORE team published a study this week in which they used their barf box to show how the norovirus — a virus that can be spread in contaminated food, on surfaces and from person-to-person contact — can aerosolize.
"Epidemiological evidence has pointed to virus aerosolization during vomiting as a likely route for spreading norovirus, and our work here confirms that it's not only possible but probable," Dr. Lee-Ann Jaykus, a professor of food, bioprocessing and nutrition sciences at the university, said in a statement.
"When one person vomits, the aerosolized virus particles can get into another person's mouth and, if swallowed, can lead to infection," Jaykus said. "But those airborne particles could also land on nearby surfaces like tables and door handles, causing environmental contamination. And norovirus can hang around for weeks, so anyone that touches that table and then puts their hand to their mouth could be at risk for infection."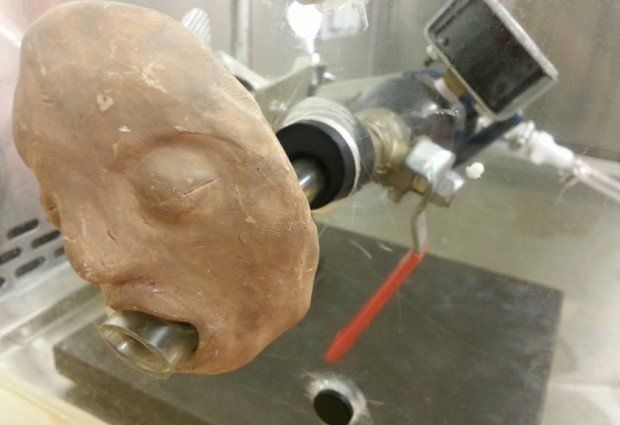 Photo credit: Grace Tung-Thompson
According to the Centers for Disease Control and Prevention, the norovirus causes acute gastroenteritis, which leads to "stomach pain, nausea, and diarrhea and to throw up." It is considered a type of food poisoning, but there are other bugs that cause food poisoning as well, the CDC stated. Symptoms usually develop within 12 to 48 hours after exposure to the virus and a person is usually feeling better between one to three days after symptoms first appear.
Using fake vomit contaminated with a virus similar to the norovirus but that is not harmful to humans, the researchers found that while not a lot of virus was aerosolized in terms of percentage, it was definitely enough to cause an infection.
"At most, only 0.02 percent of the total virus in the vomit was aerosolized," Jaykus said. "But that can still amount to thousands of virus particles – more than enough to infect other people."
Watch this video about how the vomiting machine works:
What does this mean for other viruses that are not considered to have airborne transmission? During the thick of the 2014 Ebola epidemic in West Africa, health officials strongly stated that for the virus to spread, a person would need to come into direct contact with infected bodily fluids.
The CDC has stated that there is "no evidence that Ebola is spread by coughing or sneezing" and that it is "not transmitted through the air." Large droplets though, it said, of "respiratory or other secretions from a person who is sick with Ebola could be infectious."
Jaykus told TheBlaze in a phone interview that she would not necessarily expect the Ebola virus to be aerosolized in the same manner as the norovirus because of its larger size and other structural elements.
"The machine would be relevant for testing that hypothesis," she said though, noting that the lab doing so would need to have the highest of biosafety clearances. "I think based on structure of the virus, based on its size ... and without the knoweldge as to whether it's present in vomit ... would suggest to me that if it is aersolized, it would be less efficient than norovirus."
As for the vomit machine itself, Jaykus said that outside of another vomit simulator known as Vomiting Larry in the U.K., she doesn't know of other researchers working with a similar machine. If you're wondering about the head, Jaykus said it's more than just a joke.
"I thought it was a joke just to make it a little bit more friendly, but it actually does have something of a function," she said. "Tubing that goes from artificial stomach into sort of the mouth of little head is designed to mimic the angle that we would be in if we vomited. You have to have the right angle to that tube and the head does provide a bit of a weight in order to keep that angle appropriate."
According to NC State's news release, further research on aerosolized viruses include how long the virus can remain in the air and how far it travels. For now, these findings, the researchers wrote in the study published in the journal PLOS One, have "implications for better understanding the transmission dynamics of human NoV and for risk modeling purposes, both of which can help in designing effective infection control measures."
Check out this animation that shows how far sneeze particles can travel on an airplane.
—
This story has been updated to include more information.