A Chicago pastor has produced a new Bible app that offers Christians a scriptural twist: the opportunity for verses to be personalized to each individual reader's name and gender.
The ToYouBible was recently launched by Pastor Gregory Ijiwola of The CityLight Church in Chicago, Illinois, and is being described as a "personalized Bible app for daily reading, meditations and Bible study."
Ijiwola drafted the concept in an effort to allow Christians to have a "more personalized experience in their scripture readings," according to the app's official website.
In creating it, the pastor went through the Bible and found verses in which he felt that personalization would be acceptable.
Then, Ijiwola joined forces with a member of his congregation who is also a software developer and the two created and launched the ToYouBible app, which is now available on smartphones.
"While the Bible contains thousands of wonderful promises to be trusted, believed and appropriated in the life of the reader, when these promises are read, they often sound generalized and distant," Ijiwola told the Christian Post. "However, an app that instantly populates the name of the reader in the text of scriptures, personalizing the relevant passages makes Bible-reading come alive, enhancing the devotional and faith-building experience of the readers."
An example that is provided on the ToYouBible website shows how a verse like Micah 6:8 — which reads, "He has shown you, O mortal, what is good. And what does the Lord require of you? To act justly and to love mercy and to walk humbly with your God" — is personalized in the app.
Pretending a user's name is "Mike Walker," that verse becomes, "He has shown Mike Walker what is good. What does God require of him but for Mike Walker to act justly. To love mercy, and to walk humbly with his God."
And, if your name is "Susan," the popular verse John 3:16 would read as follows: "For God so loved Susan, that he gave his one and only Son, that Susan believing in him should not perish, but have eternal life," according to a press release.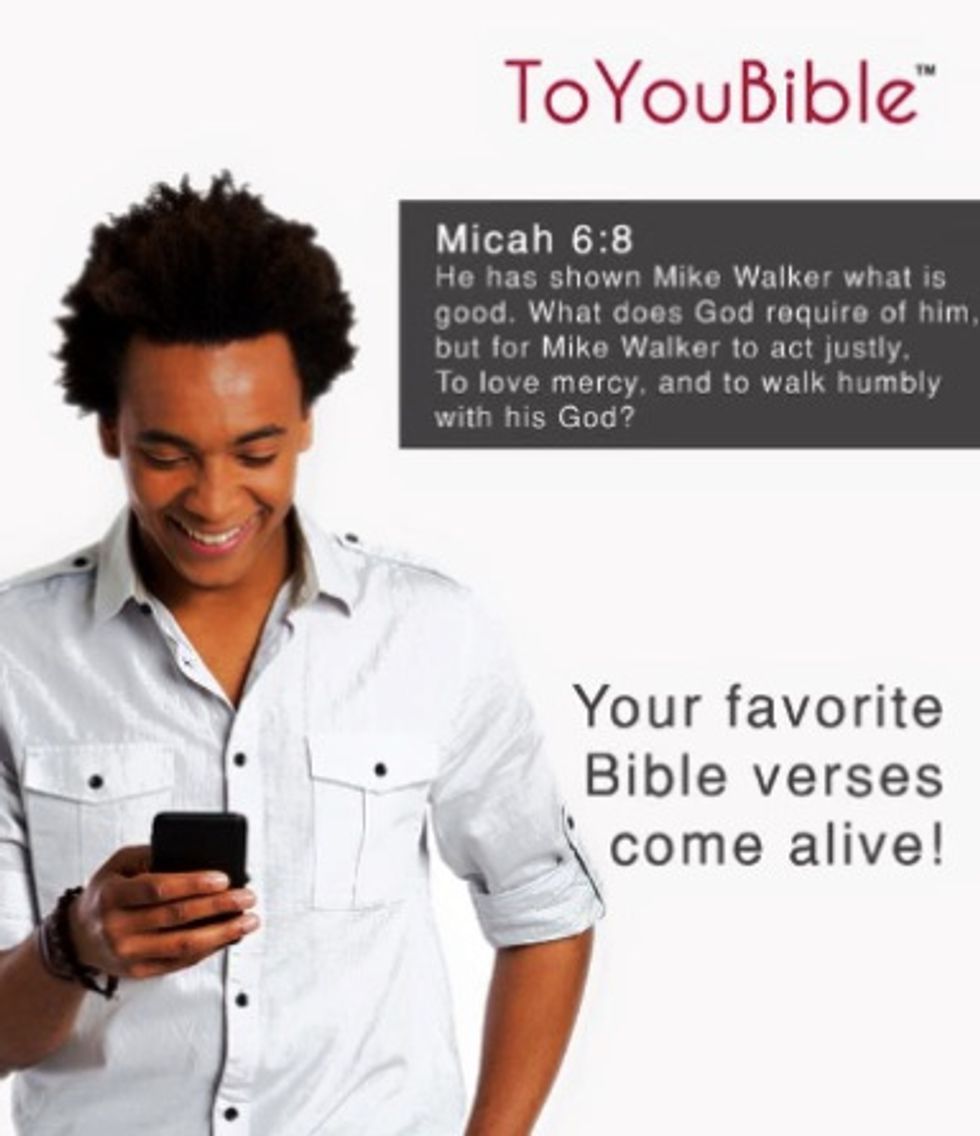 ToYouBible app
The Christian Post received differing responses after asking two theologians to respond to the app's personalization feature.
Dr. John Koessler, a professor at Moody Bible Institute, said that he doesn't see any major issues with personalization, though he did issue one caveat about reader responsibility.
"If there is a danger, it is that an app can't do the interpretive work that the reader is required to do," Koessler told the Post. "It may insert your name into a promise that wasn't meant for you."
But the Rev. Dr. Christopher J. Benek told the outlet that he believes personalization removes the original context of scripture.
"When we make the Bible all about us as individuals, we miss the focus of the larger relational narrative which tells of God's grace and love being extended to all of humanity," he said.
So far, the ToYouBible app seems to be well-received by users.
Read the full story here.
(H/T: Christian Post)
Follow the author of this story on Twitter and Facebook: