The next U.S. president needs to recognize the importance of good judgement when it comes to national security, something Democratic frontrunner Hillary Clinton has lacked, Sen. Rand Paul said.
Speaking to reporters Tuesday while in Anchorage, Alaska, the Republican presidential contender slammed Clinton's judgement during the 2012 Benghazi attacks that took place during her tenure as secretary of state and also for her use of a private email server while in office.
"You want a commander in chief who really appreciates the importance of national security. And when you put yourself at risk and the country at risk with emails potentially being exposed to enemies, I think it goes to a really poor judgement," Paul said.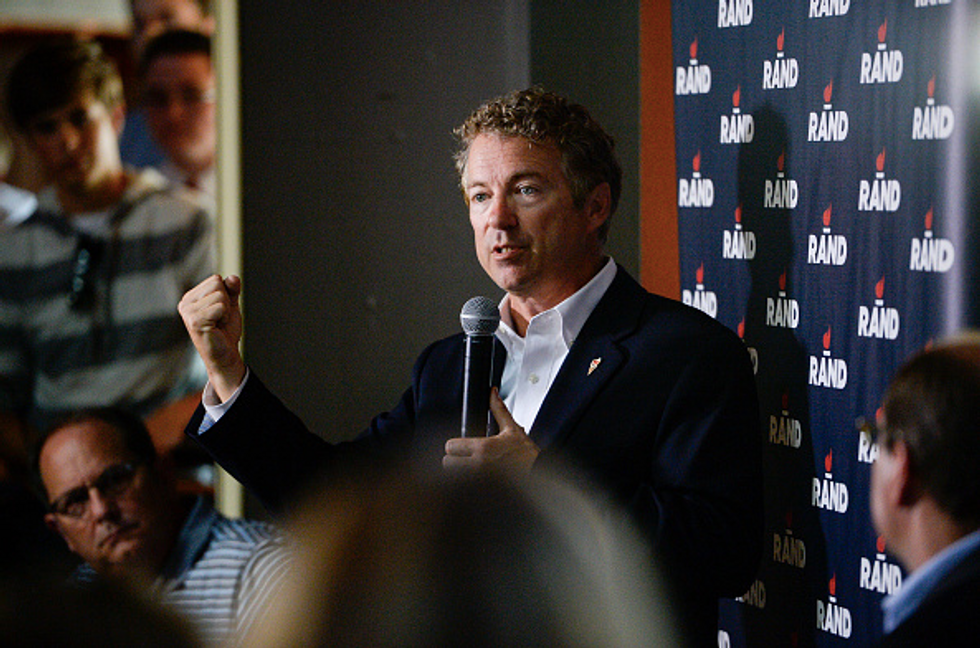 Republican presidential contender and Sen. Rand Paul (R-Ky.) addresses supporters during a campaign event, June 29, 2015 at Choppers Sports Grill in Denver. (John Leyba/The Denver Post via Getty Images)
Paul said people oftentimes confuse the Benghazi situation as a political issue when it really comes down to Clinton's judgement.
"The people who think Benghazi is a political issue, I think they mistake the discussion that will come with the ultimate nominee and that discussion is, 'Why didn't you, when you were asked repeatedly to provide more security, why didn't you do this,' because it does go to judgement," Paul said. "It has nothing to do with the spin, the movie, the talking points."
"It has really more to do with the generality of whether or not she has the wisdom and judgement to be commander in chief, and I think that both Benghazi and the emails really go to that lack of judgement," the senator continued.
Paul has repeatedly attacked Clinton over her handling of the attack and has accused her of knowing about the transfer of Benghazi weapons that eventually wound up in the possession of terrorist groups, potentially even the Islamic State. He has also said "there's a very good chance" Clinton lied to him during a congressional hearing when she addressed his concerns about those weapons.
"I think there's no way that Hillary Clinton did not know about this. Her private emails show she was the one supporting arming these people," Paul said in July.
According to a new Public Policy Polling survey, Paul currently rounds out the bottom of the top 10 Republican candidates in New Hampshire, with 3 percent support compared to Donald Trump at 35 percent, Ohio Gov. John Kasich at 11 percent, Carly Fiorina at 10 percent, former Florida Gov. Jeb Bush at 7 percent, Wisconsin Gov. Scott Walker at 7 percent, Ben Carson at 6 percent and New Jersey Gov. Chris Christie, Texas Sen. Ted Cruz and Florida Sen. Marco Rubio each at 4 percent.
In New Hampshire, according to the polling firm, Clinton has dropped behind Vermont Sen. Bernie Sanders, who has 42 percent to her 35 percent.
Paul addressed his polling numbers Tuesday and said it's important for people to "not get too carried away with themselves" as around two-thirds of people polled still say they're undecided of who they'll vote for. He also said his numbers had begun to drop before his campaign attacked Trump's "fake conservativeness" and have remained relatively the same since.
This trip to Alaska, Paul's first to the state, is the first stop for Paul's western tour which also includes stops in Idaho, Utah, Washington and Wyoming.