The United States is doling out more tax dollars in welfare benefits than some countries in Europe, known for massive welfare states, according to a new analysis by the libertarian Cato Institute.
The study, "The Work Versus Welfare Trade-Off: Europe," primarily focuses on European Union countries, but also compares the United States to European countries, many of which are reforming their welfare systems with work requirements — requirements that have been scaled back in the United States in recent years.
"Benefits in the United States fit comfortably into the mainstream of welfare states," authors Michael Tanner and Charles Hughes wrote. "Excluding Medicaid, the United States would rank 10th among the EU nations analyzed, more generous than France and slightly less generous than Sweden. Thirty-five states offer a package more generous than the mean benefit package offered in the European countries analyzed."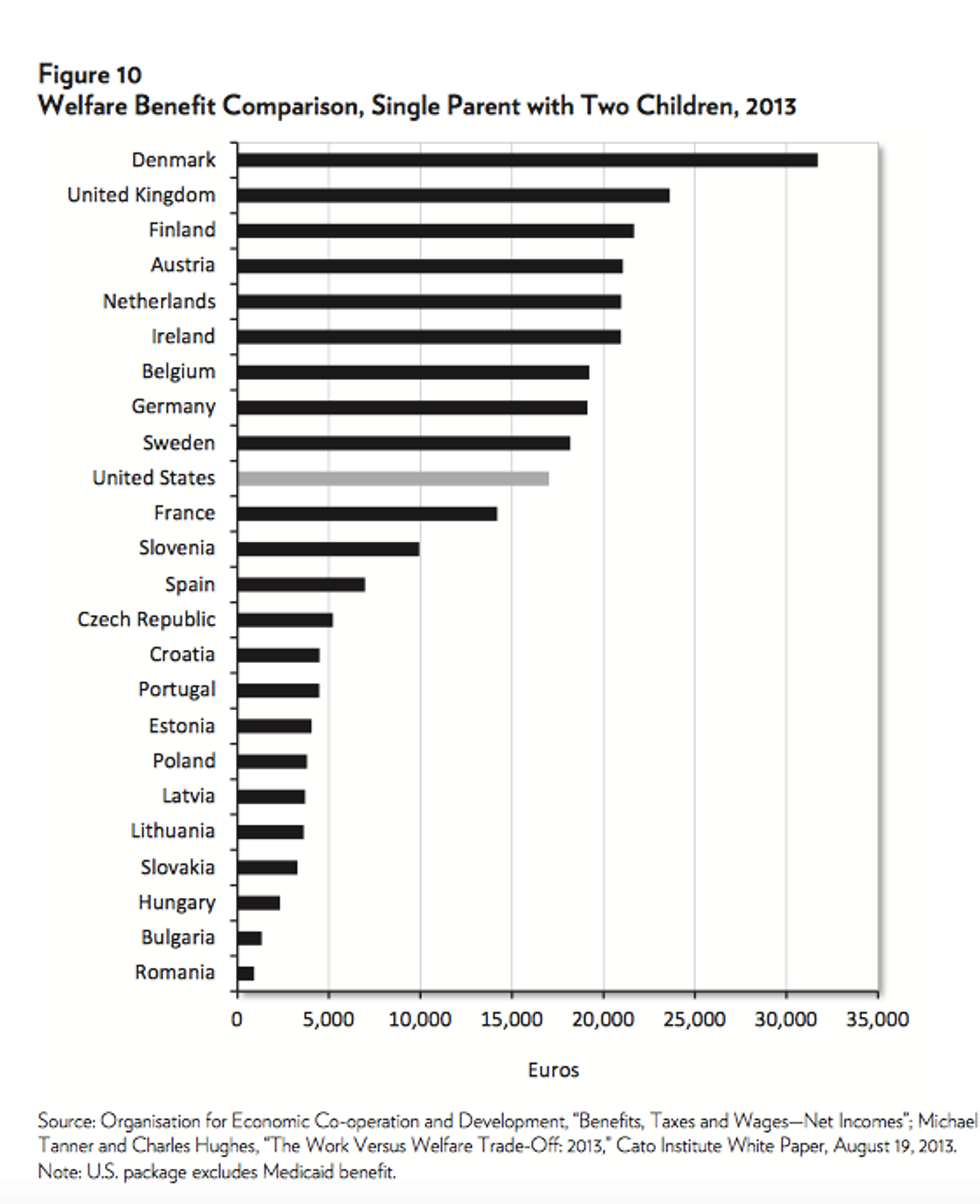 Image source: Cato Institute
The No. 10 ranking is only because Medicaid is limited to lower income people, whereas most European countries have universal health care paid for by the government. However, if Medicaid were included, "the United States is actually the third most generous, smaller than only Denmark and the United Kingdom," the authors wrote.
"Contrary to stereotypes, U.S. welfare benefits are more generous than those in many European countries normally associated with a sprawling welfare state," they continued. "That fact is somewhat misleading however, because the U.S. benefit package includes Medicaid, which is a means tested health care program. In EU countries, health care is provided on a universal basis and therefore is not included in the commonly defined European package."
The study outlines some of the worst examples in which welfare systems greatly discourage a transition into work. In nine EU countries, benefits exceed the minimum wage. Welfare benefits from 11 European countries exceed half the income for someone earning an average wage. In six of those countries, it exceeds 60 percent of the net average wage income.
In Austria, Croatia and Denmark, the marginal tax rate for someone leaving welfare for a job is close to 100 percent, meaning the person would have little to gain by working. In another 16 countries, people trying to move to the workforce would face marginal tax rate of 50 percent, according to Cato.
"Many European countries have recognized the problem and have begun to reform their welfare systems to create a better transition from welfare to work," the wrote. "In fact, the United States is falling behind some European countries with regard to welfare reform."
Critics have said that Obama administration actions such as the the 2009 American Recovery and Reinvestment Act rolled back the work requirement and no longer incentivized states to reduce the number of recipients that were key to President Bill Clinton's landmark welfare reform in the 1990s, signed at the behest of the Republican-controlled Congress.
The Cato study cites stats that show there is strong reason to work: Fewer than 3 percent of full-time American workers are poor, and just 15.8 percent of part-time workers are poor. By contrast, nearly a quarter of those who do not work and are poor, and two-thirds of Americans earning minimum wage earn a higher wage within a year.