After he murdered a Virginia news station reporter and cameraman during a live TV interview but before shooting himself, Vester Lee Flanagan, who also went by the name Bryce Williams, posted his own video of the gruesome act on social media accounts.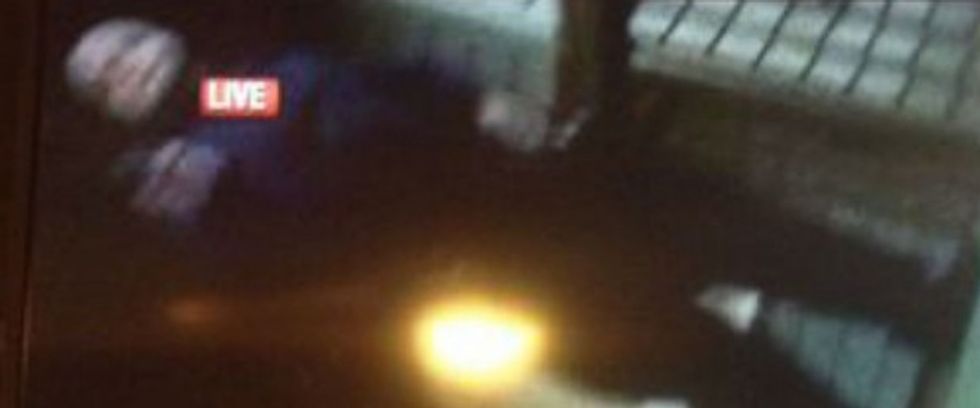 A screenshot from the live report on WDBJ-TV showed a shot being fired. Vester Lee Flanagan II, the man police say shot and killed two news station employees, also posted a first-person video of the shooting to his social media accounts. (Image source: WDBJ-TV)
Filming oneself committing a horrendous deed is something experts say they, unfortunately, only expect more of.
Brad Bushman, a communication and psychology professor at Ohio State University, told NPR that taking video of oneself in a situation like this serves to increase attention.
"We're hard-wired to pay attention to violence," Bushman said. "Our ancient ancestors who ignored violent cues became extinct."
Police say Flanagan shot and killed 24-year-old Alison Parker and 27-year-old Adam Ward of WDBJ-TV Wednesday. He also shot and injured Vicki Gardner, a local economic development official being interviewed by the news station. Gardener's husband said she was in fair condition.
Flanagan is in no way the first to film such a crime. Islamic State extremists, for example, have released dozens of videos showing gruesome murders.
Dr. Jeff Victoroff with the Keck School of Medicine of the University of Southern California told NPR "recording instances of aggression is a way to capitalize on a peak life experience — a terrible one — and make more of yourself or of your group."
He added that video gives those who already plan to commit such crimes a way to "[immortalize] their aggressive acts."
Even still, there was a significant level of backlash and restraint not to watch or share the 56-second video posted by Flanagan.
Shocked Twitter and Facebook users urged others not to click on, retweet or otherwise circulate the recording.
Some of the strongest requests for restraint came from those close to the victims.
"Our WDBJ crew was literally ambushed this morning. PLEASE DO NOT share, or post the video," tweeted Brent Watts, the TV station's meteorologist.
That request was retweeted more than 2,000 times in the hours that followed, and the sentiment spread far further.
"Please if you see video of the shooting posted on FB or anywhere, take a stand," tweeted former professional hockey goalie and NHL coach Corey Hirsch. "Do not watch or share."
Some friendships, at least the Facebook kind, were lost over people sharing the video. Corrine Marquez said via Facebook that it's "shameful to recirculate the video" and noted that the only mention she found of the story was one friend declaring that he had deleted another friend who chose to share it.
Along with their admonitions, some suggested alternative video and images to share. One popular option was video of the victims' news colleagues paying tribute to them on the air. Another was a joyful selfie taken by the victims.
But some social media users said they were grateful that there appears to have been a moment of mass restraint.
"I don't know if that means there's been a turning point," Joseph Vasquez said after seeing a Facebook feed that was free of the video all day. "I hope so."
Though there was perhaps an unexpected level of restraint, thousands had still seen and shared videos from the attack.
The station's live footage of the shooting was being shared over and over before even station managers knew the fate of their employees. Some 40,000 viewers had initially tuned in, including the local sheriff, and heard Parker scream. They saw her run as the camera fell, capturing a fleeting image of a man holding a handgun.
Flanagan, who died at a Virginia hospital from a self-inflicted gunshot wound, sent ABC News a faxed note hours after the shooting in which he called himself a gay black man who had been mistreated by people of all races. He said he bought the gun two days after nine black people were killed in a June 17 shooting at a Charleston church and wanted to use it to retaliate for what authorities called a racially motivated shooting.
The fax also included admiration for the gunmen who carried out mass killings at Virginia Tech in 2007 and Columbine High School in Colorado in 1999.
Former colleagues have come out to say Flanagan seemed off-kilter when they knew him.
—
The Associated Press contributed to this report.