President Barack Obama addressed the shooting of two journalists in Roanoke, Virginia, but only when asked in interviews by local newscasts – a stark difference from his immediate reaction to previous shootings where he came to the podium in the press briefing room to address the nation.
Before Obama was asked about the shooting on air, White House press secretary Josh Earnest told reporters at the afternoon press briefing he had not spoken to the president about the shooting that occurred early that morning.
"He may be saving it for another time. I don't understand why he didn't discuss this immediately," Jon-Christopher Bua, a commentator on White House issues and an adjunct professor at the Georgetown University School of Foreign Service, told TheBlaze. "Even Josh didn't talk a lot about it, but I don't think there was a strong political reason."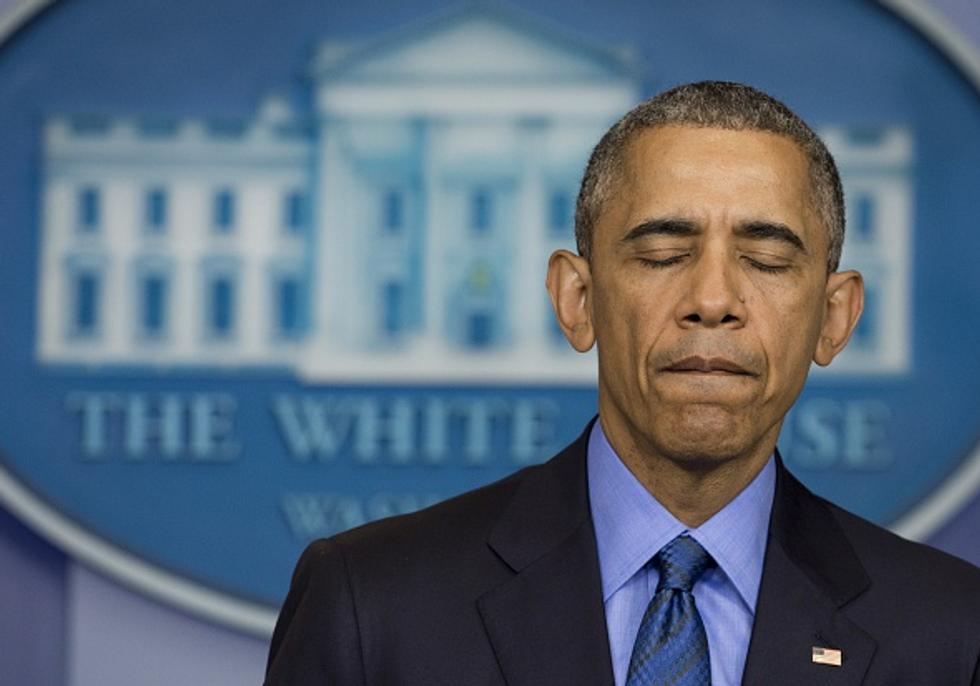 President Barack Obama speaks about the shooting deaths of nine people at a historically black church in Charleston, S.C., from the press briefing room of the White House in Washington, June 18, 2015. (SAUL LOEB/AFP/Getty Images) 
Bua served on the communications team for Bill Clinton's presidential campaigns and as communications director for three agencies over the course of the Clinton administration. Still, he's uncertain if there was a messaging strategy behind the relative hands-off approach.
"I don't think it's a done deal," Bua added. "He might speak at the time of the funerals. The president, as Bill Clinton showed, is the consoler-in-chief as well as the commander-in-chief. And he is very supportive of gun control legislation."
The victims were reporter Alison Parker and photojournalist Adam Ward, gunned down while filming a live segment Wednesday morning. Authorities said the suspect, former news station employee Vester Lee Flanagan, died of a self-inflicted gunshot wound.
Thursday in New Orleans, Obama did not bring up the Virginia shooting, although he did veer away from the main topic of the speech about the 10th anniversary of Hurricane Katrina, when talking about the economy and the federal budget.
The White House had little to say about the president's response to this shooting compared with Obama's response to shootings in Newtown, Connecticut, Charleston, South Carolina and elsewhere.
"As you mentioned, the president offered his reaction to the shooting in several of the television interviews last night," White House spokesman Eric Schultz told TheBlaze Thursday. "Josh also offered a few comments in yesterday's briefing, and I suspect this will be a topic in today's gaggle as well. But beyond all that, I don't think we're going to have anything additional for you on this right now."
Because of the unusual nature – the killer carrying out the murder on a live broadcast and posting it on social media – the White House might have wanted to avoid enlarging the spectacle, Bua said.
"It may be the president didn't want to give this guy's dastardly act the 15 minutes of fame he wanted," Bua added.
However, Debbie Georgatos, Dallas attorney and Republican political strategist, who has been an author and talk show host, said the optics of not speaking are worse for the president.
"There is a lack of leadership for him not to speak up on this tragedy. Why isn't he speaking out about a hate crime?" she said. "It was a black man talking about a race war."
Obama had a round of interviews scheduled for Wednesday with local TV stations to talk about the Iran nuclear deal, while planning to address the Katrina anniversary on Thursday.
So, Georgatos said, it could be that he didn't want to step on his own news agenda.
"He has the right to focus on his agenda of talking about the Iran deal and the anniversary of Katrina, but when an incident like this happens, it is incumbent on him to carve out time, reinforcing the goodness of America, speaking against the rant of this individual," she said. "It was a fertile opportunity to speak and unite the country."