With reduced budgets and fewer deployments, the military is scaling back on its personnel and one way that it's going about figuring out who to cut, some say, could be ruling out non-commissioned officers who otherwise have good performance records.
It's called the Qualitative Service Program, which the Army said in a 2012 memo that it will help "retain our best leaders" while reducing "over-strength [military occupational specialties] and promotion stagnation."
As part of this process, NCOs might go before a Qualitative Management Program Board, which reviews "performance, conduct and/or potential for advancement that may not meet Army standards." Those deemed as not meeting these standards are "denied continued service."
Some say though this process is picking out individuals with minor infractions and discharging them regardless of their experience otherwise.
"This is becoming common because of the reduction in forces going in the Army and Marine Corps," Dan Caldwell, the legislative and political director for the nonprofit Concerned Veterans for America, told TheBlaze. "Performance in the battlefield and performance in training should be valued over ... infractions."
Caldwell, a former Marine himself, said he's "very concerned that you're going to lose a lot of good Marine NCOs, a lot of good Army NCOs because of those policies."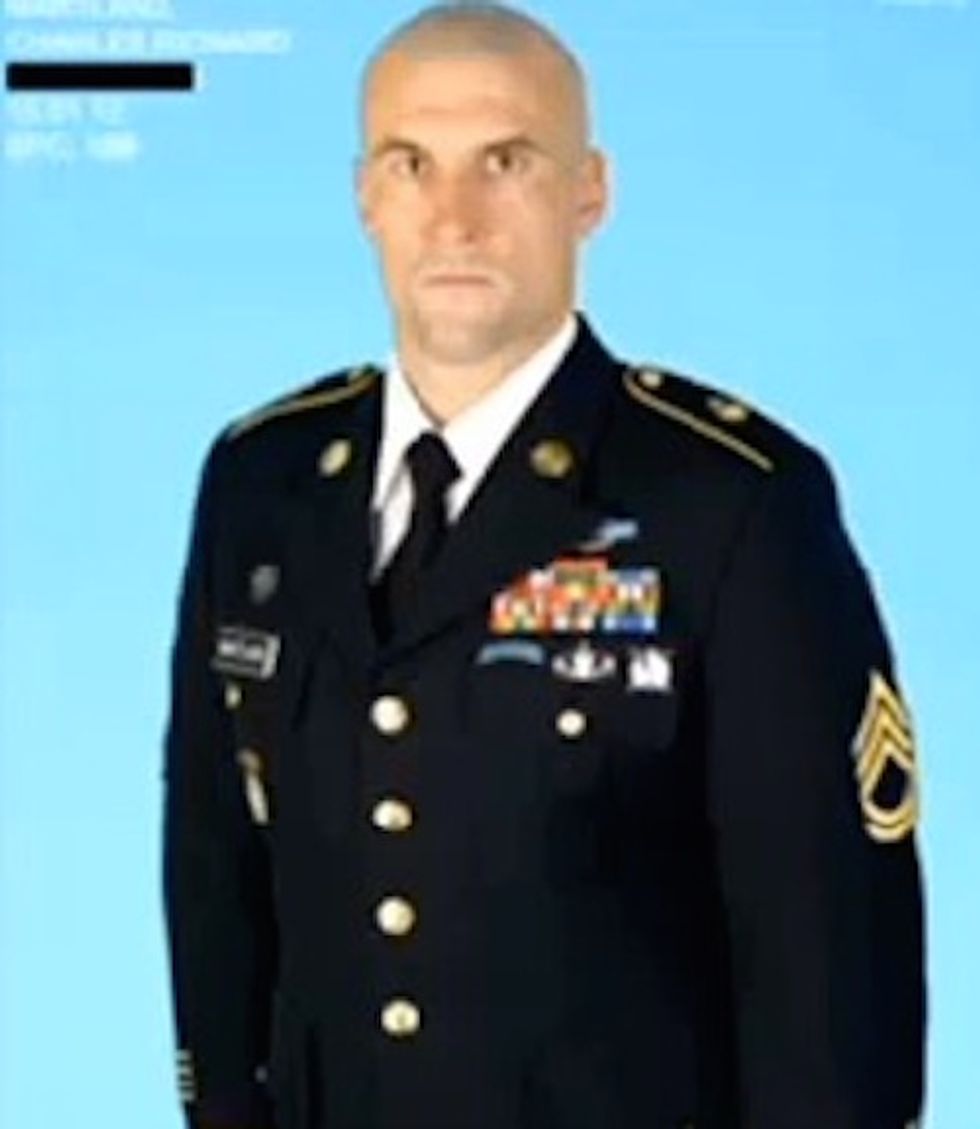 Rep. Duncan Hunter wrote a letter to Defense Secretary Ash Carter, asking that he review the "involuntary discharge" of Sgt. First Class Charles Martland. (Image source: KUSA-TV)
Rep. Duncan Hunter (R-Calif.) says Sgt. First Class Charles Martland, a Green Beret, is one of these people targeted by such a policy for having a blemish on his record (one some would argue shouldn't even be considered an infraction in the first place).
Martland, who has not spoken out himself about the situation because he is still on active duty and not authorized to speak with the press, was called before the QMP board in February and it was decided he would be "involuntary discharged" by Nov. 1, 2015.
The reason why, some like Hunter in letter to Defense Secretary Ash Carter last week, is "troubling," he wrote.
Martland was reprimanded in 2011 for hitting an Afghan police officer who allegedly raped a 12-year-old boy and then beat his mother when she brought information, seeking help from the U.S. authorities at an outpost.
More documents, which TheBlaze has seen, regarding the situation have come to light after Hunter's initial letter.
This week, Hunter sent a second letter to Carter saying the defense secretary should "expect each and everyone one of our warriors and military professionals to intervene in such a situation," reiterating that SFC Martland and his colleagues "had a moral obligation to intervene."
A linguist who was in Afghanistan and had first-hand knowledge of the incident reached out to Hunter, giving him his account of the situation. According to the linguist, the Afghan police commander, identified as Abdul Rahman, apparently didn't think sexually abusing the boy merited a discussion and laughed when confronted.
Martland and Capt. Daniel Quinn, who later left the military, were accused of beating the Rahman, but the linguist said the commander "was exaggerating the nature of his injuries." Quinn, though he told TheBlaze he left the area a day after the incident, said he also heard from people on the ground that Rahman exaggerated his injuries.
Speaking with the Afghan Provincial Chief of Police about the situation at the time, the linguist said the chief even recommended that Rahman be "dismissed, arrested and put away for life."
According to Hunter's first letter, Martland acknowledged hitting the officer was wrong, but "he and others felt they could no longer stand by and allow the [Afghan Local Police] to commit atrocities," the congressman wrote.
A memo of reprimand issued in 2011 by Brig. Gen. Christopher Haas regarding the incident said the actions by these team members were "a flagrant departure from the integrity, professionalism, and even-tempered leadership I expect from all Soldiers of this command ... ."
In his most recent letter to Secretary Carter, Hunter wrote that he was "astounded and no less troubled by what appears to be a rush judgement against SFC Martland and his teammate."
"The fact that this one incident — an incident that was seriously misrepresented by Army leadership, without even taking into account the moral necessity to intervene — is now the determining factor in SFC Martland's career is a black mark for the U.S. Army."
The Army would not address the issue, a spokesman telling TheBlaze last week he could "not confirm the specifics of Martland's separation due to privacy reasons."
Caldwell's response?
"The Army likes to play this game and a lot of the government plays this game. They love to play the privacy card when it suits them," he said, adding that he thinks if it had information to counter what SFC Martland was saying, it would likely be leaked out.
Does Caldwell believe one such blemish on the record, like that in Martland's case could be used as grounds for involuntary discharge of a decorated NCO?
"If what he said is true, then it would appear that he is being forced out because of this one infraction," Caldwell said.
Quinn also thinks this is the case.
"I've seen every evaluation he's had ... and know that every evaluation was better than the next," he told TheBlaze. "He was a remarkable remarkable soldier. Nothing but positive remarks on his evaluations. The only thing even mediocre was bad evaluation he received after the incident."
Caldwell said that while Martland's story has received a significant amount of press attention, there are many other similar cases.
"For everyone you hear about publicly there are three or four others that are suffering same thing," Caldwell said. "Their cases are unheard."
James Dunnigan, a military analyst and author, wrote in a post for Strategy Page last year that with the U.S. Army expected to cut 80,000 members, including some senior NCOs, by 2018, and is "losing men and women who took several million dollars each and over two decades to turn into very effective troop leaders and administrators."
Dunnigan wrote that losing senior NCOs could be avoided over time by reducing recruiting and slowing promotions.
"But when you have to do it fast you are going to lose some people you would rather not lose," he wrote.
Caldwell said that while a mistake in one's personal or private life might not have warranted an immediate expulsion from the military, now, he said, "you're losing good, experienced combat NCOs like Charles Martland."
Caldwell said Congress could take some action in changing policies, but he thinks it really comes down to new civilian leadership in the Army and the Navy and Marine Corps.
"They really are going to have the power to change lot of these policies. That's ultimately where you're going to have to see the policy implemented and driven," he said.
Quinn said that he thinks the upper levels of the Army should take a closer look at people found to have an isolated black mark on their records.
"[They need to take into account the rest of their career and, like in this case, the incident itself," he said nothing that some infractions are clearly black-and-white on what's right and what's wrong, while others fall into a grey area.
—
Front page image via Shutterstock.
—
This story has been updated to include more information.