TEL AVIV, Israel — If you were to look in Shneor Cohen's bank account, you might not find a lot of money, but the 27-year-old author who has devoted himself to spreading the practice of charity says he feels like a wealthy man.
In an interview with TheBlaze, Cohen explained that charity is something he learned from his parents when he was a young boy, along with his 16 — yes, 16 — brothers and sisters.
"If I got a shekel from my father when I was a young boy, I knew that 20 percent didn't belong to me. It went either to charity or to others. It wasn't mine," he said. "That's what we were taught."
In fact, his entire family aims to give 20 percent of what they have to charity, a practice they believe is founded in the Bible.
"We give 20 percent of everything," Cohen said.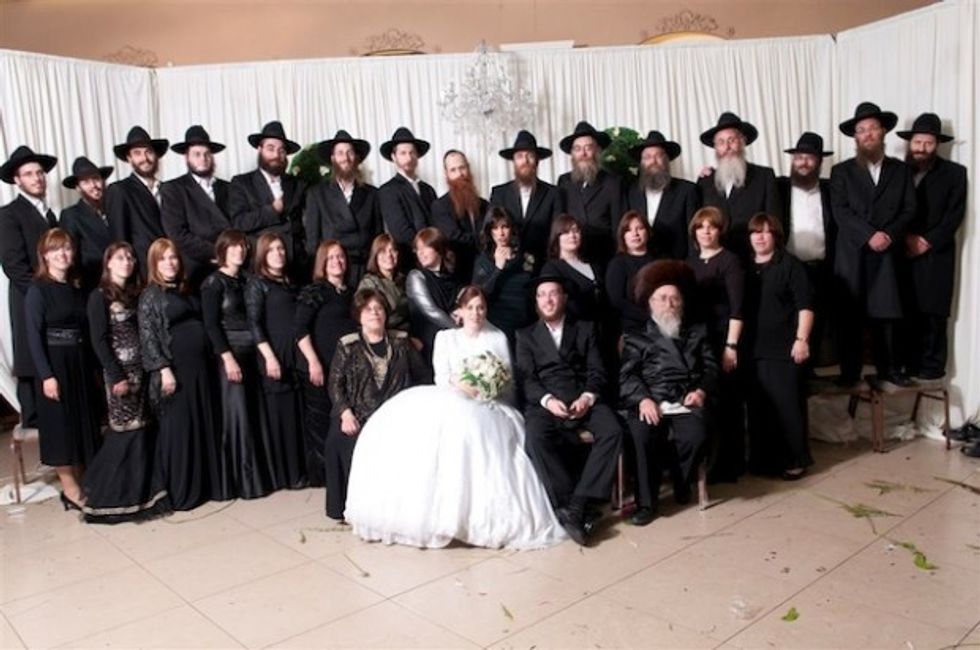 Shneor Cohen is the youngest of his parents' 17 children. His parents, siblings and their spouses posed for a group photo at his wedding. (Photo courtesy Shneor Cohen)
But why 20 percent, we asked, when the Bible seems to cite 10 percent as the desired amount?
Cohen, an ordained rabbi, said that the sages of the Talmud pointed to Deuteronomy 14:22, which states: "Be sure to set aside a tenth of all that your fields produce each year." The verse is often cited as the biblical basis for tithing one's income.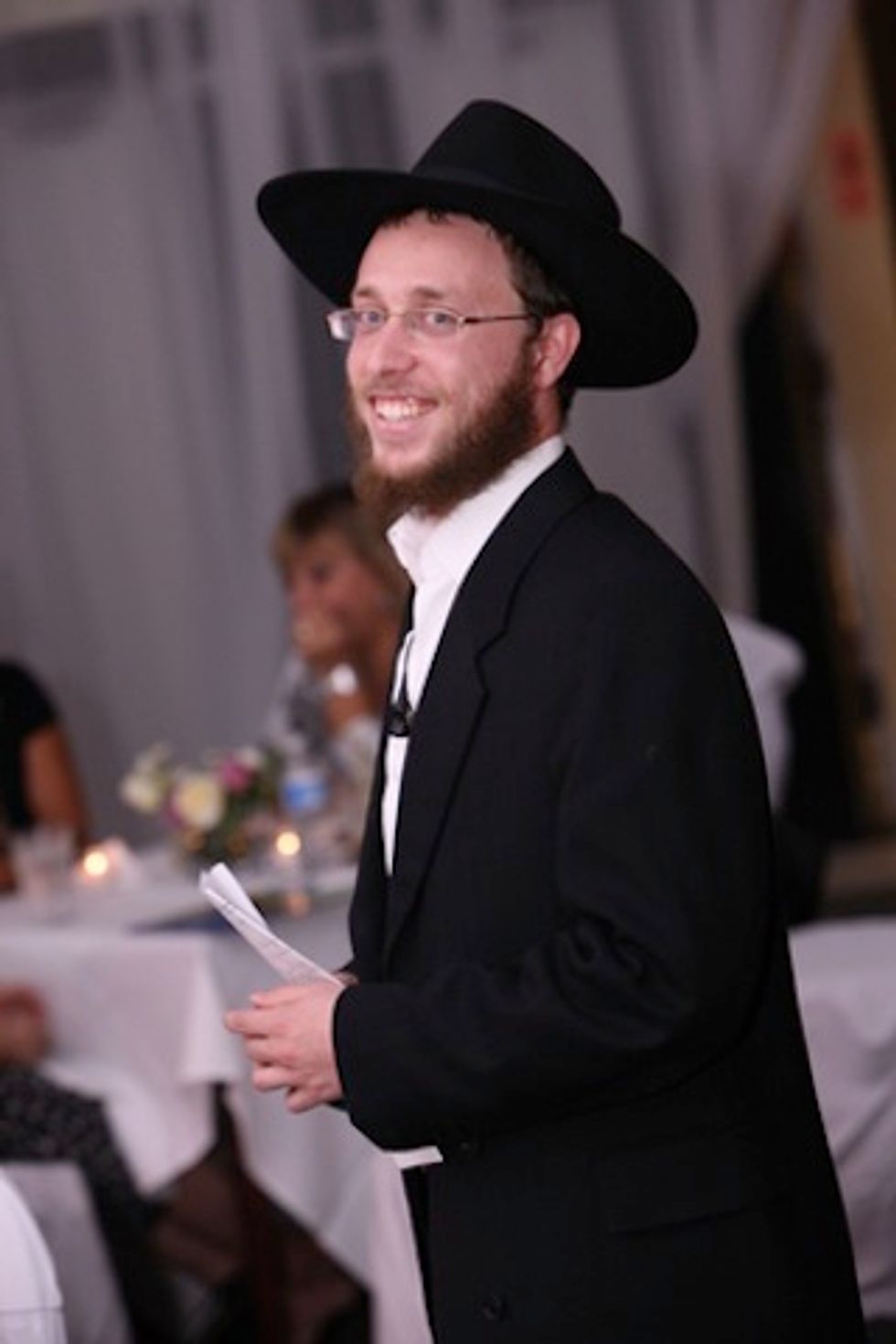 Author and Rabbi Shneor Cohen believes it's primarily the giver who gains from charity, and the recipient is secondary. (Photo courtesy Shneor Cohen)
However, in the original Hebrew of the Torah, the first two words of the verse, "aser t'aser," meaning "set aside a tenth," are nearly identical and share the same root as the number 10. This has been interpreted by some to suggest 10 plus 10.
The Jewish organization Chabad explains that when we set out to give abundantly to charity, God grants us the wealth to fulfill that goal.
"The Talmudic sages pointed out that the similarity of the Hebrew words for 'tithe' (ta'aseir) and 'become rich' (titasheir) alludes to the fact that God rewards those who give charity with abundant wealth," Chabad.org explains.
Cohen said he's been captivated by the subject of charity since he was 11 years old. That was the year he learned that after his mother had her 16th child, her doctor said she should stop having kids.
Only when she went for a second opinion from another doctor was she told that there was little risk to her health from a 17th baby, who turned out to be Cohen.
"I understood that I got my life as a gift," he said. "I understood that all my life I have received, and so I must give back."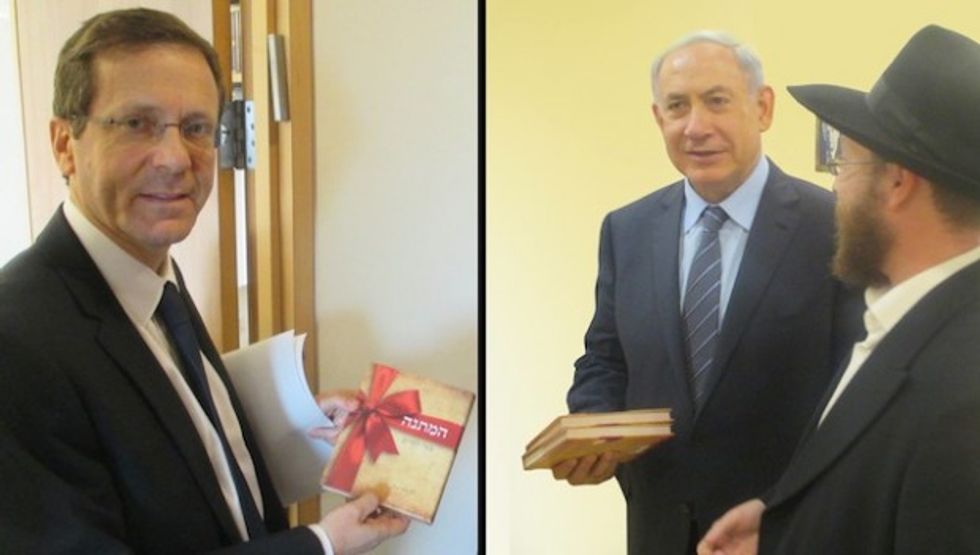 Cohen reached out to both sides of the political spectrum to spread his philosophy on charity, giving his book to Israeli opposition leader Yitzhak Herzog and to Prime Minister Benjamin Netanyahu. (Photo courtesy Shneor Cohen)
Cohen penned his philosophy on charity in his Hebrew-language book "Hamatana," or "The Gift," recently released in Israel.
The core of his thesis is this: It doesn't matter how much you give, but how you offer the charity is essential.
"It doesn't matter who you give to. It doesn't matter how much you give," Cohen said. "That's not critical. What is critical is how you give, how you give in a way so that you don't humiliate the other [person]."
Cohen said he came to that realization while teaching religion classes to prisoners where empathy was highly valued.
"You can't give money there, and I revealed that listening to the inmate is [worth] much more than money," he said.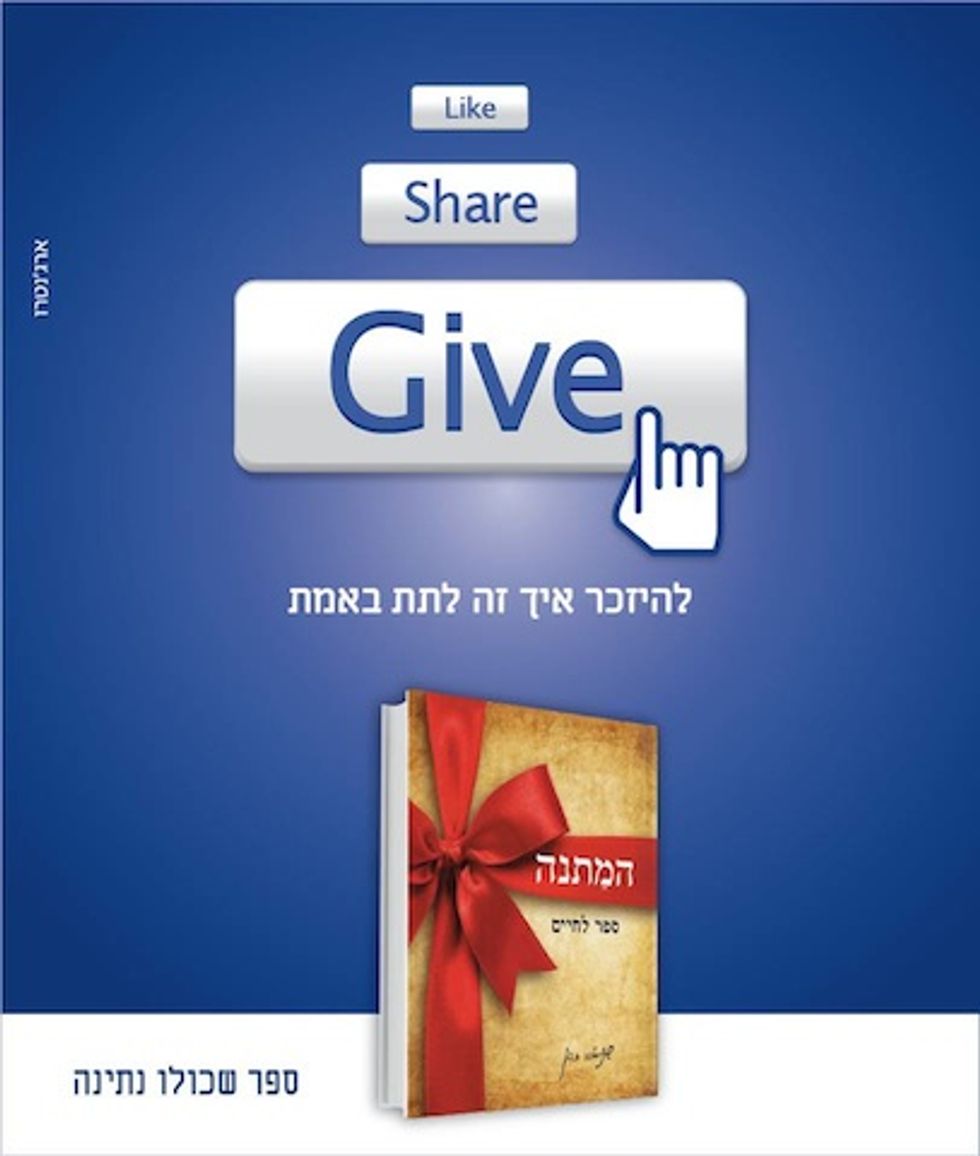 An ad playing on Facebook's "Like/Share" command for Shneor Cohen's Hebrew book "Hamatana," or "The Gift." (Image source: Facebook)
So how does one give in the most meaningful way possible?
"First of all, the first step is you must smile," Cohen explained. "Second, listen. Don't give like a robot [and say] 'Take already!' Listen, find out what's going on with him, what's bothering him, simply listen to him. Third, simply give."
"To know how to give is an art," Cohen said.
His other advice is to be consistent and begin each day with an act of giving.
"If you start your work day, give a shekel or two or a [U.S.] quarter," he said. "It doesn't matter how much, but give something. Start with something external, it's not about you, not 'me' … just give."
"Charity starts with the heart but must end with the head," Cohen said. "You have to know that charity is like business — you can't give more than you have because then you'll need to receive."
Cohen agrees with the Jewish sages' prediction that the charitable are rewarded with wealth. For him, the reward isn't primarily financial.
"The gift is first for you, and the other person is secondary," Cohen said.
"It gives you a good feeling, it makes you a better person, it makes you better at business, it makes you more relaxed, nicer to your children, nicer to everyone," he said.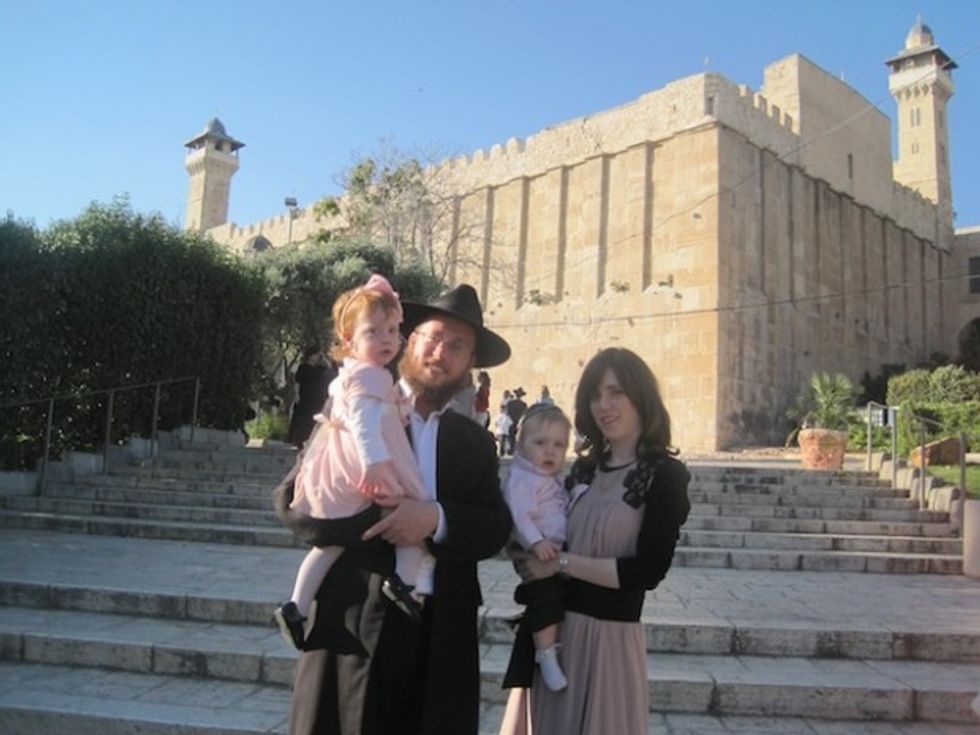 The Cohen family with two of their children visit Hebron's Cave of the Patriarchs, believed to be the burial spot of the Bible's patriarchs. Shneor Cohen says his philosophy on charity stems from Deuteronomy. (Photo courtesy Shneor Cohen)
The father of four small children is now spearheading an educational project to spread charitable acts and widen the "circle of charity." He is convinced that humans have an innate, even primal, need to purge themselves.
Cohen believes we are not put on Earth only to consume and collect belongings.
"There are many people with much more money than me … but I believe I'm more calm than them," he explained. "I have a good life, thank God. When I give to others, I feel much better with myself, more relaxed, and I feel good. I'm rich but not in money."
The author's father, Rabbi Asher Lemel Cohen, is a prominent rabbi with the Chabad-Lubavitch movement in Israel.
"To give is not the entire wisdom. The wisdom is to give and to understand that, in essence, I received," the elder Cohen told TheBlaze.
When Shneor was a young child, his father would send him out with envelopes to give money to needy families, an experience Cohen credits with launching him on the path of charity.
Even though his parents were dedicated to giving to others, they have never lived in debt.
"My father made a wedding for all his kids – I'm his last - and he has not one shekel of debt. He doesn't owe anyone anything," Cohen said.
Cohen said that he hopes his book will be published one day in English.