Presenting the award for best hip-hop video at the 2015 MTV Video Music Awards Sunday night, comedian Rebel Wilson walked onto the stage wearing a police costume. But she surprised everyone when she referenced people having a "problem" with police, then joked that she's outraged by the "stripper police."
Wilson ripped off her police costume to reveal a shirt that stated, "F*** Tha Stripper Police."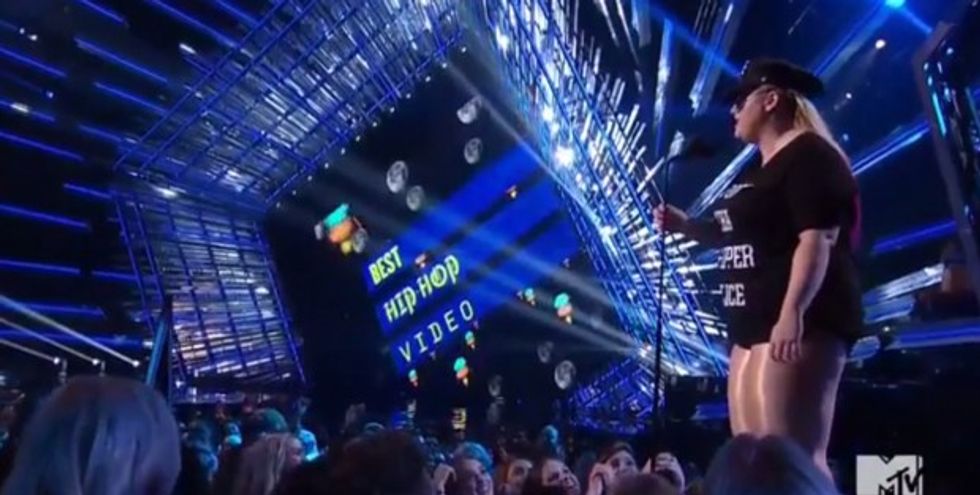 MTV
"They come to your house. You think you're getting arrested, and you just get a lap dance and it's usually uninspired. I hired a police stripper for my grandma's 80th and he wouldn't even feel her up," she joked. "I hate this injustice, hence the shirt."
One person who didn't find the joke funny was prominent Black Lives Matter activist Deray McKesson. He took to Twitter to express his displeasure with the joke.
.@RebelWilson/@MTV, police violence isn't a joke, as the deaths of #TamirRice, #RekiaBoyd, #FreddieGray, #MikeBrown, & #MyaHall remind us.

— deray mckesson (@deray) August 31, 2015
If the police kill someone you love, would it be a funny joke, then? https://t.co/ayMS8YC1Yj

— deray mckesson (@deray) August 31, 2015
However, advertisers and MTV censors will likely be more concerned by the fact that Wilson's "F*** Tha Stripper Police" shirt was shown uncensored for several seconds.
Watch the video below via MTV (Warning: Some strong language/content):
---