Baltimore Ravens head coach John Harbaugh got into a testy exchange with a sideline reporter Saturday night for which one major newspaper is now calling Harbaugh a "complete jerk."
"John Harbaugh Was a Complete Jerk to Ravens' Sideline Reporter at Halftime," one headline in the USA Today Sports section read.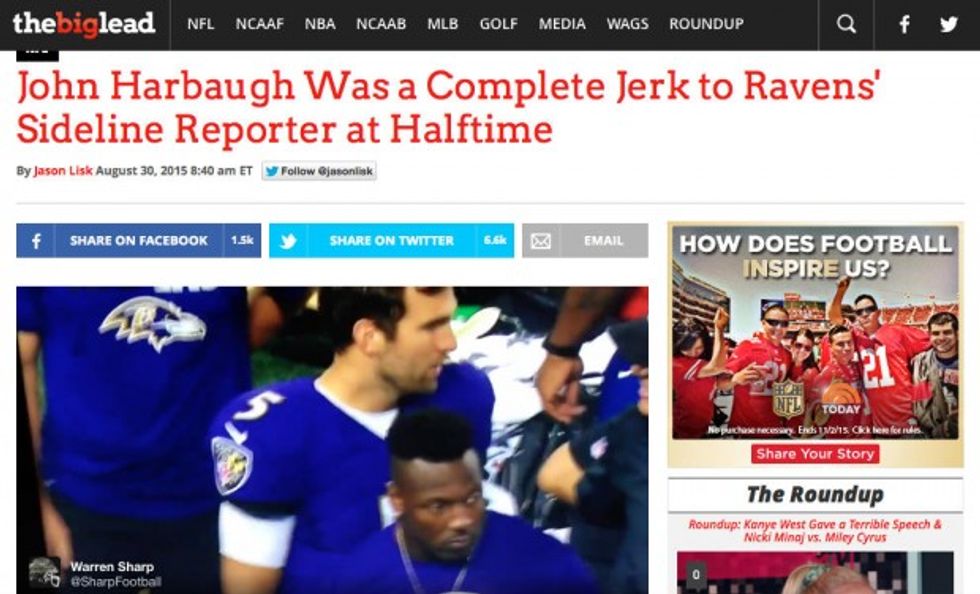 Image source: USA Today
Harbaugh was specifically asked about the "shouting match" he got into with Washington Redskins coach Jay Gruden, part of a larger brawl that resulted in several ejections, including Ravens wide receiver Steve Smith, USA Today reported.
NBC Sports reporter Brent Harris caught up with Harbaugh during halftime to ask about the tense confrontation.
"What was your perspective on Steve Smith getting ejected? It looked like you and Jay Gruden may have had words there," Harris asked.
"I have nothing to say about that. If you want to talk football, I'm happy to talk football," Harbaugh responded.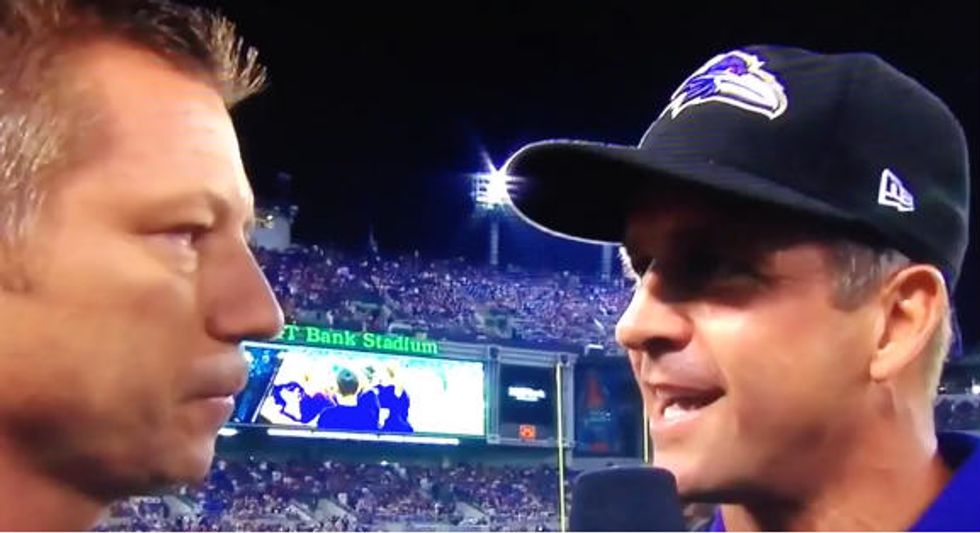 Image source: Twitter
The reporter then asked Harbaugh if he felt there were "missed opportunities" at the end of the half, to which the Ravens coach replied, "Well, you don't want to fumble the ball."
Harris inquired again, "What about the two-minute defense giving up the touchdown?" But Harbaugh gave yet another brief and evident answer, saying, "We don't want to give up touchdowns with two minutes at the end."
"Give me a good question and I'll answer it," Harbaugh challenged a confused-looking Harris, before walking away from the camera and the microphone.
Near the end of the clip, you can see Harbaugh still eyeing Harris, visibly frustrated.
See the interview for yourself:
Gracious halftime interview from John Harbaugh pic.twitter.com/RWqzF3TUlU

— Warren Sharp (@SharpFootball) August 30, 2015
(H/T: USA Today)
–
Follow Jon Street (@JonStreet) on Twitter