A Detroit father was unable to contain his rage when he crossed paths with one of the men convicted for killing his 3-year-old daughter last week. The chaotic moment was captured on video.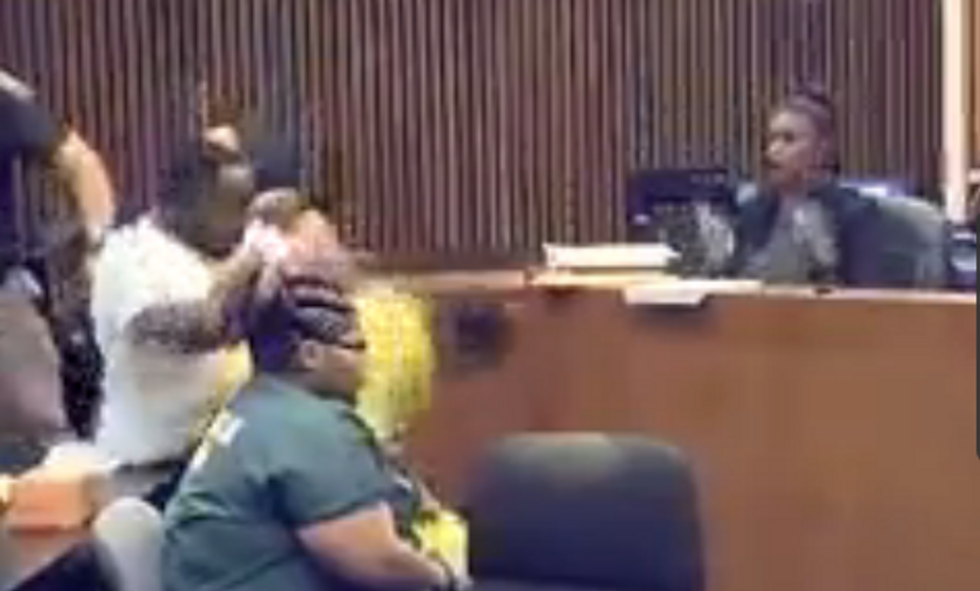 Detroit Free Press screengrab
Shortly before he was scheduled to deliver his victim impact statement, Dwayne Smith found himself near Clifford Thomas, who was convicted along with his girlfriend, Jasmine Gordon, in the death of 3-year-old Jamila Smith.
Without warning, the grieving father exploded in a fit of rage and punched Thomas in the back of the head.
Gordon can be seen on video crying and shouting "Jesus!" as the chaos unfolded.
Watch the video below (Warning: Strong language):
Thomas declined to press charges against Smith and a judge declined to charge him with contempt of court, so the father will not be prosecuted over the outburst.
Thomas and Gordon were both sentenced, according to the Detroit Free Press:
Gordon was sentenced to 7-15 years for involuntary manslaughter and 14-25 years for first-degree child abuse as an aider and abettor, which will be served at the same time, Wayne County Prosecutor's Office spokeswoman Maria Miller said in an email.

Thomas was sentenced to about 6 years to 15 years for involuntary manslaughter and 1-2 years for resisting and obstructing a police officer, Miller said.
(H/T: Mirror)
---