Islamic State militants strung up four men they accused of being Shiite spies and burned them alive as they dangled hog-tied from chains attached to a large metal frame.
The disturbing scene was the centerpiece of a new video from the jihadist group that began circulating Monday. It was described by one Twitter user as "barbaric BBQ-style torture."
One of the victims appeared to be an elderly man.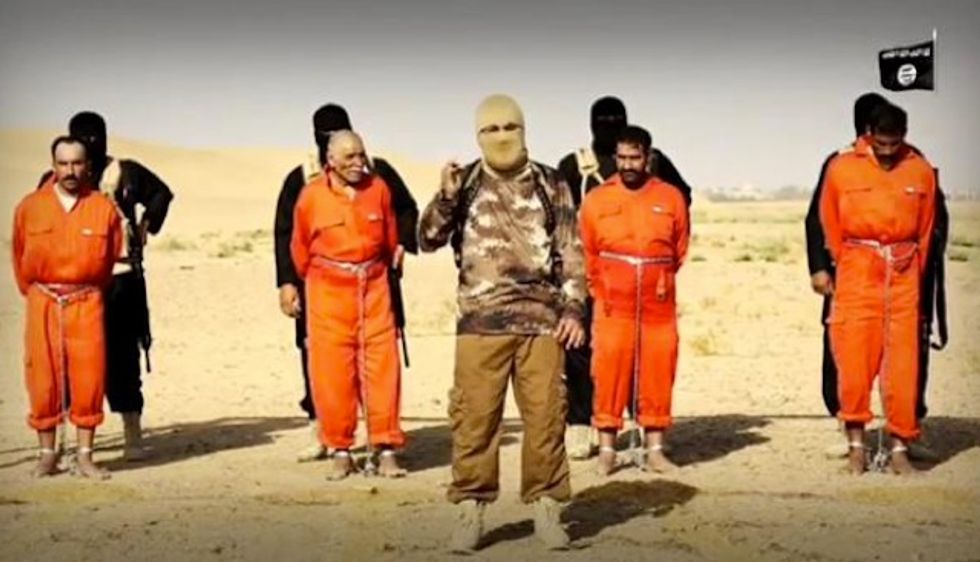 "Now retribution has come," said the jihadist before the men in orange jumpsuits were burned alive. (Image source: Islamic State video)
Before the sickening moments of the men's torturous killings, there was another particularly disturbing scene when the video appeared to show an earlier death-by-fire killing in which a man reported to be an Iraqi Shiite militia leader carved a piece of human flesh from an alleged Islamic State fighter as if it were a piece of meat.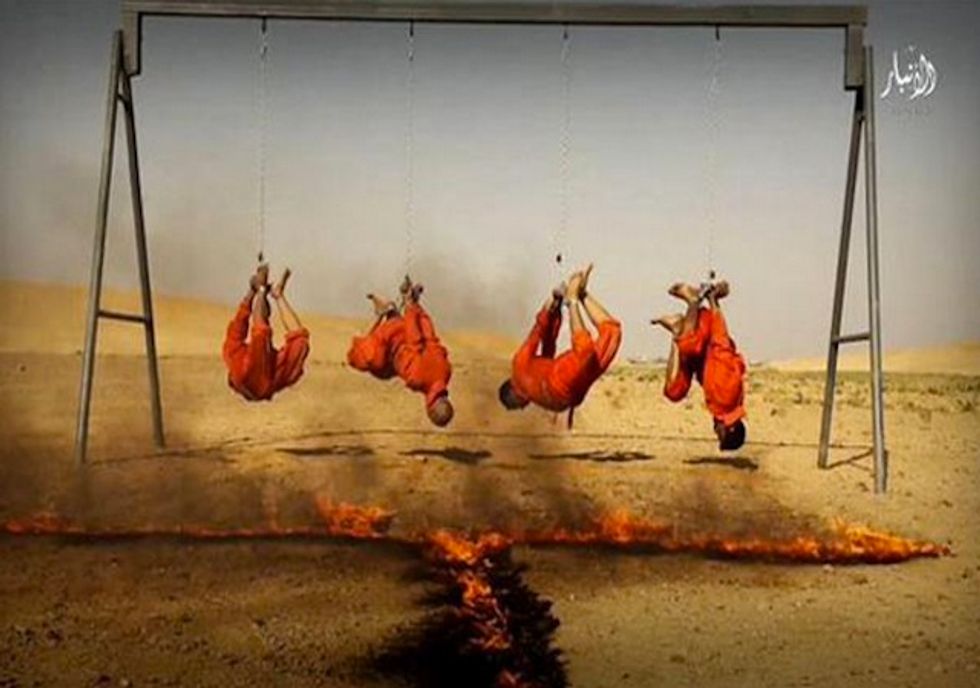 The men were strung up with chains to a metal frame like those used for swing sets. Their killers' sadistic design had them wait as the flame made its way to them. (Image source: Islamic State video)
In the earlier video, a well-known Shiite fighter identified as Abu Azrael, or "Father of the Angel of Death," proclaimed, "ISIS this will be your fate, we will cut you like shawarma," referring to the Middle Eastern kebab dish.
The next shot in the new video shows the four Shiite men being forced to watch that earlier video; they sit stunned as they watch, awaiting their gruesome fate.
A masked militant standing in front of the four accused men and said, according to Agence France-Presse's translation: "Now retribution has come, for today, we will attack them as they attacked us, and punish them as they punished us."
AFP reported that the video was produced by the Islamic State's media arm that covers Iraq's Al Anbar province. It did not specify when and where the killings occurred.