© 2023 Blaze Media LLC. All rights reserved.
The Life-Changing Lesson Glenn Beck Says America Could Learn From Iceland Right Now
"Let's now follow the Icelanders in what they're doing"
Glenn Beck praised the people of Iceland on Tuesday for petitioning their government to accept more refugees fleeing the Islamic State, thousands of Icelanders even offering to house the refugees in their own homes.
"Out of a country of 300,000 people, 10,000 people in 24 hours said, 'I'll offer up my home. I'll offer up my money.' I'm asking you to do the same thing today," Beck said on his radio program. "I'm going to post in a few minutes just a quick note that just says, 'What churches will take a family? What people will take one person? Will you offer up your home?'"
Beck said that when he began warning that the world was going to repeat the 1930's and people would have to "hide or take people," everybody thought he was "nuts."
"I thought this would happen with the Jews. ... But it's happening with the Christians. So now what are we going to do?" Beck said. "I ask you again what I asked you six, seven, eight, ten years ago. When the world goes mad and the world is crucifying people, when they're building houses of horror and concentration camps -- I mean, what's the difference between ... the one barrack in Auschwitz that held female prisoners that were used as prostitutes, used as pleasure receptacles, forced to have sex -- what's the difference between that and the 8-year-old girl that just escaped ISIS who has testified that she was raped up to ten times a day every single day?"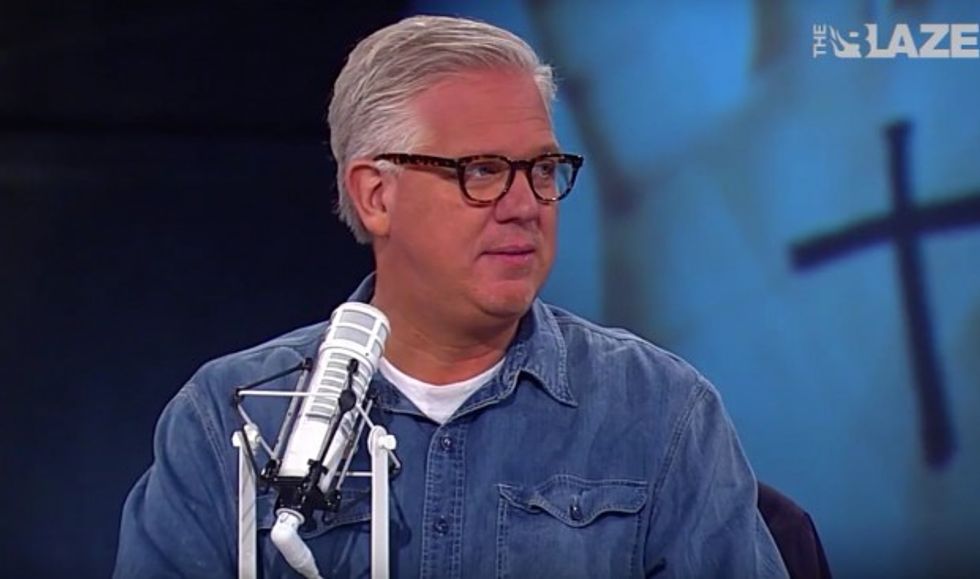 Glenn Beck speaks on his radio program August 24, 2015. (Photo: TheBlaze TV)
"There is none," Beck said heatedly. "We said never again. Well, never again is now. I have a goal of raising $10 million by Christmas. That's a huge goal. I don't know if we can even make that. That's the largest amount of money we've ever asked to raise, by far."
But Beck said if they are able to meet the $10 million goal, they will be able to save 2,000 people by the end of the year.
"We'll break all those numbers down for you by the end of the week so you know exactly where the money is going, how it's being used," Beck said. "But did you see what Iceland is doing? Because Iceland is only a country of 300,000 people!"
Shortly after Beck put out the call on radio and Facebook, Americans started offering to help the refugees.
"We can take several families, between those in my family and church," one man wrote on Facebook. "I'm a small business owner. I can even give them work. It would be a tremendous blessing to us to help our fellow Christians. My little corner of Ohio will welcome them with open arms."
"We would more than happy to stand with a family in the middle east!" another woman wrote. "Our children are grown and married and we have a pretty good sized home here in Ky. I would do anything to help save our brothers and sisters in Christ!!"
Beck told his audience that more information would be available at mercuryone.org by the end of the week, and they can donate now to the Nazarene Fund to help raise the $10 million needed.
"Let's now follow the Icelanders in what they're doing and put some teeth behind all lives matter," Beck said. "We've already raised $3 million, and not from big donors. The average check is $100. It's the average listener. But it's the average listener that wants their name in the book of life. ... This is the time that giants are born."
[mlbvideo content_id=437540383]
The full episode of The Glenn Beck Program, along with many other live-streaming shows and thousands of hours of on-demand content, is available on just about any digital device. Click here to watch every Glenn Beck episode from the past 30 days for just $1!
Want to leave a tip?
We answer to you. Help keep our content free of advertisers and big tech censorship by leaving a tip today.
more stories
Sign up for the Blaze newsletter
By signing up, you agree to our
Privacy Policy
and
Terms of Use
, and agree to receive content that may sometimes include advertisements. You may opt out at any time.